"You Don't Have To Agree With Me But Don't Insult Me"- Angry Erica Issues Stern Warning To Her Fans
Trouble has been brimming for fans of disqualified big brother housemate, Erica, as in recent tweets, she has taken to calling out some of her fans that are notorious for insulting her when she makes a mistake or says something she shouldn't say.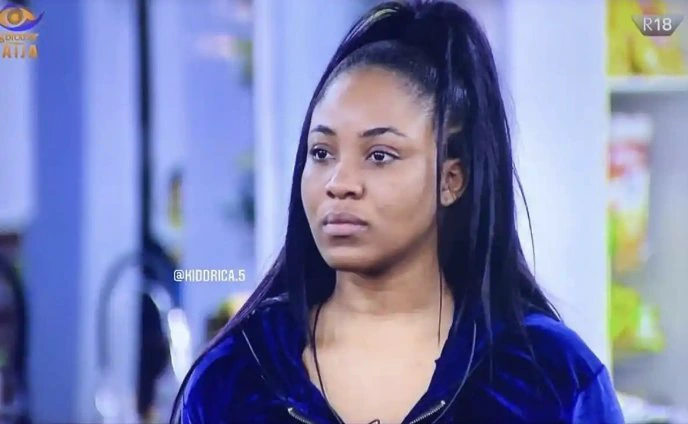 This has resulted in the smiling diva blocking anybody who insults her on her Timeline, and while most of her fans are not cool with it, and has made her aware of their disagreement with her new methods, she has come out to let them know that they can disagree with her, but nobody should insult her.
Check out her tweet here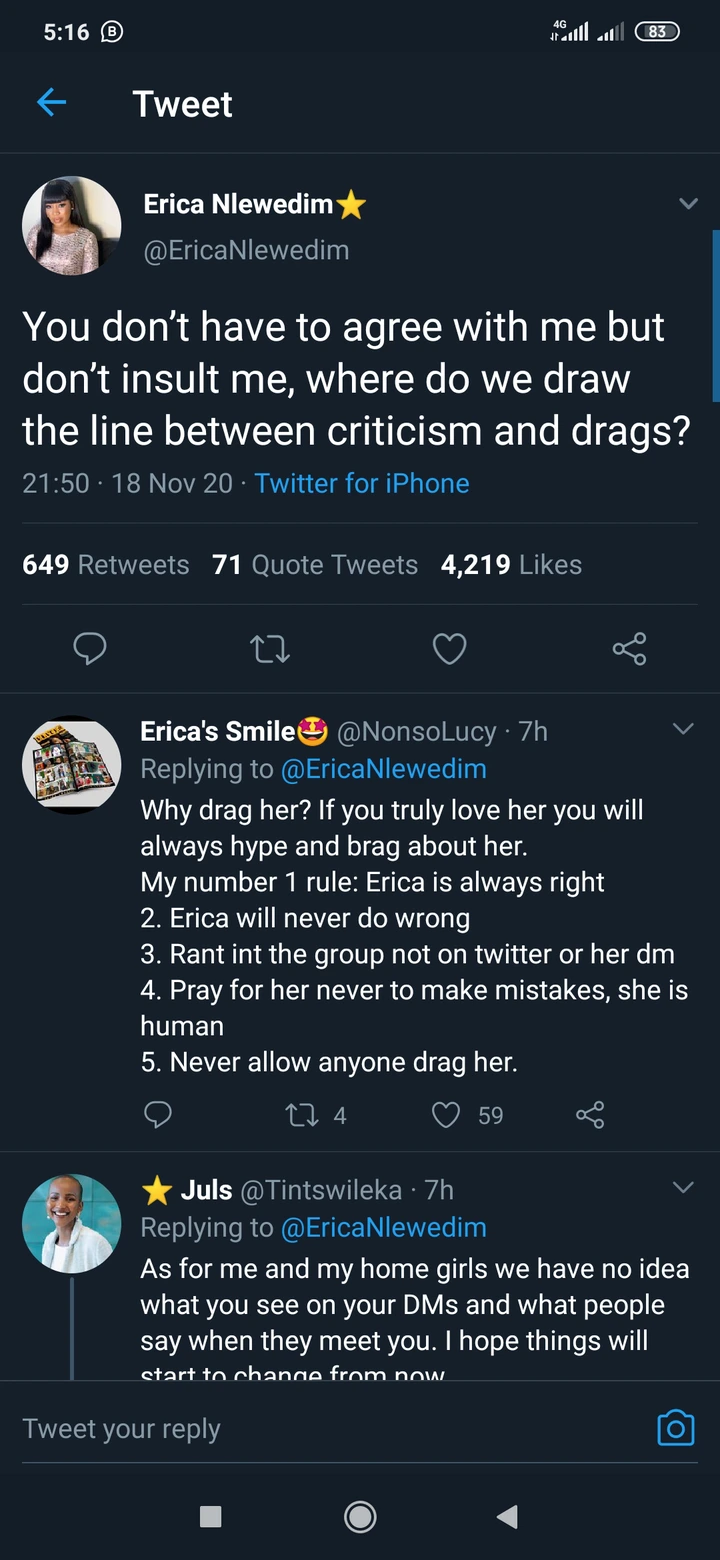 While her major anger is with the insults, I believe that there is another issue behind the scenes, and she just decided to take it out on her fans. Recall that most people agreed that prior to her disqualification, she had not been angry with Laycon, but had taken out her frustration with Kiddwaya on him. Her tweets late night proved it.
See other tweets by Erica last night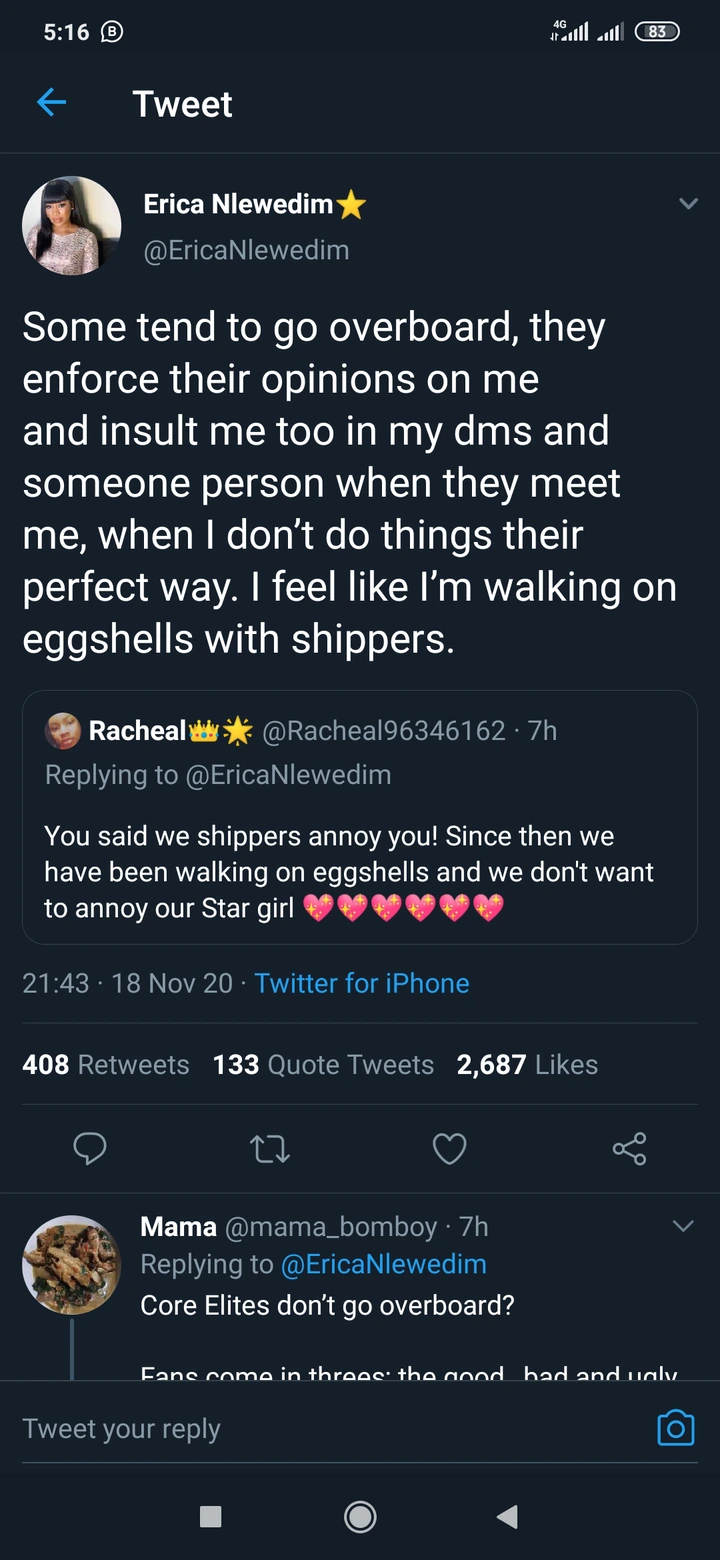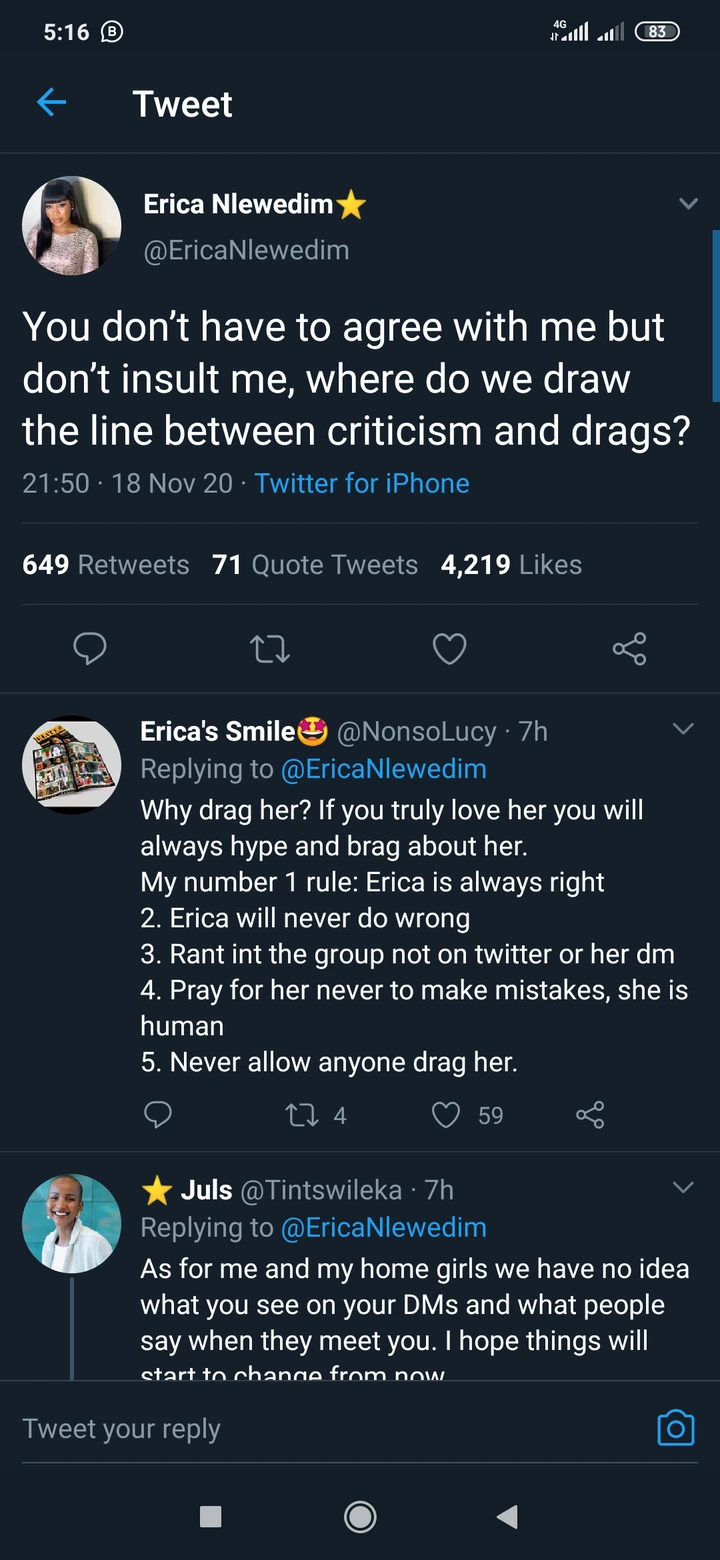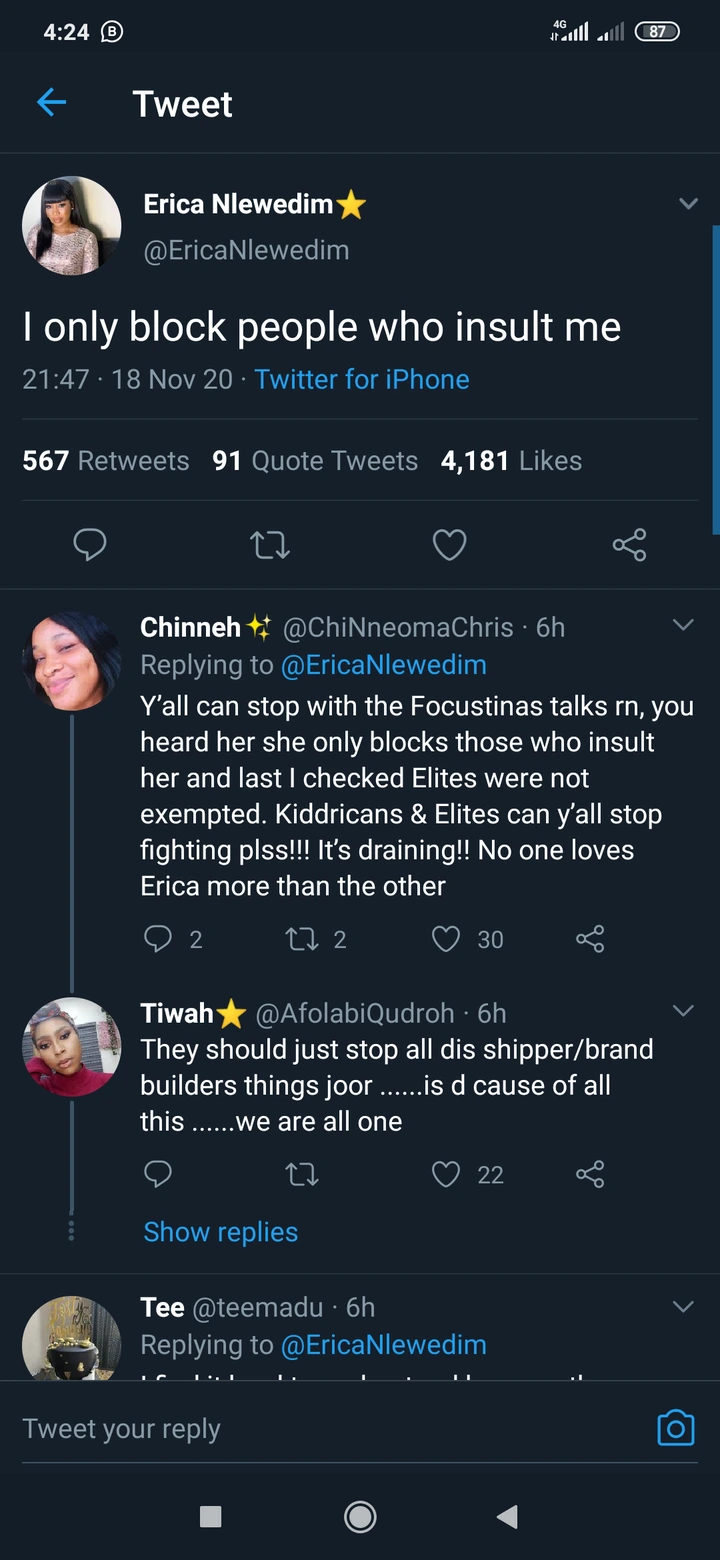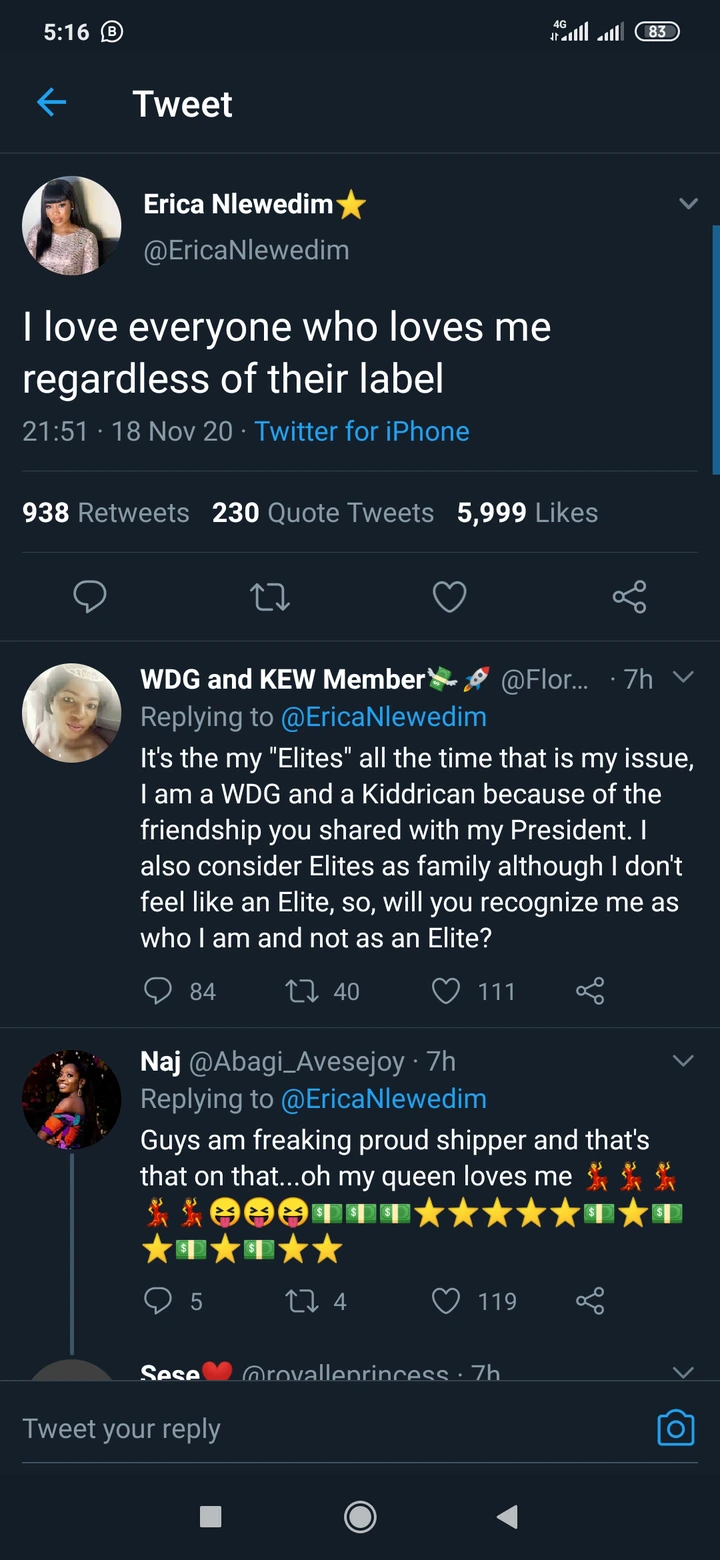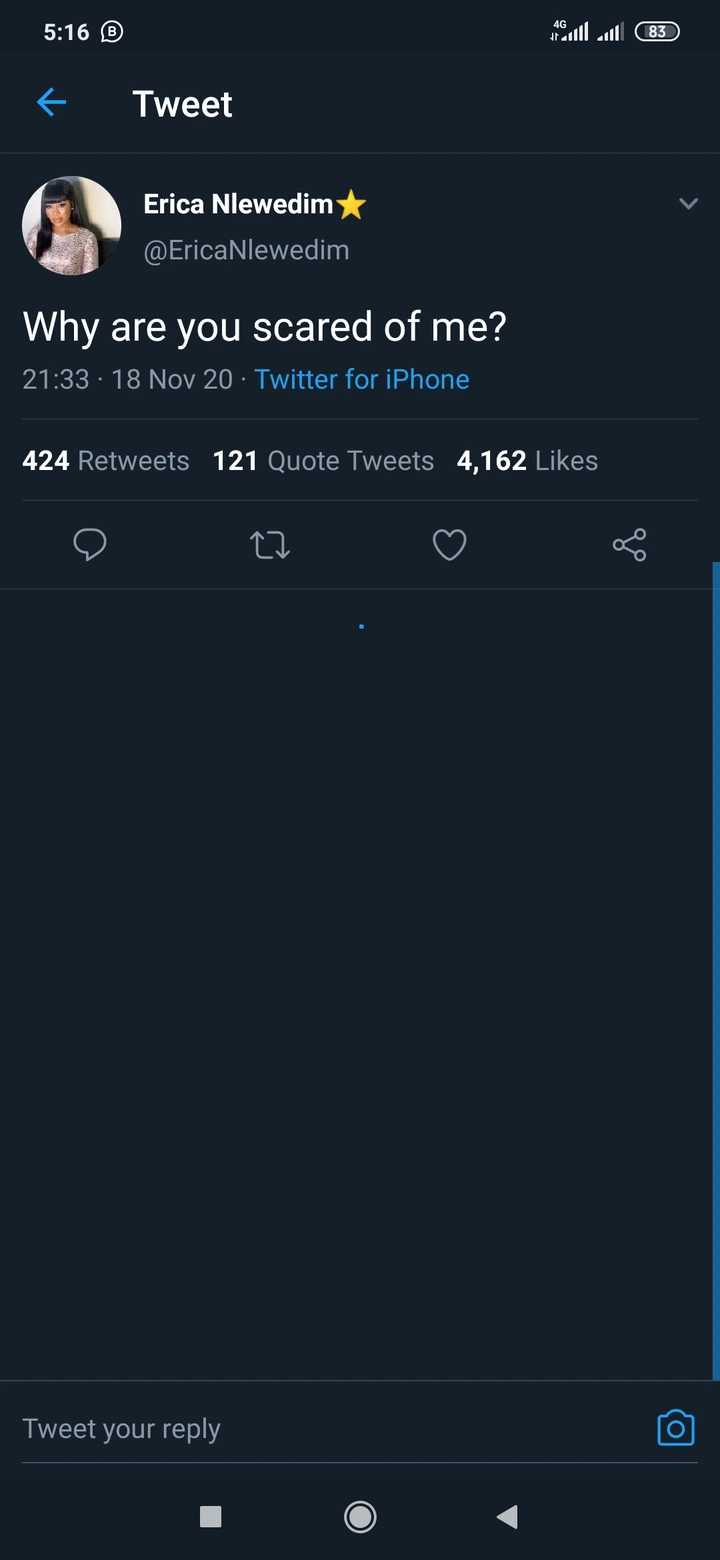 Personally, I think the downside of being a celebrity is taking a toll on her, and she's handling it the only way she has always known how to handle it.. by taking it out on the nearest person. This is a character flaw she has to work on, because if not, she's likely to lose majority of her fans in a no distant time.
What do you think about her rant?. Is she really angry with her fans, or is there another reason for these rants last night?. Kindly drop your comments and don't forget to like and share this post.
You may like
CONGRATS!! Dami Adenuga Bags Endorsement Deal with P-Clothing Brand
Entertainment persona and public relations strategist Dami Adenuga looks to making an entry into the fashion scene as he lands an endorsement with burgeoning clothing brand "P Clothing".
The endorsement which marks his first deal of 2021 sees him partner with the innovative, dynamic brand in a bid to showcase their exciting collections within and outside the country.
See photos below:-
P-Clothing is a premium bespoke tailoring brand based in Asaba, Delta State, Nigeria. Renowned for their craftsmanship and well-tailored clothes, specialized in high quality and comfortable wears for men.
Congratulations Dami Adenuga!
Delta: Ughelli All Stars wins Oke Umurhohwo maiden football tournament
Weeks of thrilling football matches in the Oke Umurhohwo Football Cup came to an end on Sunday, producing Ughelli All Stars FC as the winner of the maiden tournament.
Ughelli Township Stadium was filled to the brim with spectators in adherence to COVID-19 protocol as Ughelli All Stars beat Sheraton FC 3-1 to lift the trophy, which earned them N120,000 cash prize and a set of jersey.
Sheraton FC was rewarded with N60,000 cash and a set of jerseys as runner-up and N30,000 cash went to Ughelli United that came third in the tournament.
The award for the best player of the tournament went to a player Efe of Ughelli United while Mr. and Mrs. Izu Harrison went home with the best fan of the tournament award.
Oke Umurhohwo Football Cup drew 16 teams in a fierce contest that intended to identify talents in Ughelli, Delta state, and was sponsored by Mr Oke Umurhohwo, a marketing and communications professional.
On why he organised the tournament, Mr. Umurhohwo told an ecstatic crowd that he is passionate about promoting local talents and believed "this football competition has shown the enormous talents possessed by young people at the grassroots and I'm impressed by what I have seen so far."
"It is good to see that promising prospects that the nearly 200 footballers who featured in the competition exhibited and that has emboldened my resolve to provide every necessary support for them to fulfill their respective dreams," he noted.
He acknowledged the tireless efforts of the local organising committee for the success of the inaugural Oke Umurhohwo Football Cup, adding that support from traditional, political, and community leaders was awesome.
Signalling that the competition will be a yearly event, Mr. Umurhohwo appreciated the cash and kind supports that contributed to the success of the competition, noting that "we look forward to working with you for a bigger and better second edition."
The Ovie of Ughelli, His Royal Majesty, Wilson Ojakovo JP, Oharisi III, represented by his Personal Assistant, Chief Edevwie, was in attendance at the finale of Oke Umurhohwo Football Cup that had other dignitaries such as the President-General of Ughelli Descendant Union, Olorogun P. Omobaye, and his Vice, Comrade Superior Umurhohwo.
Other dignitaries included Hon Oghenenovo O.S, the Organising Secretary of Ughelli Descendant Union, Comr. Christ Ekete, HOD, School of Health, Ufuoma, Comr. Akpojiyonwi, the President of Ighwre-Ovie Community, Bro Henry, representative of Bishop Kingsley Enakirerhi of Heroes of Faith Ministry, Prince Kohwo, President of Ujode Community, Members of the Delta State Sports Commission and Organising Secretary, Mr. Robor, Wrestling trainer, Omonigho Johnson, Boxing coach, Mark Odede, Handball coach, Okotie and a host of others.
Fans and guests were treated to a spectacular moment when Madam Ocean and Madam FC Izam entertained them with beautiful dancing steps that matched the historical event. Gift items were also doled out to fans and made the event a memorable one.
See more pictures from the event below
Miss Favour Maduka wins Queen of South East Nigeria Pageant 2020
It was an evening of entertainment and fun as the South East Campus Awards and Queen of South East Nigeria Pageant under the auspice of Newsland Integrated Media Services held its annual awards and pageant show on December 6th, 2020 at the Prestigious Oma Event Center, Awka.
The event which was witnessed by the crème dela crème of the society was laced with music and comedy. Artistes that performed include Flyboi, Prince Neche, Gpenzy, UnkuSP, YanBaba, SameGuy, DanSmart, Mc Apostle.
After what seem a fierce contest of beauties on the sprawl giving the judges hectic time to select the best among stunning angels, Favour Maduka was finaly chosen as the best, winning the Queen of South East Nigeria Pageant while Katherine Nwachukwu won Queen of South East International respectively.
Other winners include Queen Ngozi Maryann as Queen of South East Africa; Queen Ozioma Marrion as Queen of South East Education and Queen Cynthia Ibeh as Queen of South East Tourism and Queen Blessing Nelson as Face of Newsland 2020..
Being the winners of the competition, they now become representatives of the organisation and will use their offices to promote child Education, peace in Nigeria, Africa and across the globe.
Speaking with the newly crowned queen, Favour Maduka Queen of South East Nigeria 2020, she said her joy is unexplainable. She thanked the organisers of the event for making her dream come through while promising to represent and carry out the task she is expected of. "I feel awesome and overwhelmed.
It was a journey and a fight because all the girls were good, beautiful and smart, but I know grace worked for me and prayers too. The support from my family was outstanding and that gave me courage. I believe that the challenge ahead will be overcome as I will use the platform to Promote Child Education across South East Region, " she said.
I really want to use this opportunity to contribute my quota to building of a peaceful society for all.

"I will work hard in line with the organisation's objective to promote tribal and religious tolerance among Nigerians," she said.
Earlier, Mr Emmanuel Anabueze, the Project Director of the organisation, said that the pageant was aimed at promoting Child Education, peace as a veritable tool for national development.