Lekki Massacre: DJ Switch Hailed By Nigerians After Her Interview With CNN
One of those who made the Lekki Toll gate shooting/ Massacre go viral through her Instagram live feed, Obianuju Catherine Udey, popularly know as DJ Switch was interviewed by CNN's Becky Anderson yesterday.
DJ Switch was tagged a hero that night after showing a heroic display to go live on Instagram and stream the shooting that happened at Lekki.
While Speaking with CNN's Becky yesterday during a interview session over the alleged massacre at Lekki Tollgate on the 20th of October, Dj Switch described the present administration as "As a dictorship with a democratic face".
Every one seems to have same opinion about the young lady as some tagged her a "National Hero", while others said she was the main reason the Lekki massacre was revealed to the world.
Recall, during the shooting at toll gate, the young and fearless lady streamed it live on her Instagram handle, we saw other videos where people were screaming for help, though everything seems like a piece of puzzle yet to be assemble, but with CNN saying they have over 100 survivors we might unravel the mystery of Lekki shooting soon.
Check out some screenshots below.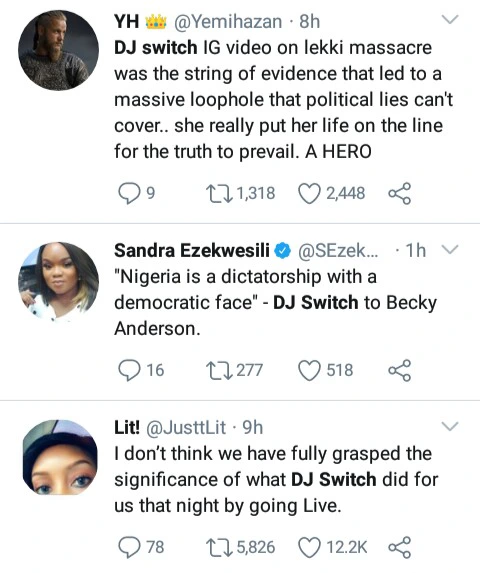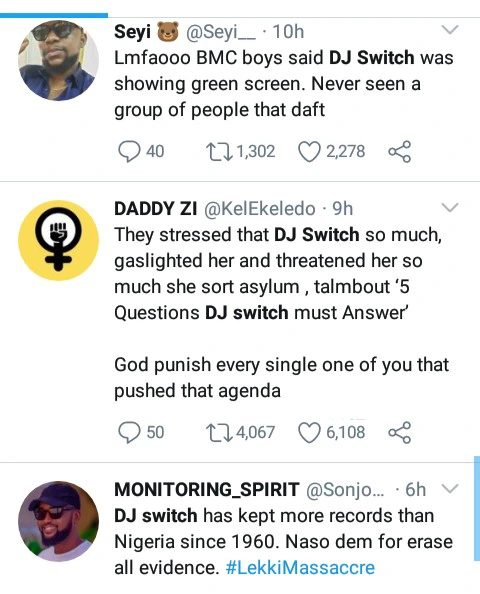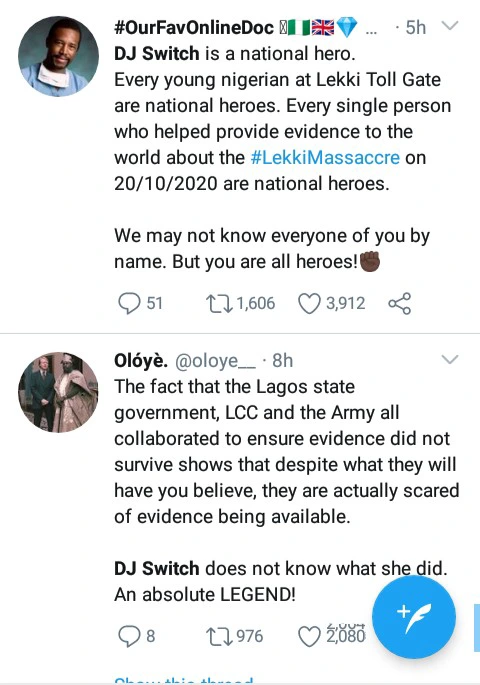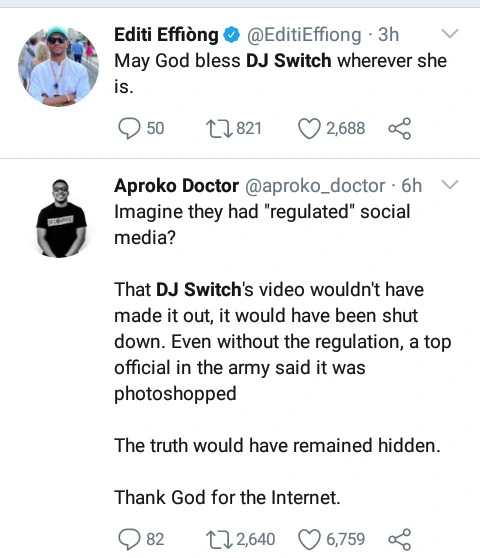 You may like
Nigeria At 63: Imo State Governor, Hope Uzodima Calls For Peace & Unity
Hope Uzodima Calls For Peace & Unity
IMO state governor, Hope Uzodima has called for peace and unity among the people of Nigeria in a statement he made to commemorate Nigeria's 63rd independence anniversary.
"Today, we commemorate not just a historic event, but the unyielding spirit, resilience, and unity of our people in the face of numerous challenges and triumphs. Therefore, it is both an honor and a privilege to address you on this auspicious occasion of our great nation's 63rd Independence Day anniversary.
This day, 63 years ago, marked the beginning of our journey towards independence and since then, we have made significant strides in various aspects of our nation's development. As a diverse and vibrant tapestry of cultures, traditions and aspirations, we have weathered storms and celebrated victories together as a nation, always standing tall in the face of adversity.
Mohbad's Old Tweets Resurfaces After Naira Marley Claimed He Never Assualted Him (Photos)
I commend the indomitable spirit of our people who have shown resilience in the face of adversity and I want to assure you that my administration remains committed to addressing the pressing issues that affects the State, in collaboration with the Federal Government. We are working tirelessly to improve healthcare, education, infrastructure and security, among other vital sectors, to ensure a better quality of life for all.
As we raise our flags and sing our national anthem, let us do so with pride, knowing that our best days are yet to come. Let us use this Independence Day as an opportunity to renew our commitment to the ideals of unity, peace, and progress. Together, we can overcome any obstacle and realize the full potential of Nigeria.
Happy 63rd Independence Day, Nigeria! May our nation continue to flourish and may our State prosper."
– Hope Uzodimma
Tinubu's Minister Poisoned In Abuja
Popular Tinubu's Minister Poisoned In Abuja
Nigerian tourism minister has been hospitalised in Abuja after suffering acute poisoning from unknown origins, her family members fear time was running against their efforts to save her life.
Tinubu's Minister, Lola Ade-John, 60, was rushed to the Federal Medical Centre, Jabi, shortly after she started manifesting symptoms of her poisoning, according to family sources familiar with her ordeal. She has spent four days at the facility as of Friday morning.
Ms Ade-John, a career banker and tech investor, has been on a machine to aid her breathing, our sources said. The specifics as to what substance she ingested and how could not be immediately established. The police and the State Security Service did not immediately return a request on whether or not any investigations had been opened into the matter.
Her worsening situation has further set the family against the government, with the permanent secretary of her ministry said to be in disagreement as to whether she should continue receiving treatment at a public hospital or be moved to a better-equipped private facility downtown.
The permanent secretary, Ngozi Onwudike, was said to have insisted that the minister should not be transferred because the FMC is a public hospital and its services wouldn't attract substantial charges to the government, a position her family rebuffed. But they remained with her as they could not raise funds to move her to a private hospital, our sources said. A phone number for the permanent secretary did not connect on Friday morning.
Ms Ade-John was appointed as a minister by President Bola Tinubu in August. She was immediately touted as one of the few cabinet members appointed from outside the political beltway. She was based in London for years before she was asked to return to the country to serve by the president.
Power Book IV: Force Season 2 Episode 6
Power Book IV Force Season 2 Episode 6
Tommy and Diamond expand their coalition by bringing Vic and Jenard into CBI; Mirković warns Tommy against encroaching on Serb territory, and makes good on his threat with catastrophic results.
Filename: Power Book IV Force
Filesize: 110.33 MB
Duration: 59 Mins
Imdb: https://www.imdb.com/title/tt11761194
Title: Power Book IV: Force
Year: 2022–
Type: Series
Country: United States
Language: English
Genre: Crime, Drama
Stars: Joseph Sikora, Shane Harper, Isaac Keys
Total Episodes: 10
Status: ongoing
Subtitle: English
Force Season 2 Episode 6 Download