"You Don't Have To Agree With Me But Don't Insult Me"- Angry Erica Issues Stern Warning To Her Fans
Trouble has been brimming for fans of disqualified big brother housemate, Erica, as in recent tweets, she has taken to calling out some of her fans that are notorious for insulting her when she makes a mistake or says something she shouldn't say.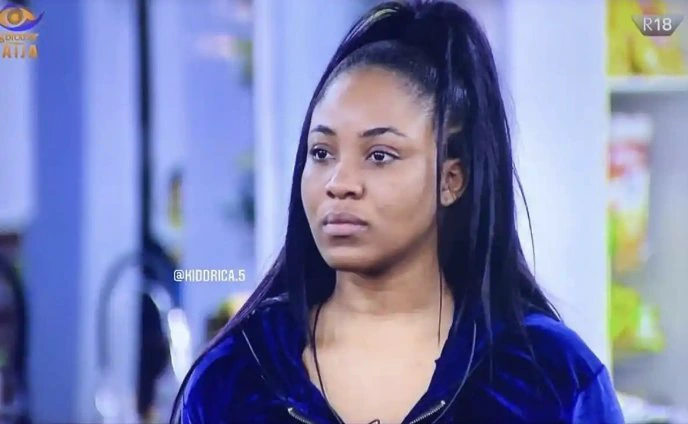 This has resulted in the smiling diva blocking anybody who insults her on her Timeline, and while most of her fans are not cool with it, and has made her aware of their disagreement with her new methods, she has come out to let them know that they can disagree with her, but nobody should insult her.
Check out her tweet here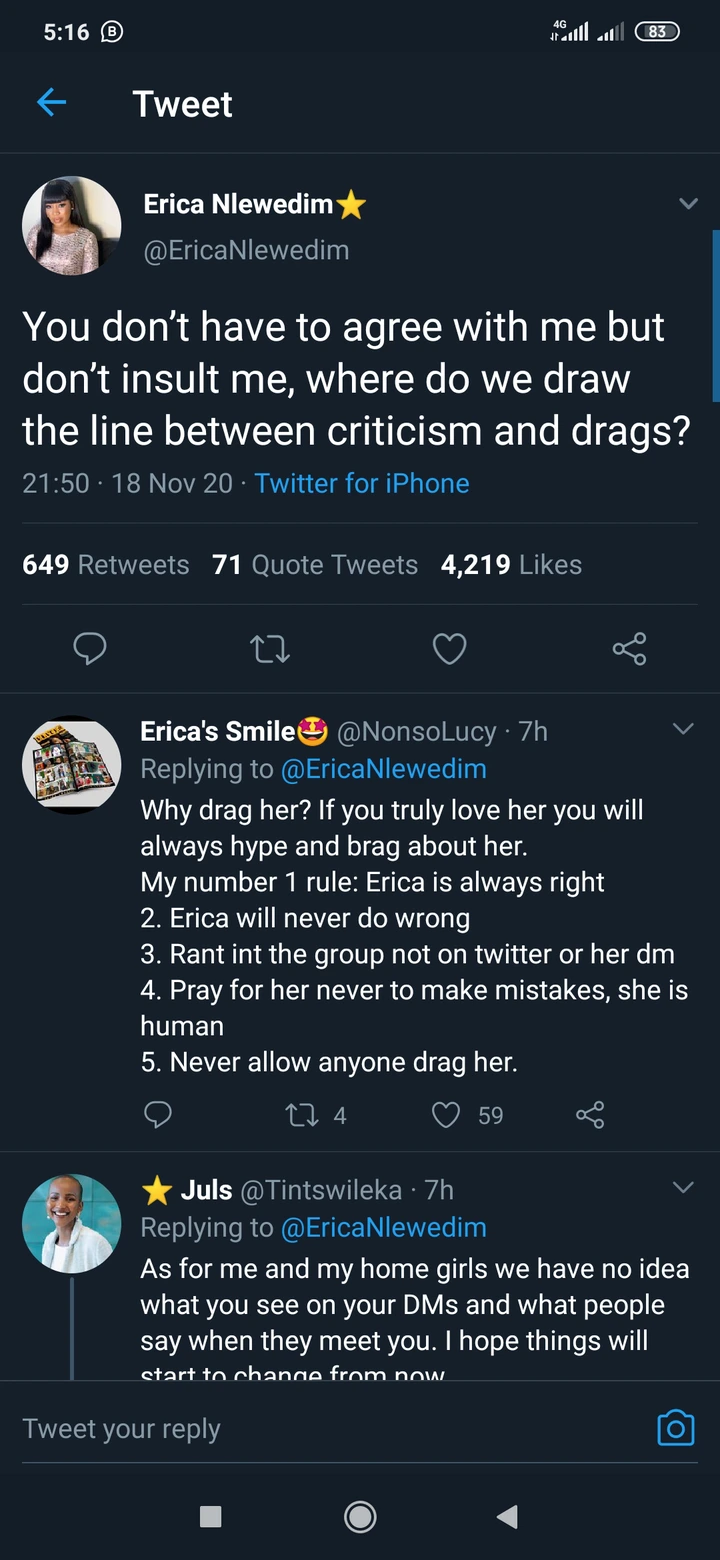 While her major anger is with the insults, I believe that there is another issue behind the scenes, and she just decided to take it out on her fans. Recall that most people agreed that prior to her disqualification, she had not been angry with Laycon, but had taken out her frustration with Kiddwaya on him. Her tweets late night proved it.
See other tweets by Erica last night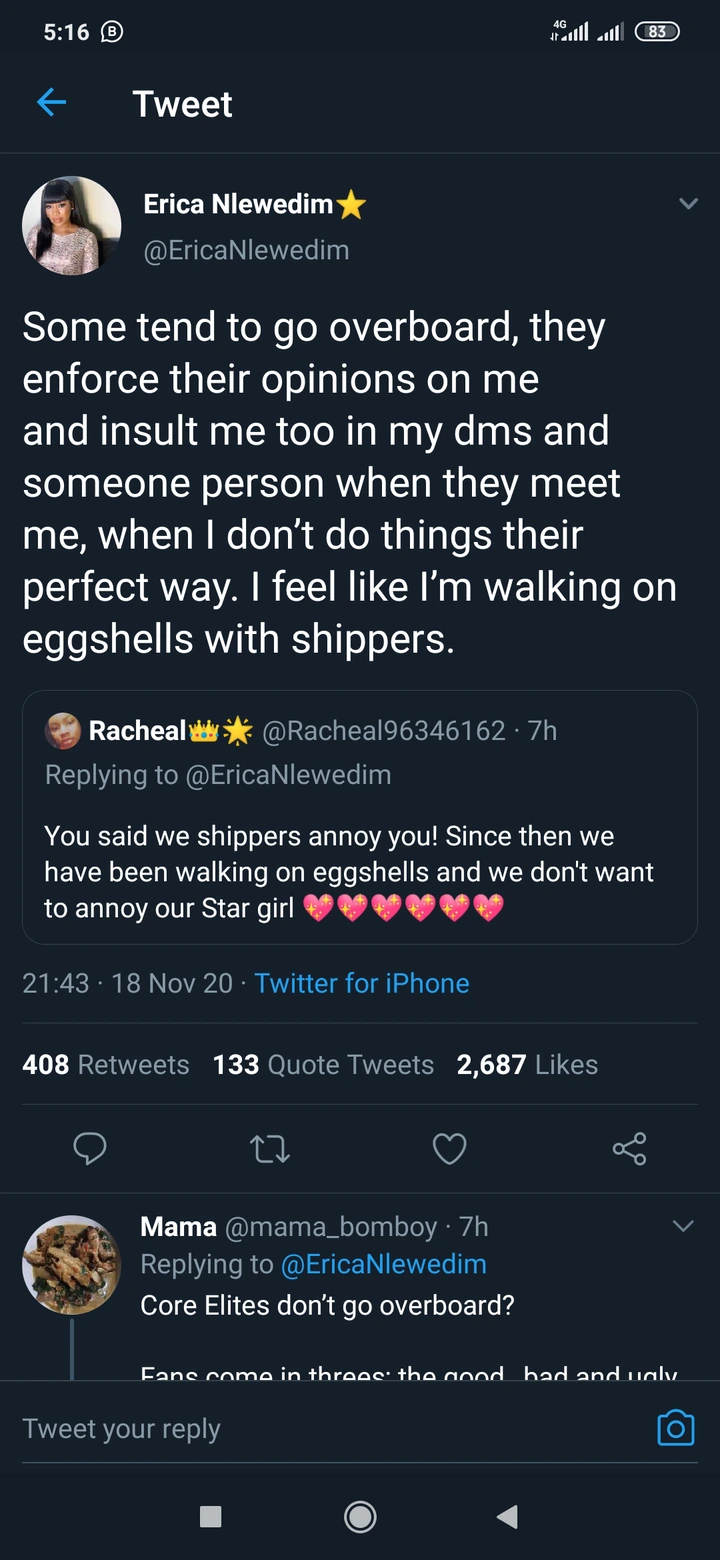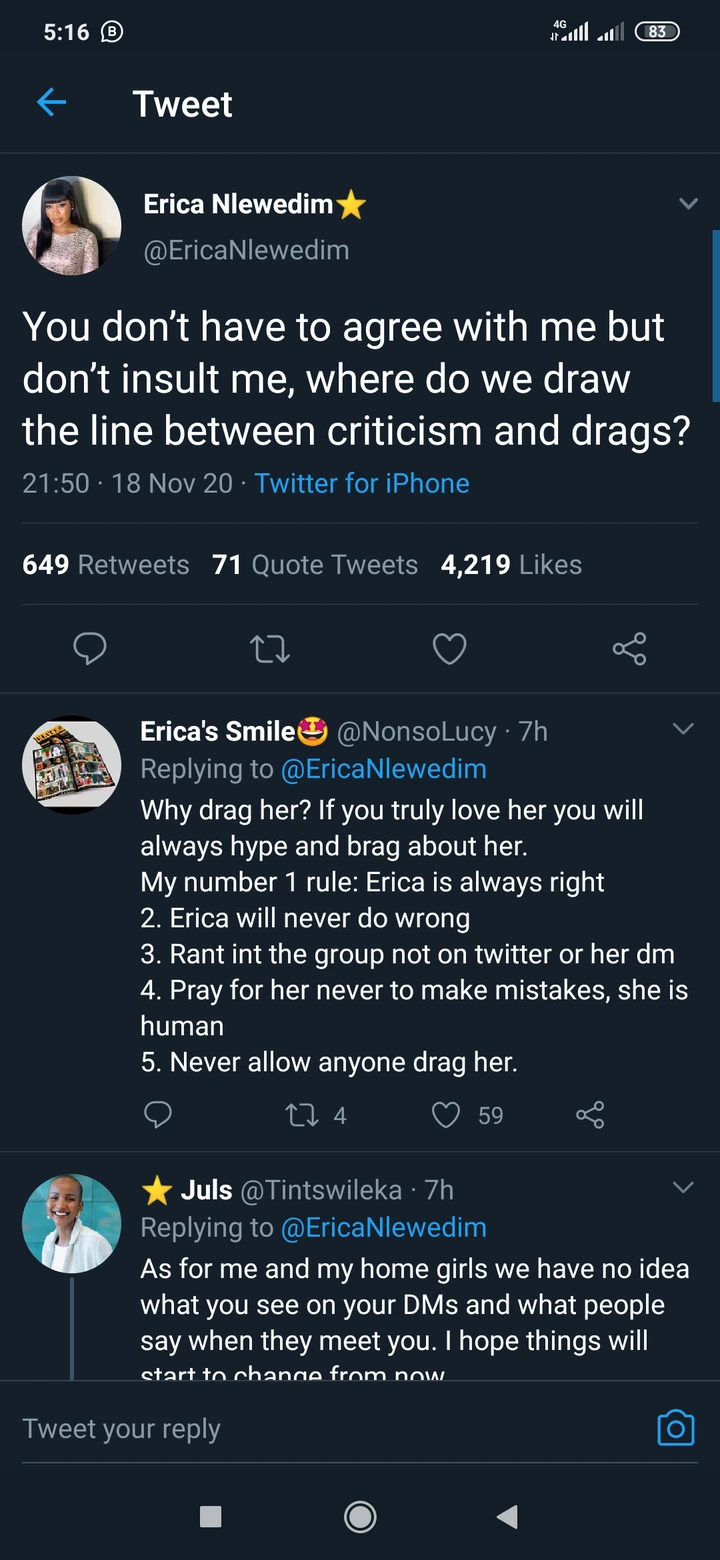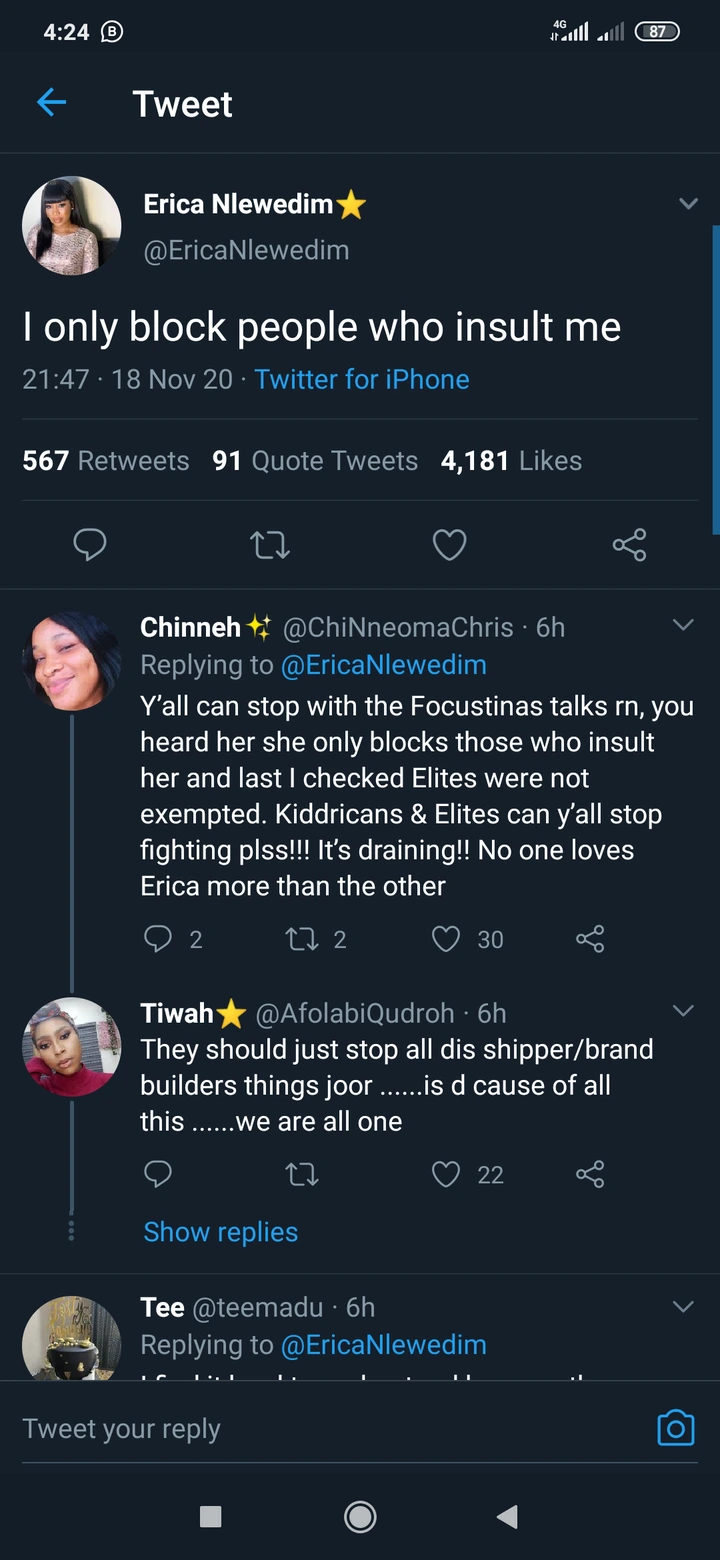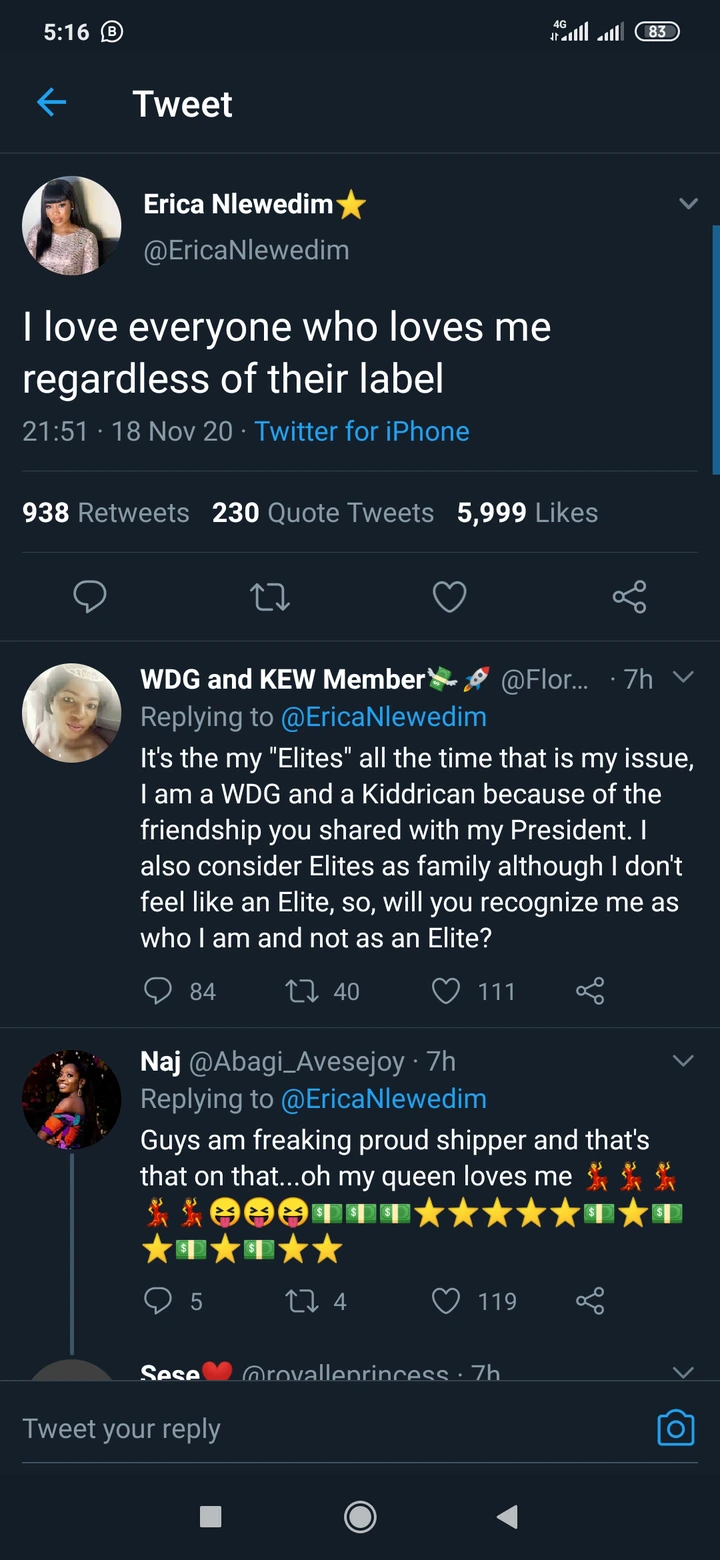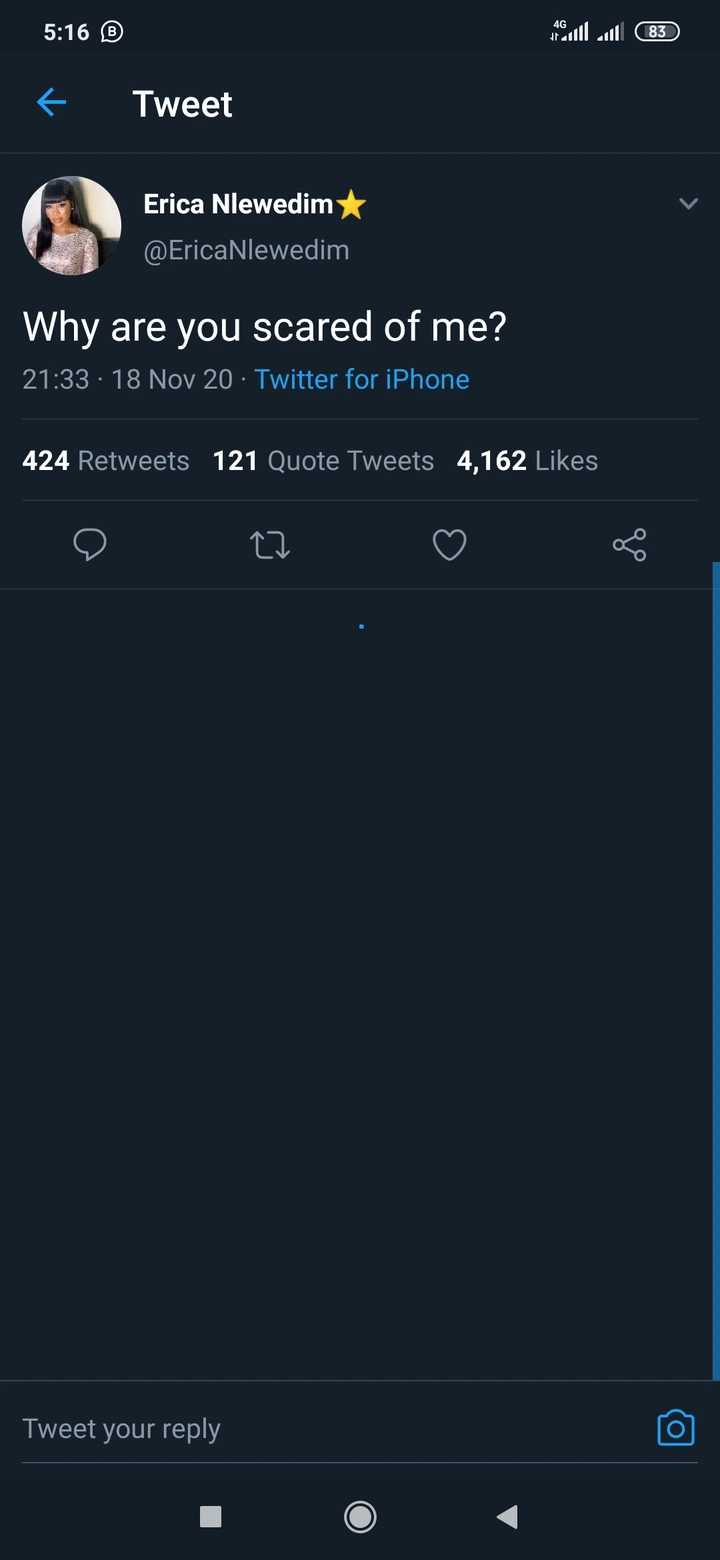 Personally, I think the downside of being a celebrity is taking a toll on her, and she's handling it the only way she has always known how to handle it.. by taking it out on the nearest person. This is a character flaw she has to work on, because if not, she's likely to lose majority of her fans in a no distant time.
What do you think about her rant?. Is she really angry with her fans, or is there another reason for these rants last night?. Kindly drop your comments and don't forget to like and share this post.
You may like
2022: International Youth day:APC National Women Leader felicitates with Youths across the globe
The National Women Leader of the All Progressives Congress (APC) Dr Betta Edu celebrates with the youths across the globe on the occasion of the International youth day with a theme *Intergenerational solidarity: Creating a world for all ages*
Dr. Betta in a correspondence released by her Special Adviser on political matters, Seun Bosede Osamaye, noted the importance of Youth Day as an awareness day designated by the United Nations to draw attention to a given set of cultural and legal issues surrounding the Youths.
Speaking as a mother in her goodwill message, the ebullient National Women Leader of the All Progressives Congress Dr. Betta Edu appealed to the Nigerian Youths to continue to be law abiding, to shun social vices, and to embrace peace as they join their counterparts all over the world to observe the *2022 International Youth Day*.
Noting that the United Nations has made a day like this very important to provide an opportunity for youths to reflect on their voices, actions, and initiatives, Dr. Betta beckons on the Nigerian Government to make it a norm in celebrating this day for the youth by raising awareness and educating people about the importance of youth in the society because the *Youths* are the pillars and future of every country.
Speaking further, Dr. Betta stressed the utmost importance of promoting youth participation especially in politics so that they can help to create a better future. She wish all Youths across the globe a successful outing and a Happy International 2022 Youth Day!
#BettaforBetterNigeria
#APCNationalwomenwing
*Comr. Victoria Uko*
SA Media to NWL
LASG DISBANDS M.O.T ENFORCEMENT TEAM
The Lagos Ministry of Transportation has placed an indefinite ban on the operations of its enforcement team tagged M.O.T Taskforce.
The Special Adviser to the Governor on Transportation, Mr. Sola Giwa, stated that the decision was reached after a thorough appraisal and review of the enforcement teams operating under the Ministry of Transportation.
Giwa explained that the ban is part of measures initiated to streamline transport enforcement activities in Lagos State to achieve the required effectiveness in line with global best practices, warning that the ban is not an excuse for drivers to disobey the traffic laws of the State.
The Special Adviser averred that Traffic Management and Transportation is a cardinal pillar in the T.H.E.M.E.S Agenda of the administration of Governor Babajide Sanwo-Olu, stressing that the readjustment of the enforcement strategy was to enhance service delivery to the people of the State.
He, therefore, enjoined the general public to report the activities of any unauthorised enforcement team still operating with the tag M.O.T Taskforce to the Ministry of Transportation for prosecution.
Appealing to Lagosians to cooperate with the State Government in its effort to improve the traffic situation across the metropolis, the Special Adviser gave an assurance that a lot is ongoing behind the scene to bring the much-desired change in the transport sector.
Bitfinex hold their first community hangout in Nigeria
Bitfinex is one of the top and oldest trading platforms in the world. It is a trading platform for sophisticated and professional traders. After millions of secured transactions carried out on Bitfinex, communities have emerged from various parts of the world. These communities have expanded to multiple professionals helping each other grow on their crypto journey.
Time out in Bitfinex was created by and for the African community and it was graced with the attendance of two crypto industry leaders, Chuta Chimezie, the founder of Blockchain Nigeria User Group, and Linda I.A Obi founder of Techonomy.
The event began with a welcome and Introduction by Paolo Ardoino, the Chief Technology Officer for Bitfinex. Linda I.A Obi spoke on the inclusion and diversity of female representation in crypto-trading, crypto-trading techniques for beginners and advanced traders and she also shared the pros of trading with Bitfinex.
Chuta gave an insight on trading and blockchain in particular. He spoke about crypto in Africa and the need to position yourself rightly in the space by acquiring as many relevant skills as possible. Members of the community asked the speakers questions and were able to learn and gain a balanced view of the cryptocurrency industry as a whole and its future.
We are really excited that Bitfinex is finally coming to Africa.