SANWO-OLU LAUNCHES 500 SAFE, SECURE FIRST-AND-LAST MILES BUSES
•Gov: Buses Are Alternatives in Okada-Restricted Routes
• Injects 100 High, Medium-Capacity Buses for Standard Routes
• FLM Scheme Comes With Life Insurance for Passengers, Drivers
Lagos State Governor, Mr. Babajide Sanwo-Olu, on Tuesday, unveiled a new transport scheme that offers residents a better alternative to commercial motorcycles who got a last chance to behave or be banned. Besides, those who drive against the traffic repeatedly will go to jail for three years.
The Governor launched 500 units of First and Last Mile (FLM) buses, which will be deployed to communities as alternative means of transportation in addressing the security threat constituted by commercial motorcycles, popularly known as Okada.
The FLM vehicles, assembled locally, are mini-passenger buses (between 7- and 11-seater), which will operate on 286 community routes. They will take passengers from closest points to their areas of residence to standard transportation corridors. Payment for FLM services will be through an automated payment system, using Cowry Travel Cards. Cowry Travel Card holders who use them on BRT buses and standard route buses can use their cards on FLM buses.
For ease of operation of the scheme, the State Government delineated the FLM's corridors into eight zones, comprising Ikeja and Ketu (Zone 1), Oshodi, Mushin, and Surulere (Zone 2), Berger, Yaba and Oyingbo (Zone 3) and Lagos Island, Ajah and Ibeju Lekki (Zone 4).
Others are Iyana-ipaja and Agege (Zone 5), Mile 2, Iyana-Iba and Ajeromi (Zone 6), Ikorodu (Zone 7) and Epe and Badagry (Zone 8).
Besides, the Governor inaugurated brand-new 100 high- and medium-capacity buses into the fleet of Lagos Bus Service Limited (LBSL) to replace vehicles burnt at BRT stations during the wave of violence that marred the EndSARS protests, last October.
Sanwo-Olu said the mini buses would address Okada-related crises that had generated widespread concern on safety among residents. Besides, they will offer services which the high-capacity buses were not designed for.
The first fleet of buses will kick off the operation of the scheme. The fleet would be gradually increased to 5,000 buses in the coming months, the Governor said.
He said: "The launch of the First and Last Mile (FLM) Bus Scheme today is an important milestone in our quest to achieving the intermodal transport system which gives our teeming population the choices they deserve, reducing congestion and journey times, and improving the quality of life. It is also in fulfilment of one of the measures we promised as a solution to the security situation discussed at our recent Security Stakeholders' Town Hall Meeting.
"As a responsible Government, we are launching this scheme in response to two major issues. One is the alarming statistics of fatal accidents recorded from the operations of Okadas in Lagos between 2016 and 2019, and the use of Okadas for the facilitation of crime across the metropolis. The goal is the full implementation of a safer and more efficient alternative transport solution that takes out the need for Okadas and replaces them with safer buses that will help us curb incidents of Okada-related accidents, crimes and robberies."
A ride on the FLM buses comes with a premium insurance policy on the lives of passengers and the drivers. The operation and maintenance of the buses have been handed over to private operators for efficiency and turnover. The private operators, the Governor said, will recruit personnel for the management of the scheme.
Sanwo-Olu said the State Government had been working with the National Union of Road Transport Workers (NURTW) and the Road Transport Employers Association of Nigeria (RTEAN) as major stakeholders in the State's Bus Reform Initiative (BRI) being implemented by Lagos Metropolitan Area Transport Authority (LAMATA).
All the unions' branches within the FLM zones, the Governor said, will participate actively in the implementation of the scheme.
He said: "I call on NURTW, RTEAN and all other stakeholders in the public transportation value chain to ensure that these new buses are well maintained and protected, so that the goals of the new service can be fully realised, and all those who invested can derive maximum value from their investments.
"Our local councils' chairmen must play their parts in ensuring the roads are free from encumbrances likely to impede the smooth running of the FLM buses. I charge our security and law enforcement agencies to be alive to the crucial role they have to play in the success of this scheme."
The Governor reinforced the restriction on commercial motorcycles in 15 local councils and 11 major highways, warning that the State Government would mete out stiff penalties to defaulters still riding Okadas within the restricted areas.
Driving against traffic now attracts a jail term of three years for repeated offenders, Sanwo-Olu said, adding: "First-time offenders are liable to a one-year jail term in addition to their vehicle being forfeited to the Government."
Commissioner for Transportation Dr. Frederic Oladehinde said the scheme was a component of the State's transport system meant to offer relief to residents in the hinterland in accessing the standard transport corridors through safe means.
He said: "In line with the Transport Sector Reform Law of 2018, the Lagos State Government, through the Ministry of Transportation and LAMATA, has put in place various measures aimed at readjusting its transportation strategies to accommodate FLM scheme to provide all inclusive, safe, convenient, affordable, and accessible services in line with global practices."
Managing Director of LAMATA, Mrs. Abimbola Akinajo, said the FLM buses operations would start immediately in Zones 2,3,4,5, and 7 captured in the first phase of the bus scheme.
For safety, Mrs Akinajo said a monitoring mobile application had been designed for real time data collection as well as vehicle tracking purpose, adding that all drivers to be engaged in the FLM scheme would be certified by the Lagos State Drivers Institute (LASDRI) to ensure that they are fit to operate the buses.
"We will ensure proper maintenance of the buses to guarantee their service longevity. Maintenance of the buses will be outsourced to the Original Equipment Manufacturers (OEM), which will be responsible for executing all preventive and corrective maintenance needs. Operators will ensure that buses are maintained in line with the best engineering standard," the LAMATA boss said.
You may like
Wike's romance with Tinubu's men rattles Amaechi's base
There are strong indications that the Rivers State All Progressives Congress led by immediate past Minister of Transportation, Rotimi Amaechi, is angry about the romance between the APC presidential candidate, Bola Tinubu's men; and the Rivers State Governor, Nyesom Wike.
Wike has in recent times been meeting with some APC chieftains, including Tinubu's allies. On Monday, the Lagos State Governor, Babajide Sanwo-Olu, was invited by Wike to inaugurate a road project.
The Rivers governor also invited former Governor Aliyu Wamakko of Sokoto State and the Speaker of the House of Representatives, Femi Gbajabiamila to inaugurate some projects in his state.
Earlier, some APC governors led by the Chairman of the Nigerian Governors Forum, Kayode Fayemi, had also met Wike in his state amid his feud with the presidential candidate of the Peoples Democratic Party, Atiku Abubakar.
However, sources close to Amaechi, told The PUNCH that the romance between Wike and Tinubu was disrespectful especially since it was public knowledge that Wike and Amaechi were political foes.
They also accused Tinubu of supporting Senator Magnus Abe who recently dumped the APC to run for governor on the platform of the Social Democratic Party.
An associate of Amaechi who wished to remain anonymous because he was not authorised to speak on the matter, said, "The APC leaders have been coming to Rivers State to lobby Wike and make all manner of promises to him. These people never came to Rivers even when the party was having a crisis.
"They should not forget that Amaechi came second in that presidential primary and is still the leader of the APC in Rivers State. Rather than rally around him, they have been romancing Wike. Tinubu is among the sponsors of Magnus Abe who has defected to the SDP.
"Magnus Abe is Tinubu's boy. He is always with Tinubu. Even after joining the SDP, he is still with Tinubu and has promised to work for Tinubu's campaign. Yet they cannot caution him."
The source stated that Atiku might begin to woo Amaechi soon if quick action was not taken.
Speaking with The PUNCH, an APC chieftain, Chukwuemeka Eze, said he was not aware if Atiku had begun reaching out to Amaechi.
Eze, however, said if Amaechi decides to join the PDP, then Tinubu should be blamed.
He added, "If Amaechi decides to rejoin PDP, it may not be of his own making but due to the acts and attitude of Senator Bola Ahmed Tinubu and managers of his campaign team coupled with the new style of leadership of those currently running APC.
Amaechi's neglect
"Let me state unequivocally that the manner and ways Amaechi and his political Team are being neglected both in the formation of the APC Presidential Campaign Council and most of the activities of the party since after the APC Presidential Convention is not the best way to treat a leader with the stature or status of Amaechi. You don't do that.
"To worsen the situation, the manner in which Tinubu and his associates continued to associate with Governor Nyesom Wike of Rivers State without any consultation with Amaechi or any member of his political family is not only sad but very unfortunate."
Eze said Amaechi remained an institution in Rivers State politics and that anybody or political leader who feels he can undermine him is doing that at his or her own peril.
He recalled that Amaechi as the Director-General of the Presidential campaign that orchestrated President Goodluck Jonathan's defeat in 2015
"Based on his rating, I will not be shocked if Atiku Abubakar is wooing him based on the fact that the two leaders are not only very close associates politically and but have remain great partners in the progress of this country so I have nothing against such a union," he said.
When contacted, the Rivers State APC Publicity Secretary, Chris Finebone, told The PUNCH that Wike was desperate for an alliance with Tinubu and the APC to remain relevant after 2023.
Commenting on the romance between Tinubu's men and Wike, he stated, "In politics, the concentric circles of conspiracy are numerous. Sometimes they overlap and other times they are incongruent. But very often, the end result is one – how to appropriate political power at the expense of others or competitors. Therefore, in the instant case, whether it is Asuwaju that is going after Governor Wike or the latter that is courting Asuwaju, the end result is how to survive 2023 general elections and remain politically relevant thereafter.
We know that the desperate party or side in the entire calculation is Wike. Reason is that head or tail with Atiku, he'll lose. Assuming without conceding that Atiku wins, he'll surely put away Wike in a cold manner. Wike understands this. In a scenario where Asuwaju/APC wins, Wike deserves the grace of God to walk free. He needs the protection post 2023 so badly. Therefore, it is clear that Wike is the one chasing after Asiwaju/APC and not the opposite.
Whether asked if the romance was a slap on Amaechi, he stated, "I have a biblical verse as an answer. 'Thou sayest!'
Also in a chat with The PUNCH, the Deputy spokesman of the APC in the Rivers State, Darlington Uwauju, said Amaechi was one of the few political leaders that could be trusted and that he would not leave the APC for the PDP.
The Chairman of the Lagos State chapter of the APC, Cornelius Ojelabi, said anyone was free to visit Wike as he was not Tinubu's enemy.
On Tinubu's alleged link to Magnus Abe's defection, he said, "I don't know anything about that. All I know is that politics is a game of numbers. When you are in a contest, you just have to approach all that is approachable and solicit support."
On whether he sees the possibility of Wike forming an alliance or crossing over to the APC, Ojelabi responded, "It is all about passion and you know Wike has a passion for politics. Wike was part of the southern governors who came to Lagos State before now and said that the Southern governors won't support any presidential candidate from the North."
'Wike a tactician'
Also speaking with The PUNCH, a former Minister of Communications, Adebayo Shittu, who is also a Tinubu campaigner, said there was nothing wrong with the new romance with Wike.
Shittu said Amaechi should be happy that someone like Wike was being linked to the APC.
"Nobody will stop Wike if he wants to come to APC. Again, you know Wike is a tactician. If I were in Amaechi's shoes, I would see Wike's coming as an opportunity to settle reconcile with him. What he should be thinking of at that point is that with Wike coming into the party, will there be an in-fighting anymore?," he asked.
Shittu also rubbished reports that Tinubu had a hand in Abe's defection, adding that Tinubu could not be blamed for longstanding crisis in the party in Rivers State.
"Is it not a stupid idea for anybody to suggest that Abe is not intelligent enough to take a decision on his own? There are certain things that sound silly to one's hearing, except that it is always news to the media.
"Abe has been running a battle politically with Amaechi. Even at the last governorship primary, he didn't win the ticket to fulfil his ambition. Tell me, does he need anybody to tell him the next step to take if he fails to clinch the APC ticket," he asked.
Shittu added that Tinubu was not fighting with Amaechi whom he described as a brother and friend. He noted that when Amaechi accused APC delegates of selling their votes, Tinubu refused to respond.
"Is he fighting Amaechi? Even when he alleged that some delegates were given bribes for vote-buying, did Tinubu say anything? That's because he doesn't want to join the fray. If you study Tinubu well enough, you will know that he doesn't take issue with people. That's why you see people who fight him coming back to him at the end of the day," he said
When contacted, Atiku's Media Adviser, Paul Ibe said reconciliation and discussions with Wike was still ongoing and declined further comment.
An analyst, Sunny Anyanwu, argued that it was almost impossible for Wike to defect to the APC, adding that he may have been hurt, but he would not dump the PDP.
''It will amount to a dog eating its vomit if Wike defects to APC. Yes I agree Wike has been hurt. The committee set up by the PDP to select a vice- presidential candidate recommended him but Atiku on his own picked Okowa. Now, it was like injustice was done to him. I don't think Wike will finally settle for APC. I don't think so. But if he does it, he has brought his personality to the mud, and he will have no political relevance again,'' the lawyer submitted.
Amaechi could not be reached for comment on Tuesday. Calls placed to the ex-minister'smedia aide,Paul Iyiofor, rang out and he had yet to reply to a text message seeking his comment on Wike's alleged romance with Tinubu's allies and other APC chieftains.
Meanwhile, the crisis in the PDP worsened on Tuesday with tWike, attacking a former senator, Lee Maeba, an ally of the PDP presidential candidate.
Wike and Maeba traded words over the governor's statement on the control of the votes in the state and the benefits which accrued to Rivers when Atiku was the vice-president between 1999 and 2007.
Speaking on Tuesday at the inauguration of the dualised Ogbunuabali -Eastern Bypass Road which was performed by the former governor of Sokoto State, Senator Aliyu Wamakko, the governor said Maeba was wrong when he quoted him (Wike) to have said he was in charge of Rivers State's votes..
This was contained in a statement issued by Kelvin Ebiri, media aide to the governor and made available to newsmen..
He said, "Because some people went to school late, they don't understand when somebody says I am in charge of this state. I never said I am in charge of votes in this state. But I know I can talk to my people and my people will listen to me. Some people say, I have only one vote, I agree. I can't vote two times. I will only vote once. But because of the services I have rendered to the people of this state, the state will listen to me."
The governor stated that he had remained a consistent politician, not playing double games and urged Rivers people to be happy that they have a governor who would always defend the state.
The statement said, "Leadership is not about party, leadership is about individual. Party is only a vehicle to actualize your ambition, to be able to tell your people I have this capacity, I have this quality to render services to you.
"If you take me away today from the PDP to another party, I will still perform. So, it is not because I'm in the PDP that I'm performing. It is because I have that passion for my people. It is because I have the commitment to serve my people. Take me to the YPP, allow me to become whatever I will become there, I will perform. Take me to any party, I will perform. So, it is not the party that makes you perform."
He stated that the state did not benefit from some politicians' closeness to Presidents and Vice-Presidents.
Maeba replies Wike
But reacting to Wike's comment, Maeba told The PUNCH that Rivers State benefited from Atiku on account of his and a former House of Representatives deputy speaker, Austin Opara's closeness to the former vice-president.
The former federal lawmaker explained that his relationship with Atiku brought Intels, a logistics company owned by the PDP presidential candidate, to the state.
He said, "It (Relationship with Atiku) brought Intels. Atiku established Intels which employed many people. It was because of us that he (Atiku) invested more in Intels Rivers.
"Must friendship bring something? What has his (Wike's) friendship brought to me? His friendship to me has only brought me pains; his friendship to me has brought me more pains."
Also speaking in an interview with an online television station monitored by our correspondent, Maeba disclosed how Wike threatened to collapse the party if he failed to secure the party's ticket to contest the 2023 presidential election.
He said, "Wike told me during one of our campaigns that if he failed the primary that he will collapse the whole system if they do to him what they did to (Ex-Rivers state governor, Peter) Odili. He said he will collapse the system and everybody will go home. That is the fear here."
He wondered why the governor had refused to move on like Odili did when he failed in his bid to become the president in 2007.
When contacted, Atiku's Media Adviser, Paul Ibe said reconciliation and discussions with Wike was still ongoing and declined further comment.
PUNCH
I never told Tinubu to give Peter Obi a chance, seek treatment for his health – Ghana President
Ghananian President, Nana Akufo-Addo has denied writing a letter to the candidate of the All Progressives Congress, APC, Ahmed Bola Tinubu, appealing to him to give the flagbearer of the Labour Party, LP, Peter Obi a chance in the forthcoming 2023 presidential election.
He said he never told Tinubu to seek treatment for his health as contained in the purported letter making the rounds on social media.
Akufo-Addo who is well known as a good leader, advised people via his verified Twitter handle to discountenance the story, noting that the letter is completely false and mischievous.
According to him: "My attention has been drawn to a disturbing post making the rounds on social media, where it is alleged I have written to the 2023 presidential candidate of the APC, Asiwaju Bola Tinubu, to "give Peter Obi a chance and seek treatment for his health".
"This is completely false and mischievous, with no iota of truth whatsoever in it.
"I have written no such letter to the APC leader, and it will not occur to me to do so. Ghana and Nigeria boast of decades of cordial, strong and brotherly relations, and I am not going to be the one to interfere in the internal affairs and politics of Nigeria."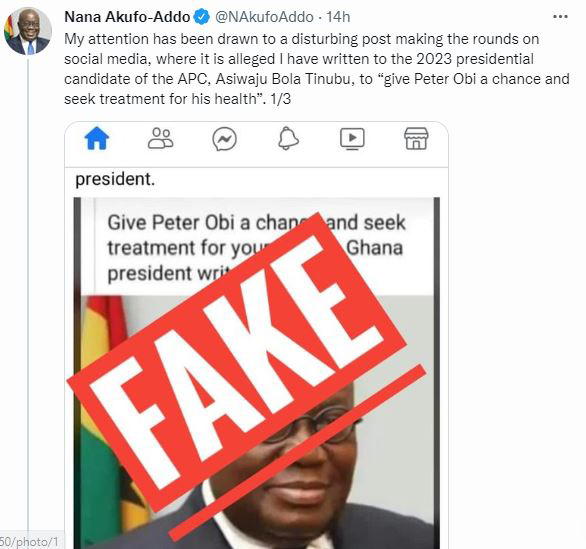 Ghana Weaving Braids You can Recreate to Look Stunning
Styling and maintaining your hair is as important as wearing a stylish outfit. Whenever you make a new hairstyle, you tend to look more pretty. Moreover, your hair is one of the first things people notice about you. Therefore, you shouldn't hesitate to make your hair look good at all times.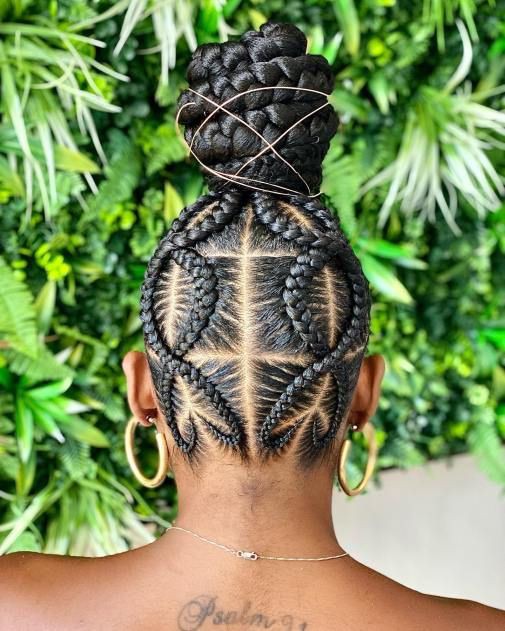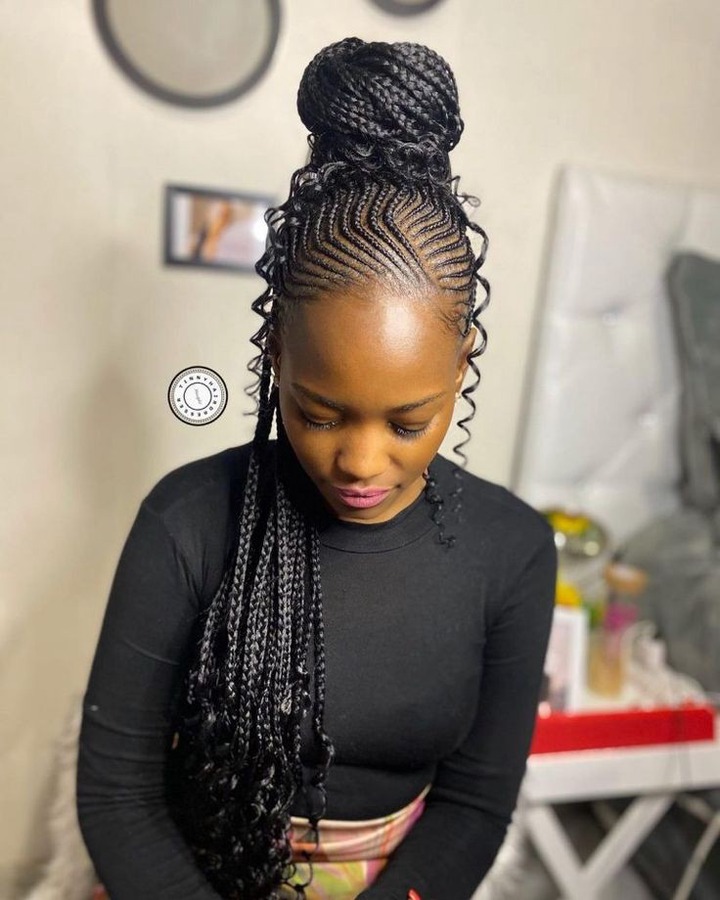 These days, there are a variety of options as far as hair care is concerned. You can opt for a low cut, a wig, or braids. Braids are more popular because they're stylish and unique. One category of braids you can try out when next you visit your stylist is Ghana weaving braids. And this article contains some attractive styles you can recreate.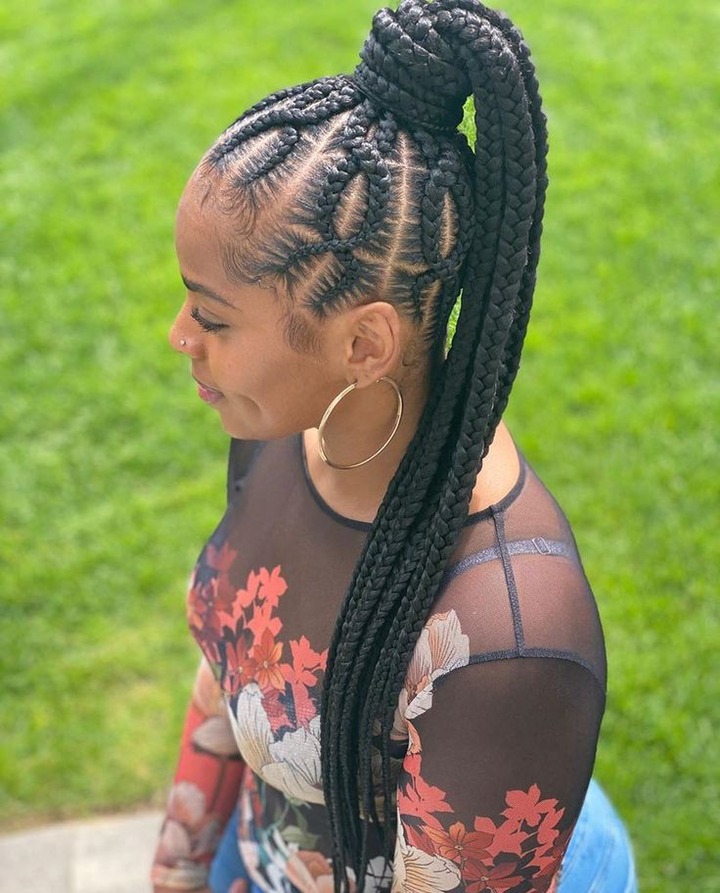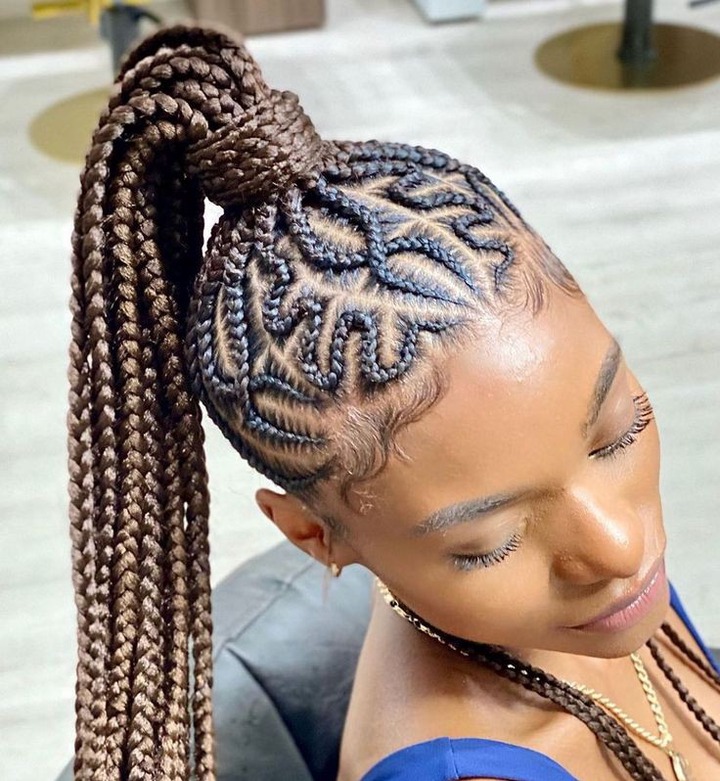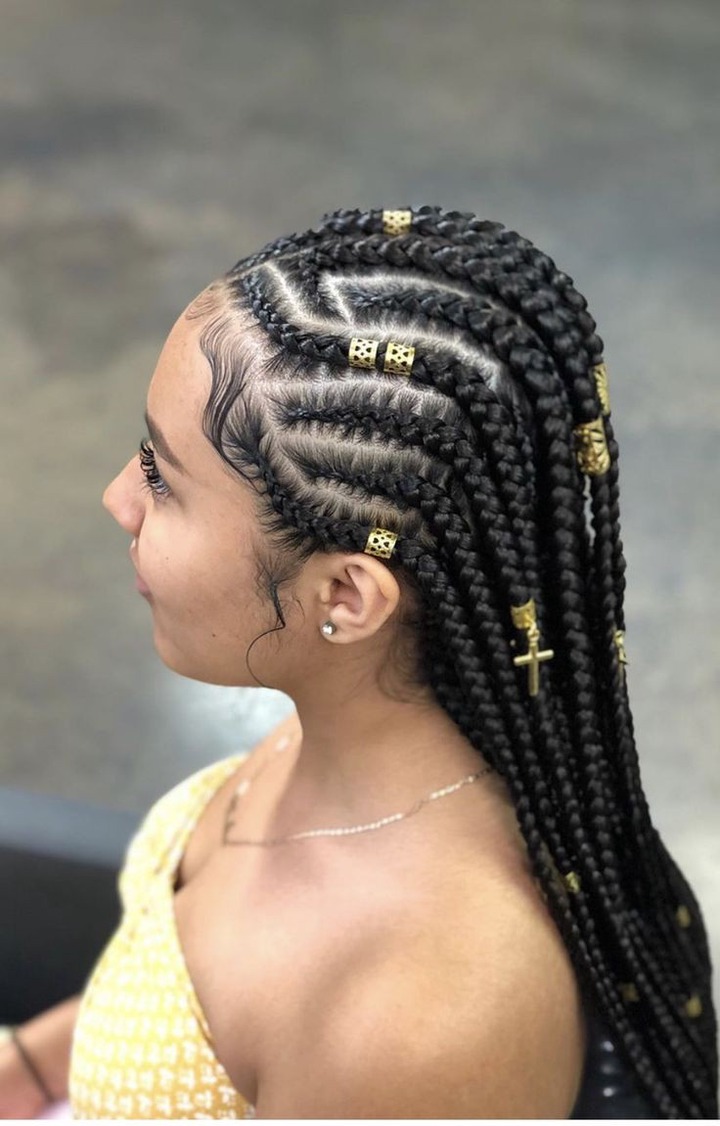 View pictures in App save up to 80% data.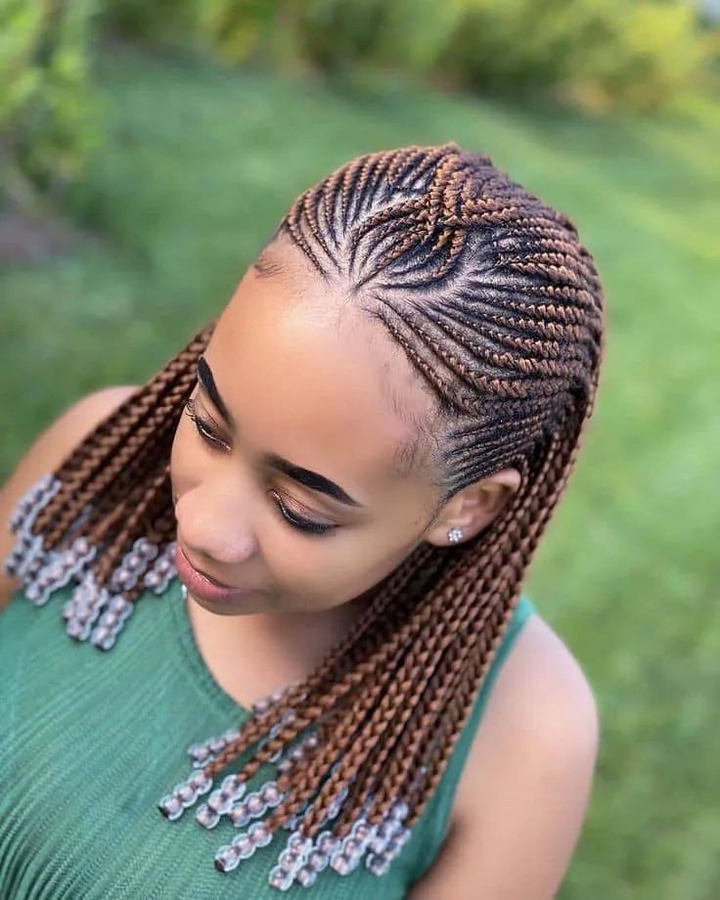 View pictures in App save up to 80% data.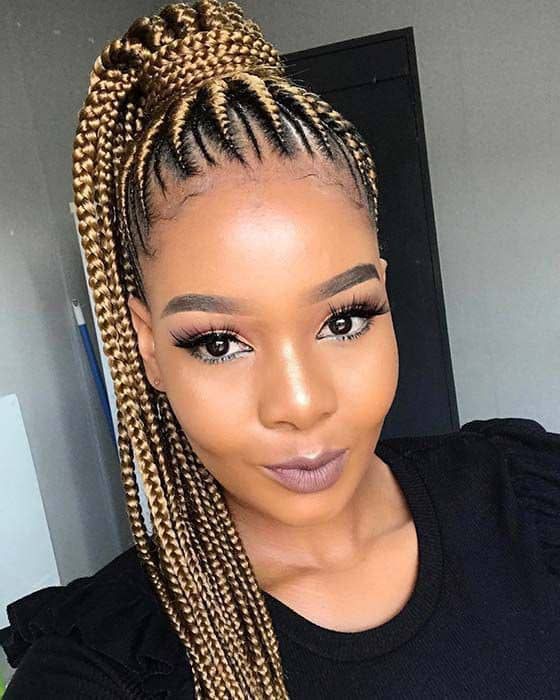 View pictures in App save up to 80% data.
Ghana weaving braids have been a trend for a while now because they're long-lasting and tend to look good on any lady that makes them. You can make your Ghana weaving as cornrows, shuku, or a combination of cornrows and one-one braids.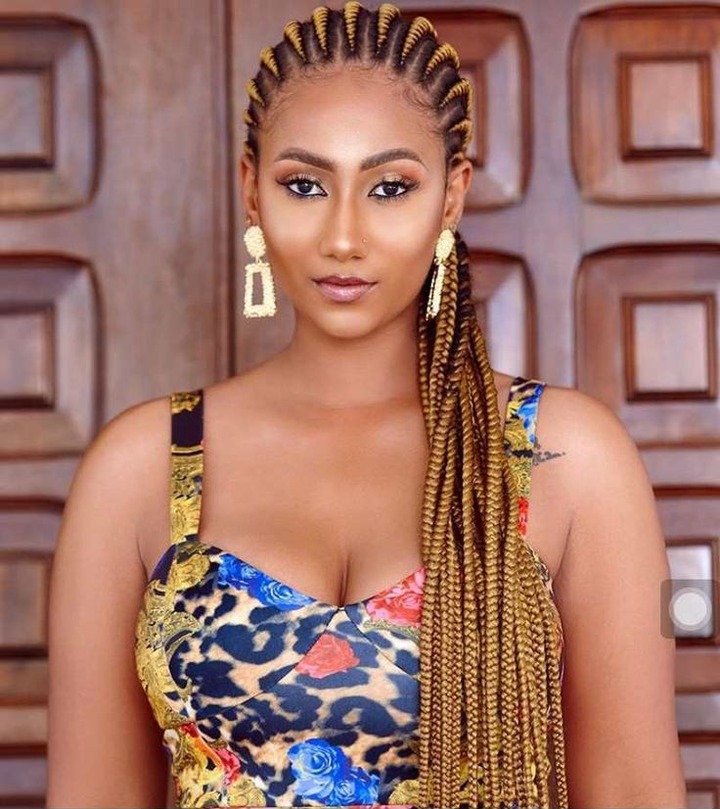 View pictures in App save up to 80% data.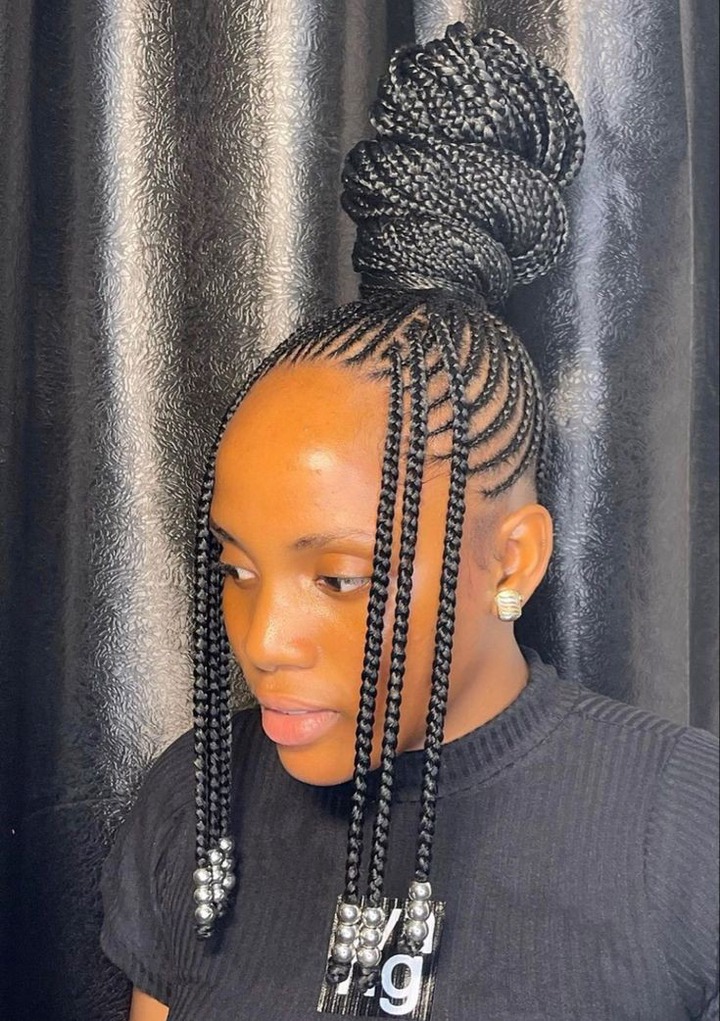 View pictures in App save up to 80% data.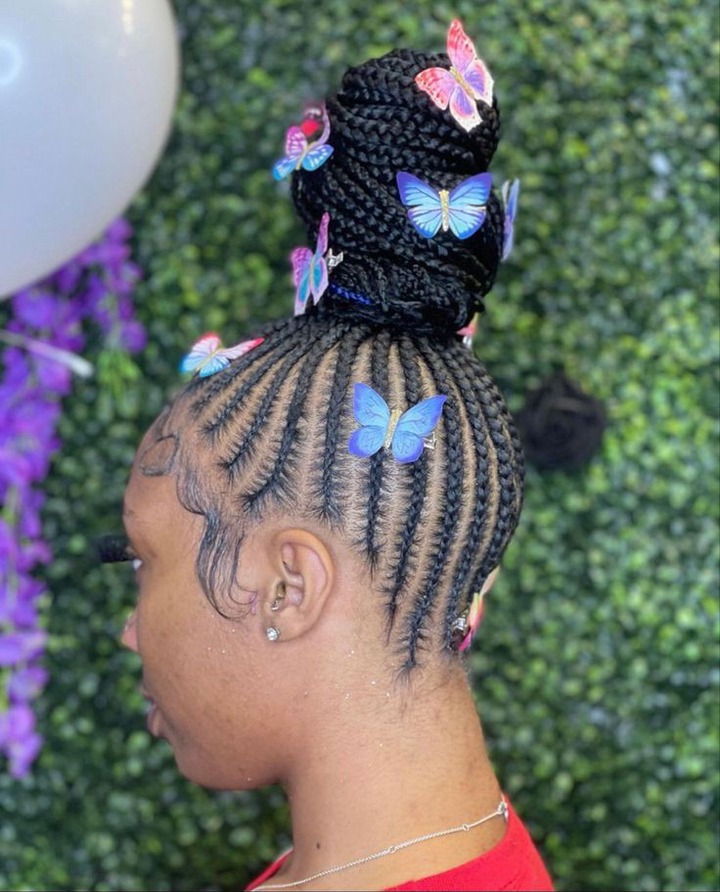 View pictures in App save up to 80% data.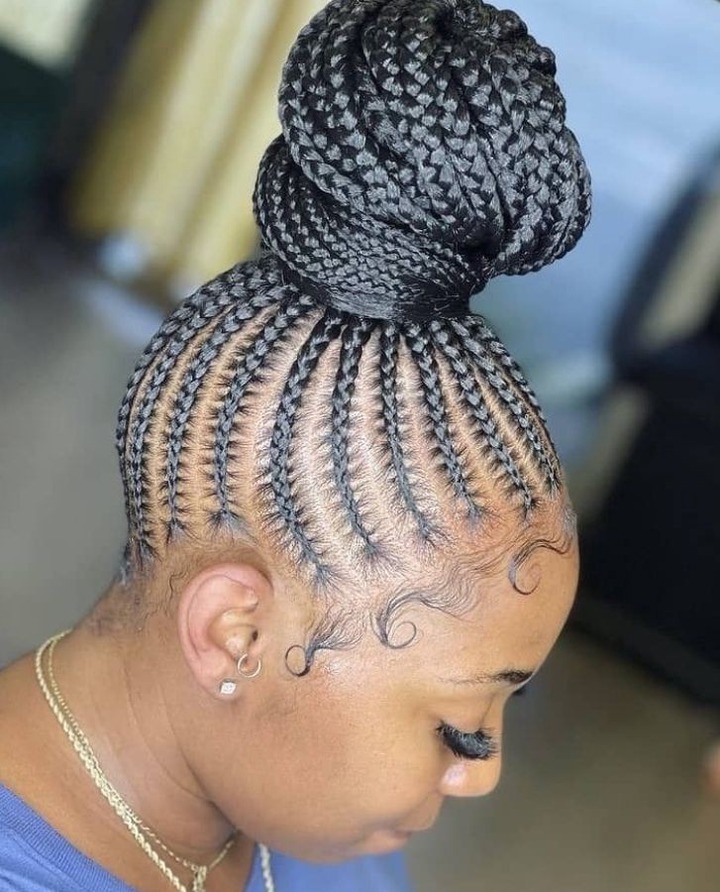 View pictures in App save up to 80% data.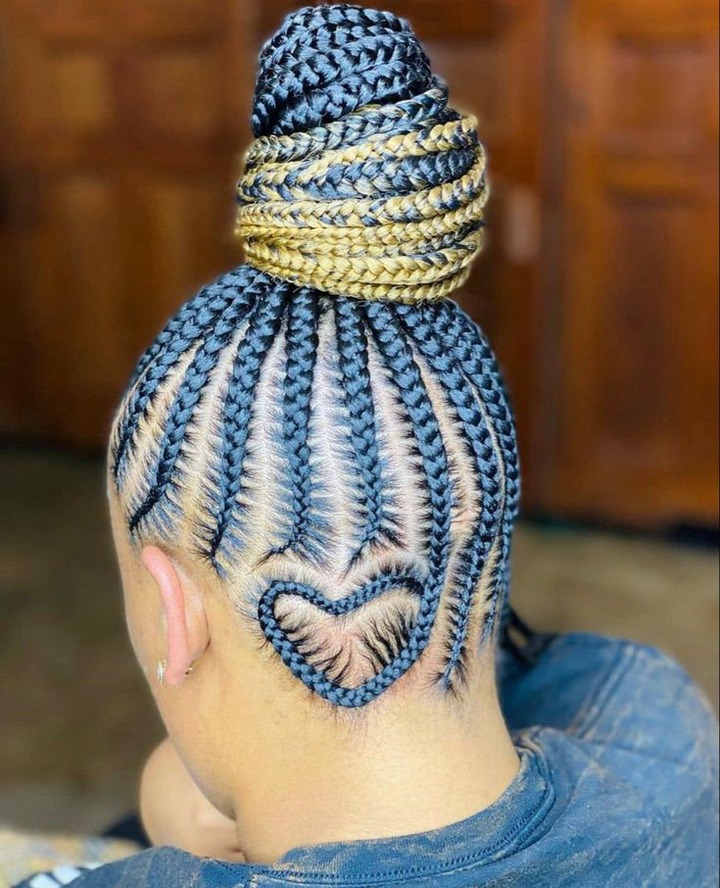 View pictures in App save up to 80% data.
You can style your Ghana weaving with colored attachments, rings, beads, hair clips, ribbons, or zigzag patterns.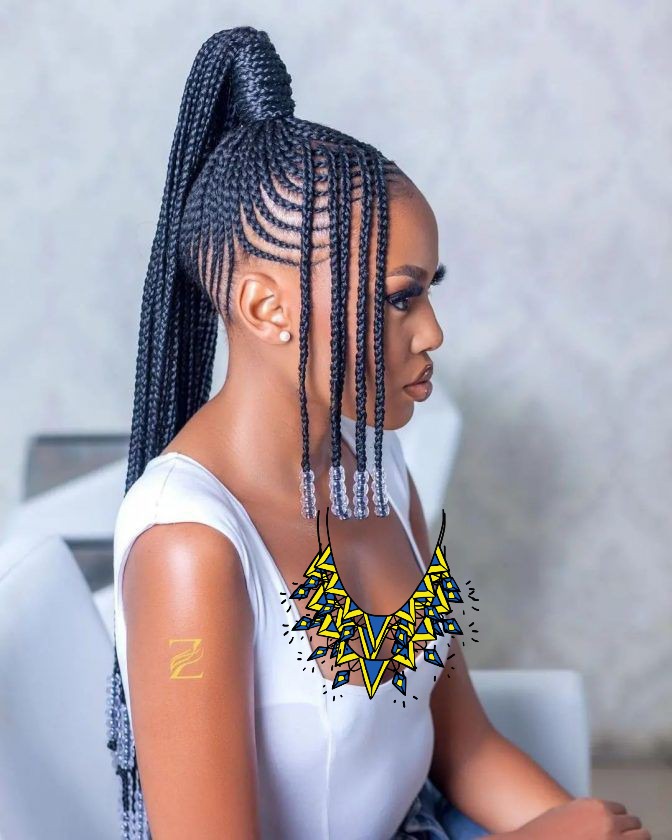 View pictures in App save up to 80% data.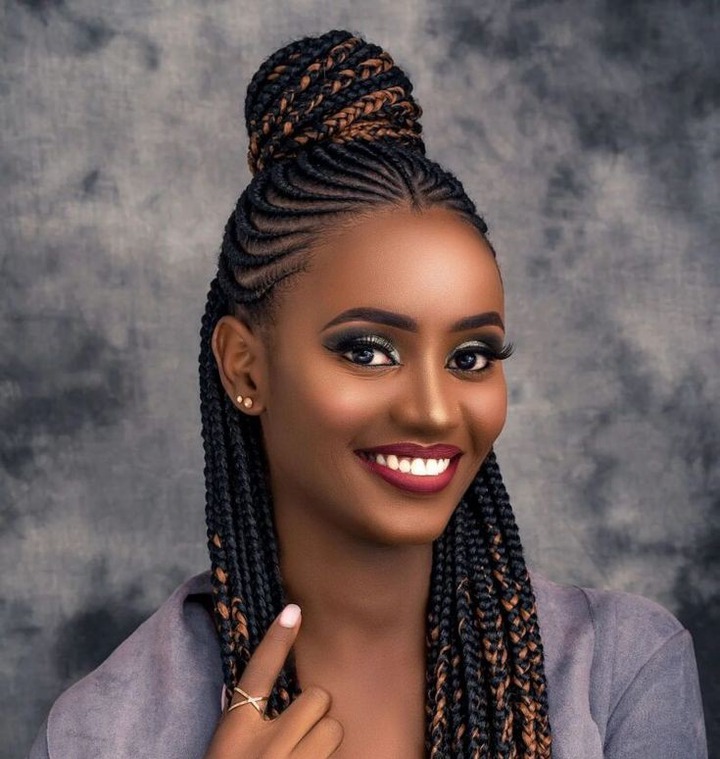 View pictures in App save up to 80% data.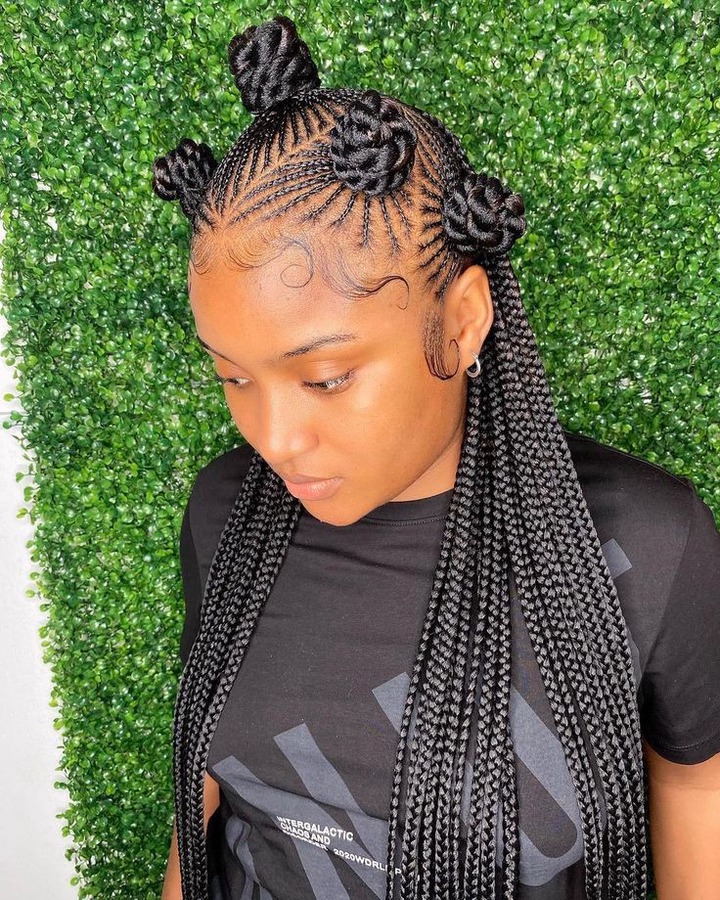 View pictures in App save up to 80% data.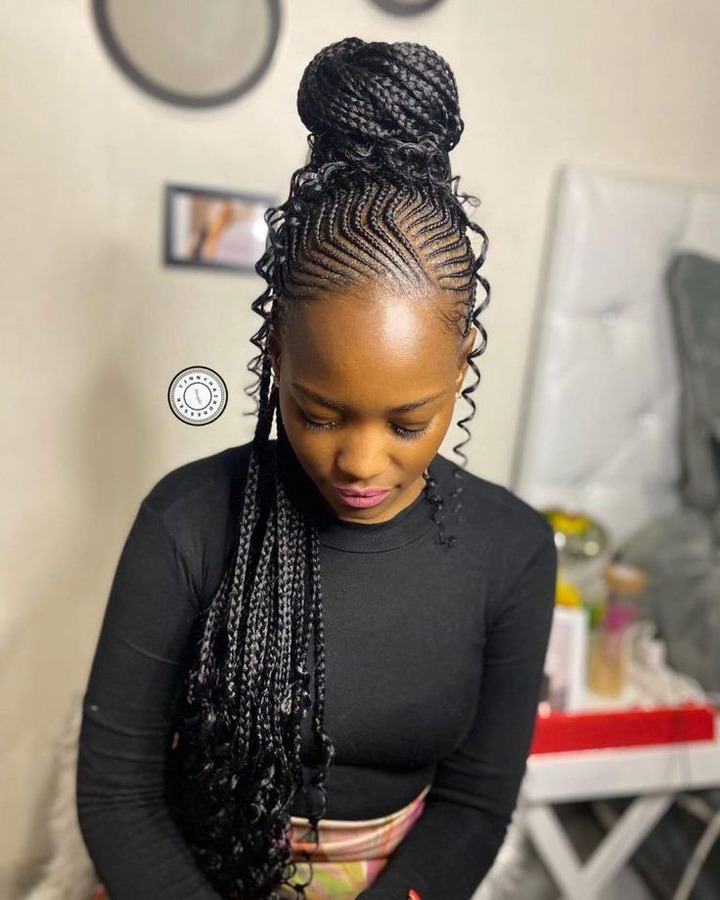 View pictures in App save up to 80% data.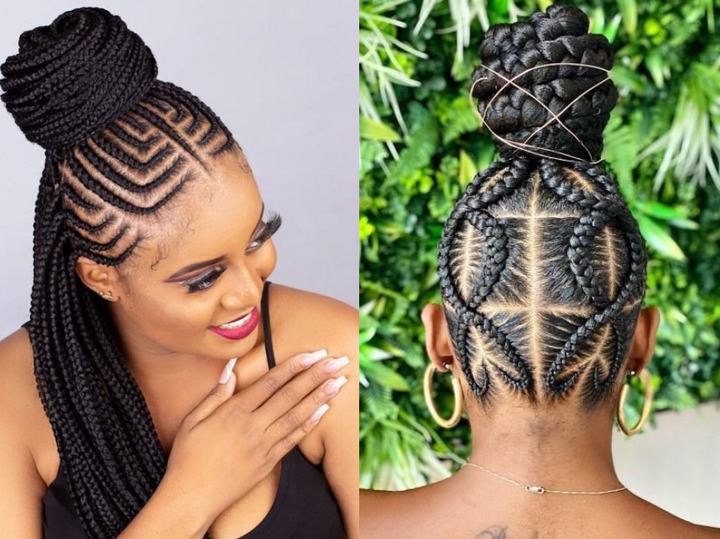 So, ladies, which of these Ghana weaving braids would be recreating?