Blessing Okoro Advises Lady Who Complained About Boyfriend Who Doesn't Offer Transportation
Popular relationship therapist, Blessing Okoro, also called Blessing CEO known for giving relationship/marriage advice and counseling to people has stated her s3xual attraction is with men and not boys.
This is coming after the relationship coach advised a lady who complained about her boyfriend.
According to the lady, she came crying to Blessing as her boyfriend of nearly three years has never given her money, especially for transport fee anytime she comes visiting. She then came seeking advice on how to let her partner take responsibility, even if it was as simple as paying for her transportation when she visited him.
In the chat shared by Blessing on her Instagram page, responded by telling the lady that she couldn't relate to such a situation because she had never been in that circumstance.
She further explained that the issue is that she is dating a small boy rather than a man.
In talking about her relationship with her boyfriend, Blessing revealed that she has never booked a flight on her own and doesn't know how because her partner always books her tickets, even when she isn't traveling to meet him.
Taking to the caption, she wrote;
"I don't do Boys
I do MEN ….
Never don boys sef, right from my young days, I dislike small small boys, them dey vex me . No offense. Boys can't just stand my mental capacity, they make it hard for me. Transport is a problem haaaaaa"
Take a look at the chat below;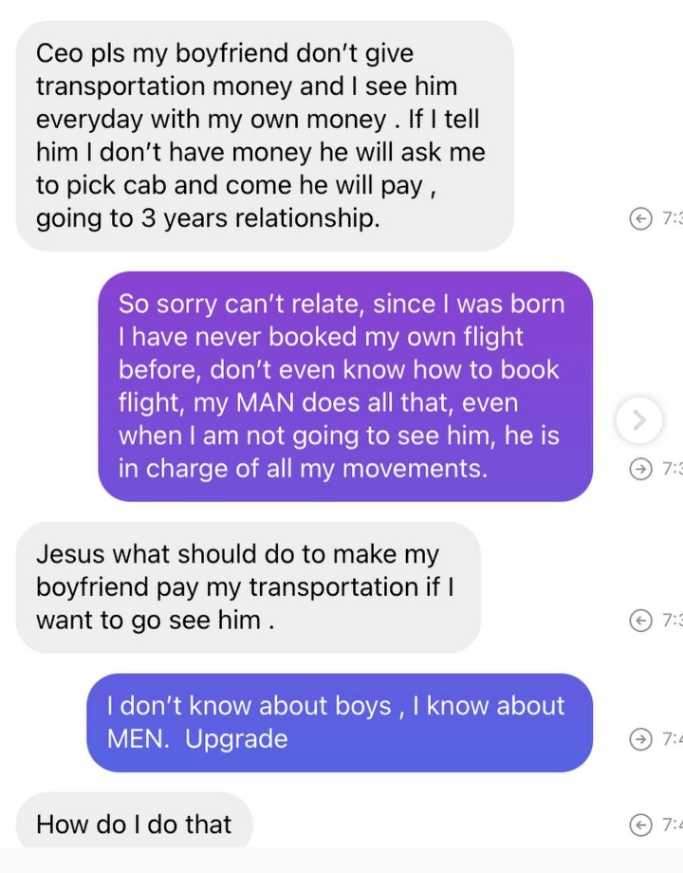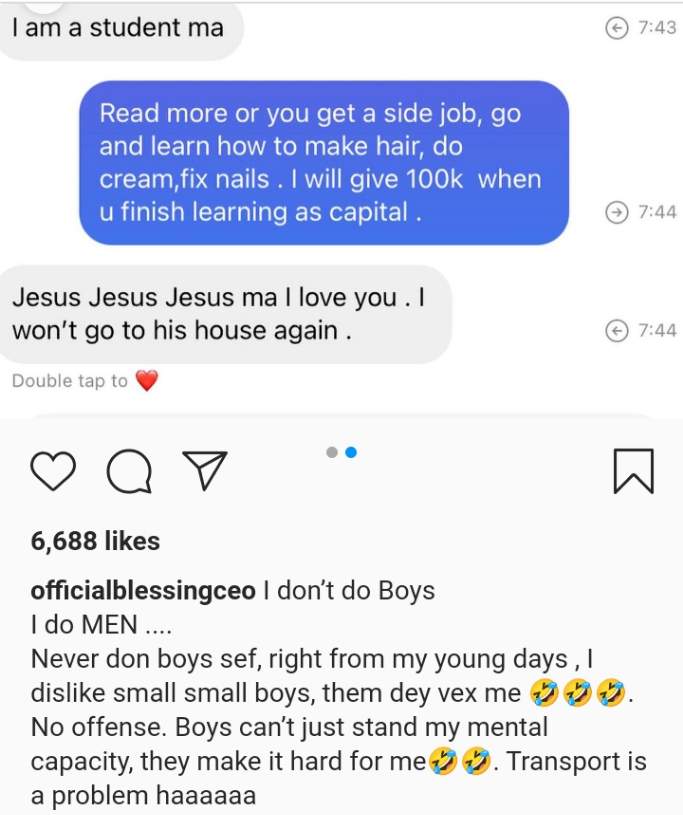 You may like
Tinubu Hangout: Again, Tosin Adeyanju, Mai Agogo bag awards of excellence
The All Progressive Congress (APC) Women under the aegis of Capacity women presented awards of excellence to the Convener of the pre-inaugural Hangout, Tosin Adeyanju and the co-Convener, Dr. Mai Agogo.
The award was presented on Monday at the Day 57 of pre-inauguration hangout of the supporters of Bola Tinubu, the president-elect.
The award according to the leader of the group, Hajia Zainab Arome Ibrahim, is in recognition of their undaunted efforts and Continuous Contributions to the Successes of the APC.
"For all your effort in ensuring Tinubu/Shettima mandate emerged at the 2023 presidential election.
We also want to thank you for your sacrifices, the sleepless nights, under the sun, and in rain and also in putting Pre-Inauguarantion hangout together with it's beautiful results.
"Most importantly we want to thank you for protecting the APC mandate even After the 2023 election, as we are fully aware of all your efforts." She said.
Ooni unveils latest wife, Olori Akinmuda
The Ooni of Ife, Oba Adeyeye Enitan Ogunwusi, has unveiled his latest wife, Opeoluwa Elizabeth Akinmuda.
The king reportedly took his sixth wife sometime in May and is set to officially welcome her into his Royal Palace of Oodua in Ile-Ife.
Invitations for the Thanksgiving service and reception of the new queen have all reportedly been sent out. Major dignitaries in the country are expected to attend this grand event. The event is scheduled to hold on Saturday 20th May 2023.
The event will be preceded by the traditional entry of the Queen into the ancient Ife Oodua Palace of Ile-Ife this Thursday.
The couple reportedly tied the knot on May 10th, 2023.
Recall Oba Enitan Adeyeye, is already married to five other women namely; Olori Mariam, Olori Tobi Phillips Ogunwusi, Princess Ashley Adegoke, Princess Ronke Ademiluyi and Temitope Adesegun.
Punch
BREAKING: Police arraign Seun Kuti for assault in Lagos court
The Lagos State Police Command has arraigned Afrobeat musician, Seun Kuti, before Magistrate Adeola Olatunbosun of a Magistrate's court sitting in Yaba, Lagos State.
The defendant was charged with assault on a police officer, an offense contrary to Section 356 of the Nigerian Criminal Code Act.
The police prosecutor, S. A Adebese, prayed the court to remand the defendant for 21 days pending legal advice from the Directorate of Public Prosecutions.
However, the counsel led by Femi Falana, SAN, begged the court to not remand his client, stating that he was not aware of the remand application.
The PUNCH had reported that a viral video of Seun Kuti assaulting a police officer on the Third Mainland Bridge in Lagos State emerged on Saturday.
Kuti had turned himself in at the Lagos State Police Command, Ikeja on Monday, following an order for his arrest by the Inspector-General of Police, Usman Baba.
He was later transferred to the state's Criminal Investigation Department, Panti, Lagos.
Punch