Your Helpers Will Locate You – Fans Offer Prayers To Sammie As He Reveals Struggle
Fans express their kind love as they shower prayers on BBNaija Sammie as he reveals what he is going through after the season's ending.
Fans and followers of the Ex-Big Brother Naija season six, Shine Ya Eye housemate, Sammie Jacob have taken to social media to shower prayers on him as he reveals what he is passing through.
Just recently, Sammie took to the micro-blogging platform, Twitter, being grateful, he stated that he is just moving and living on God, his team and his fans.
The reality star claimed if he had the favours or knew anyone in the industry before he got into Big Brother Naija, things would have been better and easier for him.
He further stated how difficult it is to relate with people to get things done for him, no thanks to his non-sociable personality
"If I had some kind of favour or knew anyone in the industry b4 I got into BBN maybe things would be a lot easier for me but I have to really go out of my non-sociable personality to link some people to help me get stuffs done. everything about the industry is still new to me. I am just moving and living on God, my teams and my fans. Grateful" He said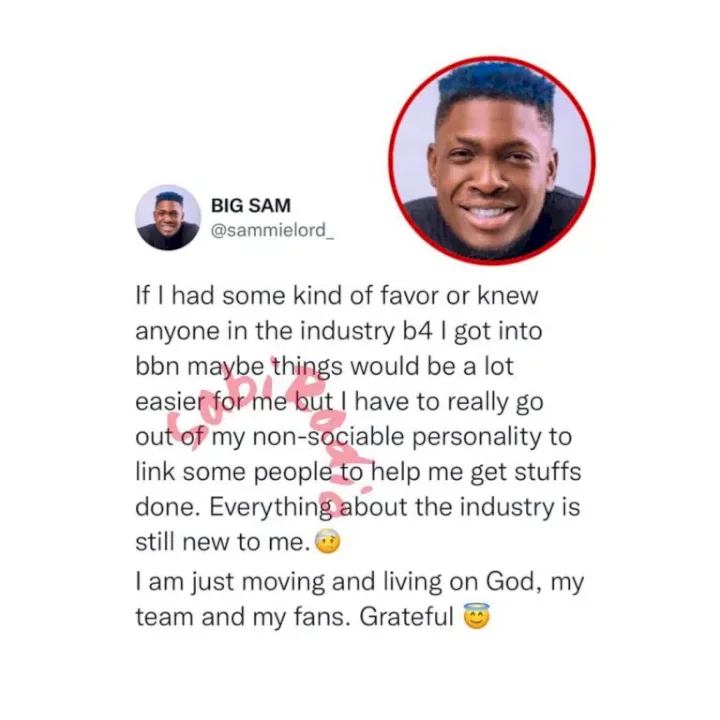 Expressing concern, his fans took to the comment section as they prayed to God on Sammie's behalf and urged him to take heart. Take a look at some of the comments below;
chimz: iI feel you Sammy…it only gets better
babsneh001: Fact tho if not for BBN I don't know sammie before but I love him
thatsophiagirl_: May God help you. So many struggles I'm currently facing is because I don't know or have anyone. I have to figure things out on my own. It's exhausting, but what can we do? God go run am Sammy
teeto__olayeni: God I pray on this day that Sammie gets all the help and support he needs to become a better person very soon
farfrombasic__biish: Your helpers will locate you IJN
lulusmooth: Bbn is for people that knows people
kemmylt: Hmmm all na mercy jare all dis people e dey der body liquorose wey know people for industry before BBN I hear say dem say dem no fit call her for any movie for now say she don dey proud only pere dem like for now hmmm
You may like
'Chiamaka Agim May have revealed her PIN'- IT Specialist Shola Akinwale
Over the week, one Miss Chiamaka Agim went viral on social media, calling out Zenith Bank after a fraudulent unauthorized transfer was carried out from her account where a tune of four million Naira was siphoned on the 9th of January 2023. In other to sway public sympathy, Chiamaka resorted to all kinds of threats saying she will commit suicide if her money is not returned to her account. After recounting her experience on how the incident occurred via her post on social media, Shola Akinwale, a time-tested Information Technology personality and former bank employee, took interest in the case and launched a private investigation into what might her transpired leading to an unauthorized transfer.
After his private investigation, Shola found out that the said amount could not have left Chiamaka's account without authorization via a token which must have been sent to her mobile phone. He further stated that; her card pin, expiry date and other information on it might have been compromised. Maybe her phone must have been stolen for the person who carried out the fraud to have successfully transferred the money into another account. "The theft was a coordinated one I must tell you. She must have revealed her information to a close ally who carried out the transaction, or she is not saying the truth about what happened to either her ATM card or her mobile phone. She might have revealed some information to those close to her who carried out such theft. On the other hand, her card might have been compromised maybe she had fallen victim to some fraudulent POS operator who has cloned her card. From my investigation, I gathered that it's not her first time using such means to transfer money using an e-token. No one can authorize the transfer without her access to the mobile phone where the token was or One Time Password OTP must have been inserted to complete the transaction. The funny aspect is that the money was transferred three times into a different account. It means the e-token was generated three times. So something is wrong somewhere.
According to section 3,4,6, Cardholders users of CBN guidelines on the operation of electronic payment channels in Nigeria issued in June 2020A card holder/ user shall;
Protect the Payment card, mobile device and pin with due care.
Notify the issuer immediately the pin is compromised.
iii. notify the issuer immediately about stolen, damaged, lost or destroyed cards and mobile phones.
Section 3.4.6.5 stated further that; The cardholder shall be held liable for fraud committed with his card arising from the misuse of his pin or debit card."
Zenith Bank is not at fault. The fault is coming from Chiamaka who was careless with her information or her phone. It's nearly possible for such a huge amount to move without authorization from the owner of the account. So Chiamaka should think deeply and get anyone who might be a suspect around her. She did not guard her information jealously"
On the other hand, sympathizers on social media have also called on Zenith bank to make their investigation and reveal what really happened in the said fraud. Zenith bank quickly swung into action by calling for an in-house investigation. According to an internal memo on the investigation carried out by the bank, it was recorded that; Chiamaka authorized the transfer. She authorized a transfer of 3,715,000, 222,900 and 102,000 via an e-token assigned with serial numbers to the transfers to various accounts in different banks. From investigation, it was gathered that she used the e-token to change the authentication mode from token to Mobile pin on the 21st of November 2021. The Information was also used to enrol a Zenith Bank Mobile Banking app on the 6th of December 2021 on an iPhone 11 pro-Max at exactly 11:25.06 pm. It was gathered that she had authorized many transactions with the E-token and four-digit pin using the mobile app severally and she never complained of any lagging from the bank before the said disputed transaction was carried out. "The transaction was consummated by the device iPhone 11 pro-Max on the 9th of January 2023. If you claim the transaction was not authorized by you is true. It means someone had unrestricted access to your device.' It was further gathered that when she reported the incident, the e-token was disabled and the fraudulent transfer was escalated to the beneficiary bank which is UBA and Access Bank. UBA claimed the beneficiary account from their end had a good profile and does not depict fraud while Access Bank was able to salvage 800 thousand from the beneficiary account as they await a court order to be able to repatriate the salvaged funds back to Chiamaka's account.
It was also stated in the investigation that; Chiamaka did not immediately block the account on noticing the fraudulent transfer by using the emergency *966*911#code to block other unauthorized transfers. She also did not call the open 24 hours daily call centre for help. If she had done that, they would have taken swift action by reversing the transaction but she didn't reach out to the bank for such assistance.
Asiwaju Bola Ahmed Tinubu APC Presidential candidate, Dr Taiwo Afolabi Sifax Chairman, Dantata, Sultan, Governor Sanwoolu, Others To Attend Oluwo Book Launch Monday
Arrangements are in top gear to mark the 7th year coronation anniversary of the Natural Paramount Ruler of Iwoland, HIM Oba (Dr.) Abdulrosheed Adewale Akanbi next Monday 16th January,2023.
The event scheduled to hold at Marriott Hotel, Ikeja, Lagos will witness the unveiling of his book "Code of Kings"written to register a pathway for the black race in the traditional institution. Nigerians from all walks of life will grace the occasion.
The Chief Executive Officer of Peculiar Ultimate Concern Limited, Engr. Abel Lanre Adeleke is the chairman of the event while Dr. Taiwo Afolabi, Chairman of Sifax Group is the Chief Launcher.
A statement released by Oluwo through his press secretary, Alli Ibraheem, further revealed other dignitaries expected at the occasion " President of the Federal Republic of Nigeria, Muhammed Buhari, his Vice, Prof. Yemi Osinbajo, Asiwaju Bola Ahmed Tinubu APC Presidential candidate, the Kano born business mogul, Tajuddeen Dantata, Sultan of Sokoto, AlhajiSa'adu Abubakar, Alhaji Aliko Dangote of Dangote Group, Governor Babajide Sanwo-Olu of Lagos, Governor Ademola Adeleke of Osun State, Governor Seyi Makinde of Oyo State, Governor Rotimi Akeredolu of Ondo State, Governor Dapp Abiodun of Ogun State, Governor Abiodun Oyebanji of Ekiti State, former Governor of Osun State, Alhaji Gboyega Oyetola and few other Governors from Northern part of Nigeria are to grace the event"
Notable Royal Fathers, serving federal and state legislators, captains of industries, friends of Oluwo from Canada, United Kingdom, leading entrepreneurs, academic professors and doctors, veteran journalists etc are billed to attend the August event.
The book will form part of Oluwo contribution,to learning,knowledge and history with the strong hope, that the it will correct some distortions in our rich history and liberate Nigerian youth from mental slavery.
Photos: Former Kano Emir welcomes baby with the fourth wife.
The former Emir of Kano, Muhammad Sanusi II, welcomed a baby girl with his fourth wife, Sa'adatu Barkindo, on Thursday.
The arrival of the new borne was announced on social media by some of his fans on Thursday.
Muhammad Sanusi II and his wife, Sa'adatu Barkindo, got married in 2015.
Credit: Facebook | Khalifa Muhammadu Sanusi II Fans Adamawa State Chapter