Your Helpers Will Locate You – Fans Offer Prayers To Sammie As He Reveals Struggle
Fans express their kind love as they shower prayers on BBNaija Sammie as he reveals what he is going through after the season's ending.
Fans and followers of the Ex-Big Brother Naija season six, Shine Ya Eye housemate, Sammie Jacob have taken to social media to shower prayers on him as he reveals what he is passing through.
Just recently, Sammie took to the micro-blogging platform, Twitter, being grateful, he stated that he is just moving and living on God, his team and his fans.
The reality star claimed if he had the favours or knew anyone in the industry before he got into Big Brother Naija, things would have been better and easier for him.
He further stated how difficult it is to relate with people to get things done for him, no thanks to his non-sociable personality
"If I had some kind of favour or knew anyone in the industry b4 I got into BBN maybe things would be a lot easier for me but I have to really go out of my non-sociable personality to link some people to help me get stuffs done. everything about the industry is still new to me. I am just moving and living on God, my teams and my fans. Grateful" He said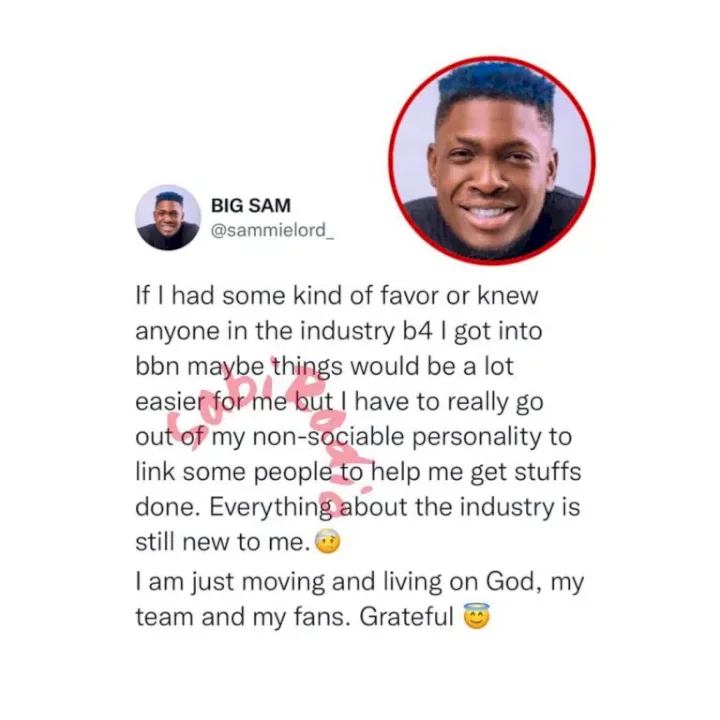 Expressing concern, his fans took to the comment section as they prayed to God on Sammie's behalf and urged him to take heart. Take a look at some of the comments below;
chimz: iI feel you Sammy…it only gets better
babsneh001: Fact tho if not for BBN I don't know sammie before but I love him
thatsophiagirl_: May God help you. So many struggles I'm currently facing is because I don't know or have anyone. I have to figure things out on my own. It's exhausting, but what can we do? God go run am Sammy
teeto__olayeni: God I pray on this day that Sammie gets all the help and support he needs to become a better person very soon
farfrombasic__biish: Your helpers will locate you IJN
lulusmooth: Bbn is for people that knows people
kemmylt: Hmmm all na mercy jare all dis people e dey der body liquorose wey know people for industry before BBN I hear say dem say dem no fit call her for any movie for now say she don dey proud only pere dem like for now hmmm
You may like
Ilebaye and Chichi call each other low-lives – BBNaija
The Saturday Night Party started on a rough note for Chichi and Ilebaye. Ilebaye was caught crying on Chomzy's shoulder after getting into an altercation with Chichi in the Garden. Chichi did not appreciate Ilebaye's approach when she wanted Groovy to dance with Phyna instead of Chichi.
The two were caught dancing together, and according to Chichi, Ilebaye intercepted their dance, and aggressively pushed her away and she did not appreciate that.
They left the Party Room to talk about the issue in the Garden with Groovy. After apologising, Chichi did not accept the apology, instead calling Ilebaye a low-life. She did not take kindly to that and walked away crying. Chomzy came in to save the day and offered her comfort as she continued shedding tears.
She opened up to Chomzy about how she is not ready to leave the House, referring to her Nomination.
Her goal is to at least get to the top five and does not understand why Chichi did not accept her apology, and why she called her a low-life.
Ilebaye getting comfort from Chomzy was peculiar, considering that she was gisting about her earlier to both Phyna and Amaka respectively. She was telling both of them that she does not understand why Chomzy does not like her, and how she gives her a bad eye whenever they meet up.
Ilebaye was spotted dancing with Dotun who eventually also came to the Garden, offering solace to Ilebaye. "Between me and her, who is the low-life," Ilebaye asked Dotun. "I am not a stripper," she continued to add to Dotun. Is she insinuating that being a stripper makes Chichi a low-life?
Chomzy left Ilebaye in Dotun's hands and went to offer comfort to Chichi who kept going on about the altercation. She retold the story to Chomzy and called Ilebaye fake. "If you want to bring the fire, I will bring a storm," she said.
Will the ladies have an opportunity to iron out their issues and forgive each other?
Phyna and Amaka, the end of a friendship? – BBNaija
Amaka and Phyna's sismance has been the most favourite to watch in the House. The two had a slight fallout at the beginning of the season, but they did not allow the screaming match to dictate the trajectory of their relationship. They soon worked it out and have been inseparable ever since.
Their blossoming friendship has been one of a kind, and they lean on each other more often than not. When Amaka was contemplating shooting her shot with Giddyfia, Phyna advised her to choose and not lead Pharsamvi on. This led to a heart-to-heart between Amaka and Pharmsavi, where she eventually decided that they are better as friends.
On Day 20, Amaka admitted her feelings for Groovy to Phyna during one of their chats. Later that day, Groovy and Phyna spent a lot of time together, and this raised red flags for Amaka. She addressed it with Groovy later in the Kitchen. He laid down his boundaries, stating that he can initiate a relationship with whomever he pleases.
When Phyna and Groovy later spoke about that particular conversation, Phyna told Groovy that she is not interested in a relationship, and would never throw herself at a man.
Groovy and Phyna spent the night in the same bed again, and this upset Amaka. Phyna told Groovy that Amaka is trying to pretend that their closeness is not getting to her.
Amaka eventually denied that she has any feelings for Groovy to Kess. She also added that she only cares that her friendship with Phyna is maintained.
On Day 21, she woke up and danced by herself, and was later joined by Phyna. Shortly after their dance, Phyna went to the Lounge mirror and started affirming herself. "You are the embodiment of a queen," she said. She told Chizzy that she can't allow "other things" to move her because she has her eyes on the prize. Could she be talking about Phyna and Groovy?
Amaka got into an argument with Phyna in the morning in the Kitchen over who should be cleaning. This argument upset Phyna, and Groovy came in for a tight squeeze, asking what he should do for her when she is upset.
Phyna and Amaka have not engaged in an argument in a very long time, and one surfacing now leaves one with lots of questions. Could Groovy be coming in between a friendship? Is Phyna breaking a girl code by telling Groovy about her conversations with Amaka?
Groovy and Phyna get close – BBNaija
Following last week's blowout between Groovy and Beauty, we have seen a more somber side to the entertainer and Anambra State native. Unfortunately for him, the argument was the beginning of the end of that ship. This didn't deter Groovy though as he has been cosying up with Phyna of late, though the pair are still in the friendzone, by the looks of things.
Groovy and Phyna's newly found closeness was despite Amaka's confession to the latter earlier this week that she was taking a liking to Groovy. Phyna urged Amaka to follow her heart and make her intentions to Groovy known but failed to declare to Amaka any feelings she might have harboured for him.
After the exciting win yesterday over Level 1 during the Weekly Wager Presentations, Groovy and Phyna drifted towards each other a lot more than they had over the past few days. The pair spent the night in the same bed and were seen today being affectionate to one another.