How Gbenga Adeboye died and resurrected after six hours
In Memory Of Gbenga Adeboye (1959-april 30 2003), Mystery Of Wednesday In His Life.
Gbenga Adeboye was born on September 30, 1959, at Ode Omu, Gbongan, Osun state. Nigeria. Although very little is known about his childhood, it is known that the late Gbenga started working as a freelance radio presenter for Radio Lagos where he started a very popular programme which was solely meant for Yoruba audience. The name of the programme which started in 1981 was Funwontan. Later on, clips from the improvised and mostly impromptu shows were cut out and put in nine albums. Some of them include Orisunkunnu 1 and 2, Ph.D Beetle, Funwontan 1 & 2, Oro lati ori ite mimo 1 & 2, Versatility, Aiyetoro, Controversy, Supremacy and Ijinle.
Seun Adeboye, one of the sisters of the late comedian, Prince Gbenga Adeboye, a presenter and a singer, in one of her albums dedicated to her late brother titled 'omo majemu' (covenant child). she narrated all the story of his life, all he went through before he survived and became popular. she talked about his family, social, personal life and his death. she also revealed how Wednesday was so special in the life of her late brother. according to her, he was born on Wednesday 30th sept. 1959, he started his education on Wednesday, he started presenting on radio on Wednesday, his first trip to america was on Wednesday, his first album was released on Wednesday. according to her, most of his achievements were made on Wednesday, he died on Wednesday 30th of APRIL 2003 and was laid to rest on Wednesday 14th may 2003.
His biography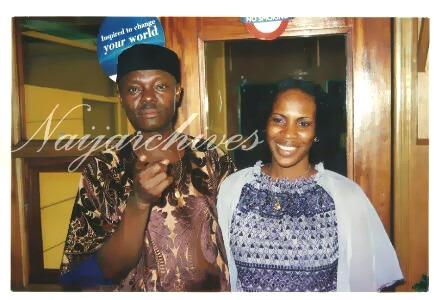 Born on 30th September 1959, at Ode Omu, Gbongan, Osun State, Nigeria. Late Adeboye first worked as a freelance radio presenter for Radio Lagos where he started a very popular programme which catered for Yoruba listening audience titled Funwontan in 1981. This programme was later re-baptised to Gbenga Adeboye in the Mix on Radio Lagos and Gbenga Adeboye in the House on OGBC. While doing these, he cut over nine albums and put them out on cassette, including PhD Beetle, Orosunkunnu 1 & 2, Funwontan 1 & 2, Ijinle Oro lati ori ite mimo 1 & 2, Versatility, Aiyetoro, Supremacy and controversy. Adeboye's popularity earned him several nicknames including Alhaji, Pastor Oluwo and Funwontan, which stuck with him until his death. Gbenga was an activist, orator, prophet as well as a comedian, humorist, entertainer, the pioneer of stand-up comedy in Nigeria who will never make you sad.
He used his talents to install democracy back in Nigeria through all his works, jokes, and radio programmes. Olugbenga gave up the ghost on the 30th of April 2003 throwing the entire entertainment scene into deep mourning and he was so widely respected and loved that crowds trooped out in candle-lit processions all over south-western Nigeria.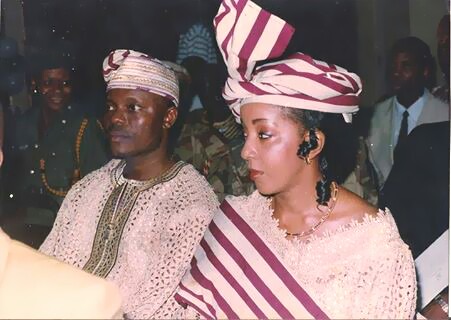 Supposedly, Before Gbenga finally died on April 30, 2003, he made certain controversial statements in a recorded tape. He said that God had called him to glory at a point in his life. According to him, the purpose of his death at that time was to be shown several mysterious things by the Divine. Gbenga claimed that he was later sent back to earth by God because he had to complete an unfinished assignment. As if he knew about his imminent death, the entertainer requested that he be buried with the Bible and a hymn book. "GBENGA ADEBOYE, the funwontan musician, he died, then woke up after several hours jokingly claiming he forgot his hymnbook and bible, but died afterwards".
May his soul continue to rest in peace OLUGBENGA ADEBOYE,
You may like
Photos: Former Kano Emir welcomes baby with the fourth wife.
The former Emir of Kano, Muhammad Sanusi II, welcomed a baby girl with his fourth wife, Sa'adatu Barkindo, on Thursday.
The arrival of the new borne was announced on social media by some of his fans on Thursday.
Muhammad Sanusi II and his wife, Sa'adatu Barkindo, got married in 2015.
Credit: Facebook | Khalifa Muhammadu Sanusi II Fans Adamawa State Chapter
Femi Otedola gifts DJ Cuppy £5,000,000 Country Home for her 30th birthday
The daughter of a famous Nigerian billionaire and business mogul, Florence Ifeoluwa Otedola, better known by her stage name DJ Cuppy, was left speechless yesterday when her father, Femi Otedola, gave her a £5,000,000 country home for her 30th birthday.
This comes a week after her billionaire father, Femi Otedola, set sail on the world's biggest yacht to celebrate her 60th birthday.
Cuppy is already a well-known name because of her music career. She started out as a DJ and then moved on to performing and writing songs. She has made hits and singles with Tekno, Rema, Fireboy DML, Teni, Sarkodie, Skuki, and Zlatan which have topped the charts. Her first album, "Original Copy," was definitely one of the biggest releases of 2020. This made her one of the best musicians in Nigeria.
Since then, Cuppy has focused on her charity work with the Cuppy Foundation, where she tries to help the most vulnerable children and young people in Nigeria. Since 2021, when the Cuppy Foundation teamed up with Save The Children UK, many charities in Nigeria got much-needed help.
Cuppy also decided to go back to school when she said last year that she had been accepted to Oxford University for a master's program in African studies. In September, she said that after a hard and challenging year at the prestigious school, she had earned a master's degree. . People say that life starts at 30, and considering all the great and amazing things Cuppy has done for herself and for so many people she has been able to help, one would look at this next phase of her life with a lot of optimism and the belief that there is much more good to come.
Cuppy spent her special day with her dogs, Dudu and Funfun, in her Pink Penthouse. She chose to spend the day thinking about herself and her plans for the future.
DSS Operative Rescued After Jumping Into The Lagoon Following An Argument With Her Fiancé In Lagos
A Department of State Security Operative, Adetutu Adedokun reportedly jumped into the lagoon on Third Mainland Bridge, Lagos State on Thursday, November 10, 2022.
It was gathered that the she had disembarked from a cab, headed towards the railing of the bridge and plunged into the water.
The Permanent Secretary, Lagos State Emergency Management Agency, Dr Olufemi Oke-Osanyintolu, who confirmed the incident in a situation report said the cab driver claimed the woman was having a heated conversation with her fiance before alighting from the vehicle.
It is reported that she was rescued by relevant authorities. Adetutu's action is coming weeks after she was proposed to by her boyfriend.