INEC promises to track funding sources, monitor bank accounts of politicians, parties in 2023 Campaign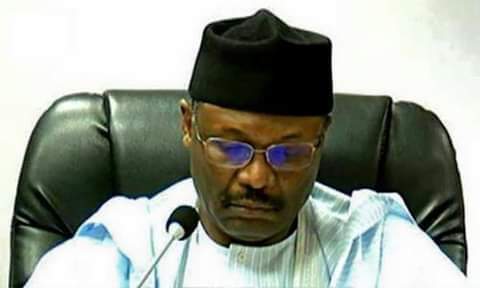 *To monitor movement of money on election days to check vote-buying
*IPAC, Jega seek accountability, strict enforcement of election funding laws
As Nigerians await the release of the 2023 general election timetable, the Independent National Electoral Commission, INEC, has vowed to beam its searchlight on politicians and political parties in a bid to track the sources of funds for their campaigns.
To this end, the commission has said it will set up teams to monitor election spending ahead of the elections.
The INEC Chairman, Prof. Mahmood Yakubu, who stated this  at a policy round-table conference on political campaign finance organised by The Electoral Forum in Abuja yesterday, also said the electoral umpire would also monitor the movement of money on election days to help tackle vote-buying at polling units.
Represented by Prof. Ajayi Kunle, who is INEC's National Commissioner in-charge of party monitoring committee, Mahmood said through the Economic and Financial Crimes Commission, EFCC, commercial banks would be mandated to report all suspicious transactions ahead of the election while threatening to prosecute any bank that failed to cooperate.
"We have not officially declared notice for the 2023 general elections, but when we so declare, we will put our monitoring committees to motion like the central banks,  DSS,EFCC, ICPC, the (commercial) banks and other law enforcement agencies. We have that plan already.
"Every candidate must be made to declare his bank asset. That is where they draw out their money so we will make them to present their statement of account right from the onset. We will make it mandatory for them to turn in their bank statement so that if they say they are doing billboard and the account remains the same, then there is a problem."
On the issue of vote buying, the INEC Chairman said, "We are going to establish finance monitoring teams and they will be among the electorate but they (politicians and political parties) won't know. We are going to do it in a way that the influence of money will be reduced, because we want to make the electoral field a level playing ground for both rich and poor candidates and electorates. Everybody will be on  equal  level so that you won't influence the voting pattern."
According to him, besides the Electoral Act, the constitution empowers INEC to also make any other regulations that will assist its efficiency. The law, the Electoral Act empowers INEC to make other regulations.
Earlier, the National Chairman of Inter-Party Advisory Council, IPAC, Engr. Yabagi Sani, called for a strict enforcement of the regulations on election funding so as to prevent the monetisation of the electoral process and improve the level of trust between electorates and political party candidates.
This is even as the immediate past Chairman of INEC, Prof. Attahiru Jega, identified the lack of accountability and transparency in political campaign financing as key factors responsible for some challenges facing Nigeria's electoral system.
According to Jega, "If we insist on accountability, then you can begin to somehow sanitise the way political parties raise funds. I think what has happened is that we paid too much attention on the issue of electronic transmission of results, and somehow they quickly passed the sections about raising the threshold. The civil societies did not pay much attention in their advocacy against this particular issue.
"Nevertheless, I wouldn't advise or recommend that we delay the passage of the bill on account of this particular issue. What we should be exploring are ways and means of ensuring that there is accountability about how these funds are raised and the spending ceiling is met as well as how the expenditure is done."
On his part, the IPAC Chairman said the need to step up enforcement of the regulation on election funding was born out of the imperatives of sanity and integrity in elections, saying that a failure to do so could debase the voting process to the level of what he described as "a commodity for the highest bidder."
Sani, who was represented by IPAC's National Treasurer, Barrister Obidike Okolo, noted that the triple menace of trans-national drug trafficking, money-laundering and terrorism, had led to issues of corruption as well as the destabilisation of democratic philosophy.
He said while the controversial Electoral Amendment Bill (2020), if eventually assented to by President Muhammadu Buhari, will usher in the upgrading of what a presidential candidate can spend at elections from N1 Billion to N5 Billion, representing a 400% increment amongst others, there was a need for its enforcement to ensure compliance with the provisions of the law on political campaign finance.
This, he noted, would enable the country to avoid a situation where the country's democracy is undermined in the long-term.
Sani said, "After the restoration of democracy, the Nigerian parliament enacted the first statute regulating election funding in 2005 and followed with an amendment to the Act in 2018.
"Yet, another amendment with more comprehensive prohibitions came about in the 2020 Electoral Amendment Bill, still in the works as a result of disputes between the Legislative and Executive Arms over certain clauses and provisions.
VANGUARD NEWS NIGERIA
You may like
Akinyelure, Edo senator dump PDP, allege internal crisis
The lawmakers representing Edo South, Senator Mathew Urhoghide, and Ondo Central, Senator Ayo Akinyelure, have both defected from the People's Democratic Party.
The duo of Urhoghide and Akinyelure made their defection known on Wednesday in separate letters read by the Deputy Senate President, Ovie Omo-Agegewho, who presided over the plenary.
In his letter titled, 'Notification of Resignation of My Membership of the Peoples Democratic Party," Uroghide stated that his exit from the party was due to irreconcilable differences and squabbles within the party.
He said, "I write to formally inform you and the entire Senate of the Federal Republic of Nigeria that I am resigning my membership of the Peoples Democratic Party, effective immediately.
"This difficult decision arose out of the negative political energy emanating at the moment from the irreconcilable differences and squabbles within the PDP at the national level and especially in my dear state, Edo State.
"These squabbles have spiked to levels that have made it impossible for someone like me, who is a confirmed democrat, to function and grow as I envisioned in my political journey."
The Edo lawmaker stated that he was grateful to the party for the experience and opportunity given him to build relationships.
Similarly, Akinyelure noted that he was resigning to seek other means of adding value to his state.
He said, "Distinguished colleagues in the 9th Senate of the National Assembly, this is to inform you that I am resigning my membership of the Peoples Democratic Party with effect from June 11, 2023 when I must have completed my four-year tenure in the Senate of the 9th Assembly.
"I, therefore, wish to express my appreciation to the party for granting me the opportunity to serve Ondo Central Senatorial District and Nigeria in the Senate of the 9th Assembly on the platform of the PDP."
Akinyelure said he was leaving the PDP "to enable me to settle down and look forward to other areas of human and professional endeavours where I can be of value addition to my dear state, Ondo State and Nigeria in general."
Both lawmakers didn't state what party they are defecting to.
Reacting to Urhoghide's defection, the Edo State PDP Chairman, Tony Aziegbemi, said, "He is a respected senator of the Federal Republic of Nigeria and I wish him well in his future endeavours.
"I disagree with him over the reasons he gave for his resignation but they are his personal opinion and I don't comment on people's personal opinion, no matter how highly placed they are."
Punch
UK, US, Saudi Arabia, others in bilateral meetings with President Tinubu, pledge support, solidarity
Several countries on Monday formally presented their goodwill messages and letters of support and solidarity to President Bola Tinubu at the Presidential Villa, Abuja.
The letters were presented to the president by the special envoys and heads of missions of the countries after his inauguration as the 16th President of Nigeria.
Among the countries are United Kingdom, United States, Saudi Arabia, Japan, Brazil, South Korea, Israel, Cape Verde, Somalia and Nicaragua.
While congratulating President Tinubu, the new UK High Commissioner to Nigeria, Richard Montgomery, presented letters from British Prime Minister Rishi Sunak, King Charles and Archbishop of Canterbury Justin Welby.
The US delegation led by Secretary of Housing and Urban Development, Marcia L. Fudge, paid a courtesy call on President Tinubu and had a brief bilateral discussion with him.
Also, the South Korean delegation had bilateral discussions with Tinubu.
While delivering a letter of invitation from South Korean, President Yoon Suk Yeol for Tinubu to visit that country soon, the delegation also sought increase relations between the two countries.
The Saudi Arabian delegation delivered a goodwill message from the Saudi Royal House to the Nigerian president.
A special envoy of the Japanese Prime Minister Fumio Kishida equally paid a call on President Tinubu and extended a hand of support and fellowship.
In the same vein, Israeli Prime Minister Benjamin Netanyahu sent a delegation which met with Tinubu and expressed willingness to work with the country in the area of fin-tech.
Others who met with President Tinubu and pledged cooperation with Nigeria included delegations from Brazil, Somali, Cape Verde and Nicaragua.
Office of President,
Tunde Rahman
May 29, 2023.
I've forgiven Tinubu —Bode George
A former Deputy National Chairman of the Peoples Democratic Party, PDP, Chief Bode George, yesterday, said he has forgiven President-elect Bola Tinubu.
George, who analyzed the outgoing administration of President Muhammadu Buhari, declared that he failed to live up to expectations.
The PDP leader, in a chat with journalists at his Ikoyi office, added that the Buhari administration did not impact the lives of Nigerians positively, saying he failed to provide security which was his core responsibility.
His words: "My personal assessment is that he failed, not completely in every sector, but if you do an examination and say you must have a minimum of 33 per cent, then you can go to the next class, but they did not attain that 33 per cent. I can give them maybe about five per cent, even the five per cent requires a lot of retrospection. The most important thing you must guarantee to your people, as a government, is security of lives and property, who is safe now?
"So it is very very disheartening and heartbreaking that he failed in his number one job, which is to guarantee security of lives and property. You know when he was coming in, oga (Buhari) was telling us, I would fight corruption, I will secure the lives and properties of the people, I will do this, I will do that, all kinds of promises.
"So let's put those promises now into his departure, because that's what will be written on the pages of history. Whatever a leader does during his time, it is on the pages of history."
Asked whether he would work with Tinubu if called upon, George said: "There is nothing personal, this country trained me and I have to give back."
On his reluctance to endorse Tinubu, he said: "I have forgiven him, but you cannot forget."