Nigerians react to fuel scarcity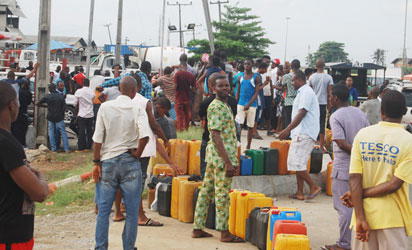 Nigerians have taken to social media to express concern, frustration and anger over fuel scarcity, which is biting harder in some parts of the country.
Long queues were spotted earlier today in parts of Lagos and Abuja, causing motorists to hike fare amidst gridlock occasioned by the scarcity.
A popular Social Media pastor, tweeted via @Olubankoleidowu "We are finished! This fresh fuel scarcity is reminding us of what decision we should make come 2023. Nigerians be wise. God will not come down from heaven to fight your battles that was why he gave you brain"
A Nollywood actor, Alex Ekubo, is one among many Nigerians who have expressed sadness over the fuel scarcity in the country.
He wrote: "The negative uncertainty in this Nigeria is alarming.
"You just go out and on your way back, boom! Fuel scarcity."
Aligning with Ekubo's thoughts
Salihu tweeted via @salihusakpe "This is Nigeria where it'll be white and the next minute it'll turn to black"
Another Nigerian wondered why there should ever be petro scarcity.
He tweeted via @iamangelraf: "You will hate Lagos more anytime there's fuel scarcity.
"After data na fuel. Nigerians can hardly do without these products."
Apparently feeling the harsh effect, A Nigerian tweeted via @tesla_tunes "They should not play rough play which one is fuel scarcity again at this time. Not this time pls"
@solaceomolaiye reacted by tweeting, "The rate of hold-ups in Abuja is becoming alarming amidst PMS Scarcity, is like we are having illegal migrants from Lagos into Abuja"
A source, who prefers anonymity, claims that the hardship Nigerians are suffering over fuel scarcity is a result of lack of petroleum product at the depots, but refused to dismiss speculations that fuel subsidy removal was connected with the current scarcity.
Frustrated, @abrahamgreat tweeted, "To be experiencing Motor spirit scarcity in one of the largest OPEC countries is one more proof that Nigeria is not designed for the citizens but for a sect of men who lack empathy, vision and strategy to transform anything.
"There is HOPE. This country shall be BUILT."
Recall that the IMF, on Monday, insisted on fuel subsidy removal by the Nigerian authorities, saying there should be compensation for the poor and transparent use of resources.
VANGUARD NEWS
You may like
LASG DISBANDS M.O.T ENFORCEMENT TEAM
The Lagos Ministry of Transportation has placed an indefinite ban on the operations of its enforcement team tagged M.O.T Taskforce.
The Special Adviser to the Governor on Transportation, Mr. Sola Giwa, stated that the decision was reached after a thorough appraisal and review of the enforcement teams operating under the Ministry of Transportation.
Giwa explained that the ban is part of measures initiated to streamline transport enforcement activities in Lagos State to achieve the required effectiveness in line with global best practices, warning that the ban is not an excuse for drivers to disobey the traffic laws of the State.
The Special Adviser averred that Traffic Management and Transportation is a cardinal pillar in the T.H.E.M.E.S Agenda of the administration of Governor Babajide Sanwo-Olu, stressing that the readjustment of the enforcement strategy was to enhance service delivery to the people of the State.
He, therefore, enjoined the general public to report the activities of any unauthorised enforcement team still operating with the tag M.O.T Taskforce to the Ministry of Transportation for prosecution.
Appealing to Lagosians to cooperate with the State Government in its effort to improve the traffic situation across the metropolis, the Special Adviser gave an assurance that a lot is ongoing behind the scene to bring the much-desired change in the transport sector.
One million compatriots died to keep Nigeria together — Buhari
PRESIDENT Muhammadu Buhari yesterday in Abuja said Nigeria has gone through all troubles from January 15,1966, to date which resulted in the killing of a million of the citizenry in order to keep the country together.
He also urged political leaders to stay focused and uphold the ultimate objective of promoting interest of the country, saying "we are Nigerians, God willing, we remain Nigerians, and Nigeria shall remain one.''
Speaking when he received former state chairmen of the defunct Congress for Progressive Change, CPC, at State House, Buhari noted that the passion and zeal to improve the livelihood of Nigerians, which culminated in creation of the political party, had not dwindled, calling for more steadfastness as Nigerians.
He said the self-centeredness that led to the loss of about a million lives between 1967 and1970 must not be allowed to repeat itself.
While noting that the CPC was founded on the bedrock of patriotism and loyalty to the unity of Nigeria, the President said: "Our main objective is the Federal Republic of Nigeria. We are human beings. We have our weaknesses, but I can assure you that the patriotism in us is hard earned.
"We have gone through all the troubles from 15th of January 1966 to date. You know what I mean by this, we have killed a million of ourselves in order to keep this country together.
"I don't think there can be any practical experience more than that. We are Nigerians, God willing we remain Nigerians and Nigeria will remain one."
He urged all members of defunct CPC and political leaders to always be mindful of the larger picture by working towards preserving the unity, peace and integrity of the nation.
The President thanked former chairmen of the political party, which was merged to form the governing All Progressives Congress, APC, for always highlighting the achievements of the government, admitting that some areas will surely get more attention.
"I am delighted to welcome the forum of State Chairmen of the former Congress for Progressives' Change to State House today. I accord great significance to this visit as it demonstrates a determination and commitment to identify with our administration.
"This visit recalls the solidarity with the successes that we have recorded in critical areas of our society. The visit also affords us the opportunity to discuss other issues of interest to the forum.
"I commend members of this forum and all members of the legacy party-CPC, for their continued dedication to the ideals of democratic governance that we all believed in.
"The doggedness with which we pursued our vision and goals that culminated into the success we recorded remain like bright stars in the history of our dear nation,'' he added.
He said he was particularly grateful for the unalterable belief members of CPC and, by extension, the Nigerian electorate, had and still had in him as demonstrated in their unalloyed support for his electoral struggles which reflected in the results he consistently recorded at the polls over the years.'
Describing the President as the patriarch of the CPC', the Chairman of Forum of State Chairmen of the defunct CPC and former chairman of the party in Niger State, Umar Shuaibu, said the party had maintained all its structures across the country, assuring President Buhari of their loyalty, especially in the forthcoming elections.
Shuaibu commended the President for providing strong leadership over the years, particularly in remaining balanced, fair and above board on electoral issues.
"Before you, the opposition was arrested and maltreated, but it is no longer so. You did not deny them what they denied you when they were in power," he said.
VANGUARD
Prince Ifalade Ajasa Oyekan Hits the Right Safety Button with LNSA
Since the inception of Governor Babajide Sanwo-Olu's Administration in 2019, there is one thing he reiterated in his manifesto and has sworn to uphold under his THEMES agenda where he highlighted Security as one of the pillars of his administration. In a bid to ensure all Lagosians can go about their lawful activities without fear of the unknown, he saddled himself with the responsibility as the Chief Security Officer of the state to ensure he puts the necessary security apparatus in place to ensure the safety of lives and properties. Without a doubt, Governor Sanwo-Olu delivered in every aspect as no stone was left unrolled. Taking the Security of lives and properties serious, he invested a heavy financial war chest in the acquisition of security gadgets for the Police, the Response Rapid Squad RRS and the Lagos State Neighborhood Agency LNSA headed by the indefatigable Prince Ifalade Ajasa Oyekan.
Since the Administrative commencement of the Agency in 2017 during the Past government till this moment, Mr. Governor has ensured proper funding for the safety outfit investing Billions of Naira to equip it so it can give the necessary security support in the aspect of surveillance to the necessary agency for a swift collaboration and a positive synergy for a better Lagos. When Ifalade took over in 2021, He was like a fresh Gust of Summer wind who had a loft idea owning to his background as a seasoned technocrat having worked at the Law Enforcement Training Institute LETI and his experience working with a dredging company and also as a season legal luminary. On assumption of office, one thing he ensured was to bring a different feel to consolidate the effort of Governor Sanwo-Olu in ensuring the agency functions optimally to ensure it lives up to its expected expectation. He used his good relationship to ensure Mr. Governor increases his stake in the affairs of the agency. The transformation agenda started by re-orientating his officers on proper conduct, proper dress code and proper ethics among the citizenry. He introduced the use of Body cameras for his officers. He also ensured they often attend LETI for proper updating of knowledge in discharging their duties. In addition to that, he also ensured proper welfare packages for his staff by raising a motion for life insurance for officers who are injured in the cause of discharging their duties or eventually loss of life. This was infused as many commended his effort that to protect lives and properties, one must be fully motivated to give his all. Falade did not only stop at that with the help of Mr. Governor, He also ensured several visiting routines were taken to ensure the functionality of each Local government and a general meeting with the head of commands where they relay their concerns on pressing issues and the challenges. This gives room for positive and negative feedback which the agency acts upon to be above board at all times.
In his process of rebranding, he also requests the permission of Mr Governor to further recruit more hands to enable adequate manpower for the agency to function well. Currently, the Agency is recruiting over one thousand officers who will be commissioned into the agency before the end of the year. In a bid to also spread its tentacles through a public and private partnership with the National Agency for the Prohibition of Trafficking in Persons NAPTIP, the agency launched an anti-trafficking unit last year August in collaboration with NAPTIP on child and human trafficking among other vices. In a bid to rebrand, he has gotten the approval of Mr Governor to create several units in the agency that will also be supportive of intelligence gathering. The agency will create a research and documentation unit, Forensic unit, Situation Room, Water Ways surveillance, Drone deployment, Forest Monitor team and a host of others.
Over the week, at the Agency's head office in Bolade, Oshodi, Falade and ensured the distribution of tactical materials like; caution tapes, Ropes, Scanners, Tasers, Shin and elbow guide, Generators, Riot Shield, LNSA Photo book and a host of items for administrative purposes and enforcement.
In his quest to show effectiveness in duty through proper monitoring, the agency under Falade's watch also commissioned 16 zonal heads. The Zonal heads will monitor zonal local Government unit. He also handed out brand new patrol cars to the officers who emerged having gone through proper scrutiny, training and exams. The Zonal head will ensure the smooth running of their domain and ensure all unit functions optimally and report to the Agency's head office. As part of the rebranding process, The Agency next month will commence the rebranding of all its offices across Lagos with full painting with the agency's Blue and Yellow colour with visible signage to ensure uniformity. The agency will also commence building and furnishing of new offices for some units that run under a temporary office.
A close source disclosed that; all these giant strides and impeccable records would not have been possible if not for the full support and the quest for the protection of lives and property of the State Government under Governor Sanwo-Olu. In a quick conversation; Prince Ifalade averred that; "Mr Governor has been supportive in all ways. Our mode of operation now is different from what it used to be. Anytime we give Mr Governor a proposal on anything regarding security, he does not joke with it. In fact, he signed it with immediate alacrity. He has also told us to ensure that each time we have any request we should not hesitate to call his attention that he is ready to support us to the fullest so we can keep functioning at a higher capacity."
"The Agency is not relenting despite some challenges we face. We will continue to intensify our effort to make Lagos a safe haven for all. We are also open to public and private partnerships. Every top individual and private firm in Lagos who wants to reach out through their Corporate Social Responsibility CSR, will also ease the burden on Government. Security is the responsibility of all sundry and should not be left to some selected people only. If all hands are on deck, Lagos will be a safer place". He further concluded.