HushPuppi caught in $400k fraud case while in US jail, FBI agent alleges
An agent, who claims to be working under the Federal Bureau of Investigation of the national government of United States has alleged that Instagram celebrity Hushpuppi has received fresh charges as US prosecutors submitted court documents showing that he committed fraud and laundered over $400k while in prison.
The documents which were presented before the United States District Court of California on Wed 16th March 2022 showed fresh evidence indicting HushPuppi of committing fraud and money laundering in U.S Federal correctional facility.
The court documents stated that Hushpuppi, while in U.S Federal correctional facility, participated in the purchase and laundering of Economic Impact Payment debit cards fraudulently obtained from stolen data of U.S citizens and residents.
Economic Impact Payments are financial support offered by the US government to U.S residents according to the CARES Act. One of the ways eligible US residents receive their Economic Impact Payments is by debit cards.
From the documents presented in court, it was found that hackers use data of U.S residents to file and obtain Economic Impact Payments debit cards. They sell off these EIP cards in underground marketplaces to other cybercriminals.
United States authorities said that although prisoners have limited access to telephone, video, internet and computer use because of their right to privacy in a court filing. Like the rest of the detainees, Hushpuppi was granted access to the computer network as well.
However, between January 28 and March 4, 2022, security authorities at a federal prison in the United States noticed that Hushpuppi was using the internet more often.
A dedicated system was setup for him and his activities were recorded for 7 days.
See screenshots of documents below: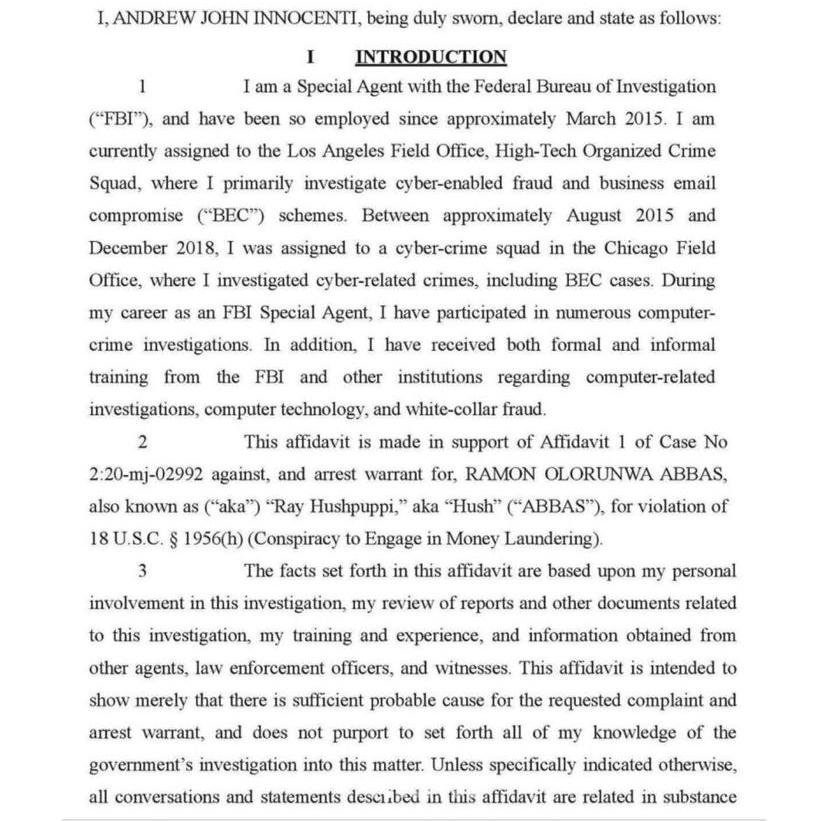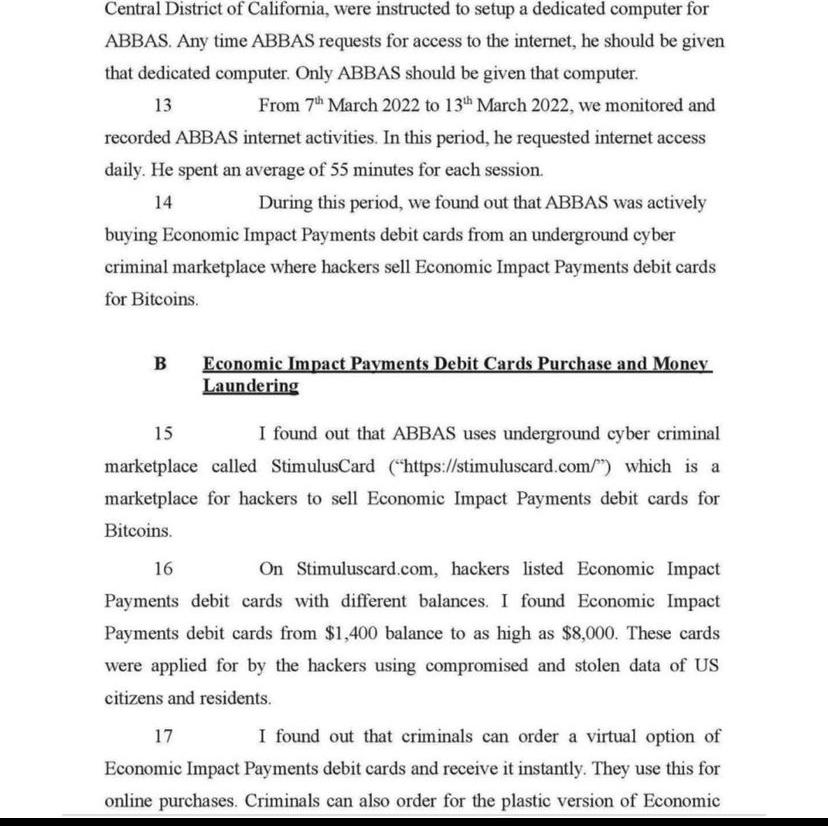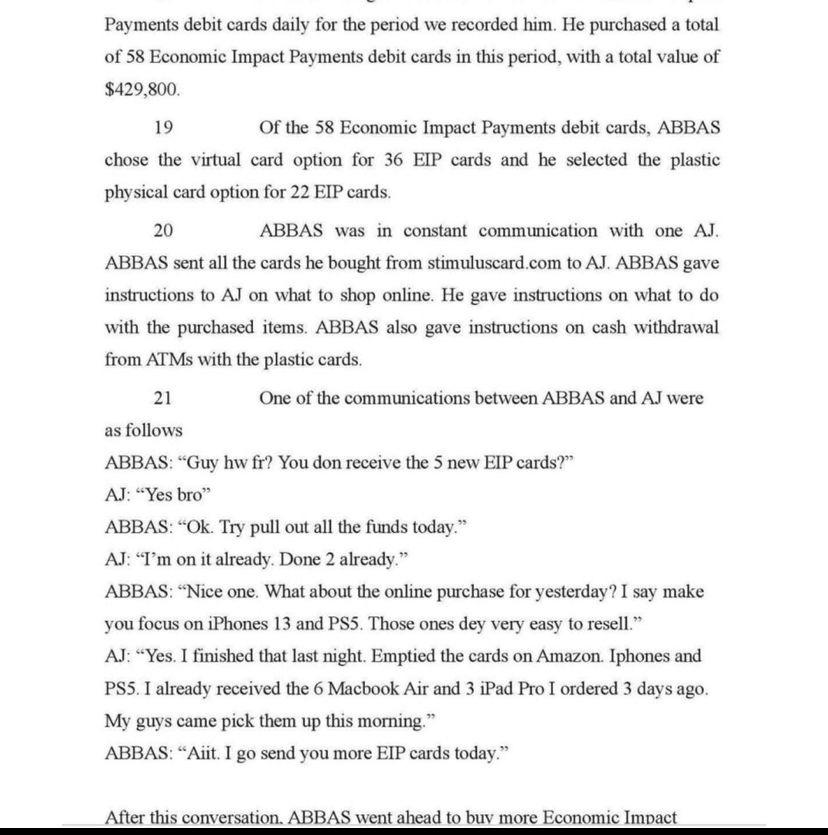 You may like
American influencer arrested for killing Nigerian boyfriend
Instagram model and influencer, Courtney Clenney alias Tailor, has been arrested by the Hawaii Police Department for stabbing Nigerian boyfriend, Christian Tobechukwu Obumseli, to death.
According to NBC News, a Wednesday release by the Hawaii Police Department stated that a warrant was issued for the arrest of 26-year-old Clenney on allegations of second-degree murder with a deadly weapon.
Clenney's attorney, Frank Prieto, revealed that she was at a rehab facility in Hawaii for substance abuse and post-traumatic stress disorder when she was picked up by police.
Prieto also stated that Clenney arrest was shocking because of "the clear evidence of self-defense in this matter."
As earlier reported by The PUNCH in April, policemen responded to calls at the couple's Miami apartment where Tobechukwu was found bleeding.
Miami Fire Rescue personnel took him to Jackson Memorial Hospital's Ryder Trauma Center where a doctor pronounced him dead.
The family of Obumseli had been calling for justice after Courtney was not charged under the Baker Act, over considerations for her mental health.
In Florida, officers can commit a person to a mental health treatment centre for up to 72 hours by using the state's Baker Act.
Clenney is expected to make a first appearance in local district court on Thursday, after which she will eventually be extradited to Florida.
PUNCH
Anambra man killed by Lesbian wife's partner
A man identified as Ikechukwu Onuma popularly known as 'Ayaaya Onye-Obodo', has been stabbed to death by his wife's female lover.
The unidentified woman killed the husband, who was a staff of the College of Health, Onitsha, stabbing him to death with a knife.
It was gathered that the incident happened at the deceased residence, along Ogboli road, Onitsha, Anambra State, on Tuesday, at 9:20pm.
The deceased came home unannounced on Tuesday night to meet his wife in bed with another woman, making it out.
Sources in the area said his wife, unknown to him was a lesbian, and had been keeping a female sex partner.
The lady was said to have quickly attacked the man with a kitchen knife, stabbing him to death, during an argument, in a bid to silence the deceased.
According to the source, "The news has been everywhere in Onitsha today. People are so surprised how Ayaaya was killed.
"He was a very handsome guy, and he is an admin staff at the college. How his wife left such a handsome young man to become a lesbian to the point of bringing sexual partners to the house is still a wonder."
Another source said, "Ikechukwu is a very popular guy in the neighbourhood. He was also known as 'Onye Obodo'. He got married to his wife in 2019."
The police authorities in Anambra State confirmed the incident, saying that the lesbian partner has been arrested.
The state Police Command's spokesperson, DSP Toochukwu Ikenga, said, "We have a suspect in custody and the Commissioner of Police, CP Echeng Echeng, has ordered the immediate transfer of the case to the State CID for proper investigation.
"Preliminary information showed that the suspect stabbed the victim in the chest. He was rushed to the hospital before he was confirmed dead by the doctor on duty.
"What brought about the suspect's action has not been ascertained, meanwhile investigation has just begun."
PUNCH
Owo massacre: Five suspects arrested, says Akeredolu
The Governor of Ondo State, Rotimi Akeredolu, on Tuesday disclosed five suspected terrorists who attacked St. Francis Catholic Church, Owo on June 5, 2022 have been arrested.
Akeredolu confirmed the arrest shortly after the Chief of Defence Staff, Gen. Lucky Irabor, announced the arrest of two of the masterminds of the attack in Abuja.
Akeredolu was speaking while receiving the chairman of the state chapter of the Nigeria Union of Journalists, Ondo State, Prince Leke Adegbite, and his executive members.
The governor also disclosed that the person who allegedly housed the suspected terrorists before carrying out that the attack had been arrested.
He said , "Now that the military has announced it, I can tell you that five of them have been arrested now. They are still on the trail of the rest. The home where they lodged in Owo and the person who lodged them before the attack, have also been arrested.
"We did not spare a moment. I am happy that the Chief of Defence Staff has announced it.
"We have known for a while but we needed not to come out with it because more works are still ongoing. I can confirm that this arrest has been made. And they are still on the trail of some of them."
The governor also confirmed that some Ebira indigenes are now involved in the some act of kidnapping recently in the state.
"I want to use this medium to urge our brothers (Ebira) to concentrate on their farming trade. It will be unfortunate to know that the Ebiras in our midst are now involved in kidnapping.
"We are appealing to them not to copy bad thing. The traders selling by the road side should not become informants. We are not fighting them; we have seen their numbers, they supported and voted for us during elections. I will call their leaders and talk to them.
"Our brothers who were kidnapped on their way to Ikare; talk to them, they were taken to Ebira farmsteads.For me, we have lived together for too long for this to happen. I am ready to make any effort to ensure that the conviality that we have enjoyed continues.
"But we are begging their leaders to urge them not to copy bad thing. They are in our midst, we are surrounded by them. The issue of security is key and it's dynamic," he appealed.
Earlier, the Chairman of the NUJ, Adegbite appreciated the governor for his support for the management of Ondo State Radio-vision Corporation and Owena Press PLC, adding that the upgrades of facilities in the two state-owned media outfits are commendable.
He also thanked the governor for the approval of the weigh-in allowance for journalists and information officers working in the state and local government service.
PUNCH