HushPuppi caught in $400k fraud case while in US jail, FBI agent alleges
An agent, who claims to be working under the Federal Bureau of Investigation of the national government of United States has alleged that Instagram celebrity Hushpuppi has received fresh charges as US prosecutors submitted court documents showing that he committed fraud and laundered over $400k while in prison.
The documents which were presented before the United States District Court of California on Wed 16th March 2022 showed fresh evidence indicting HushPuppi of committing fraud and money laundering in U.S Federal correctional facility.
The court documents stated that Hushpuppi, while in U.S Federal correctional facility, participated in the purchase and laundering of Economic Impact Payment debit cards fraudulently obtained from stolen data of U.S citizens and residents.
Economic Impact Payments are financial support offered by the US government to U.S residents according to the CARES Act. One of the ways eligible US residents receive their Economic Impact Payments is by debit cards.
From the documents presented in court, it was found that hackers use data of U.S residents to file and obtain Economic Impact Payments debit cards. They sell off these EIP cards in underground marketplaces to other cybercriminals.
United States authorities said that although prisoners have limited access to telephone, video, internet and computer use because of their right to privacy in a court filing. Like the rest of the detainees, Hushpuppi was granted access to the computer network as well.
However, between January 28 and March 4, 2022, security authorities at a federal prison in the United States noticed that Hushpuppi was using the internet more often.
A dedicated system was setup for him and his activities were recorded for 7 days.
See screenshots of documents below: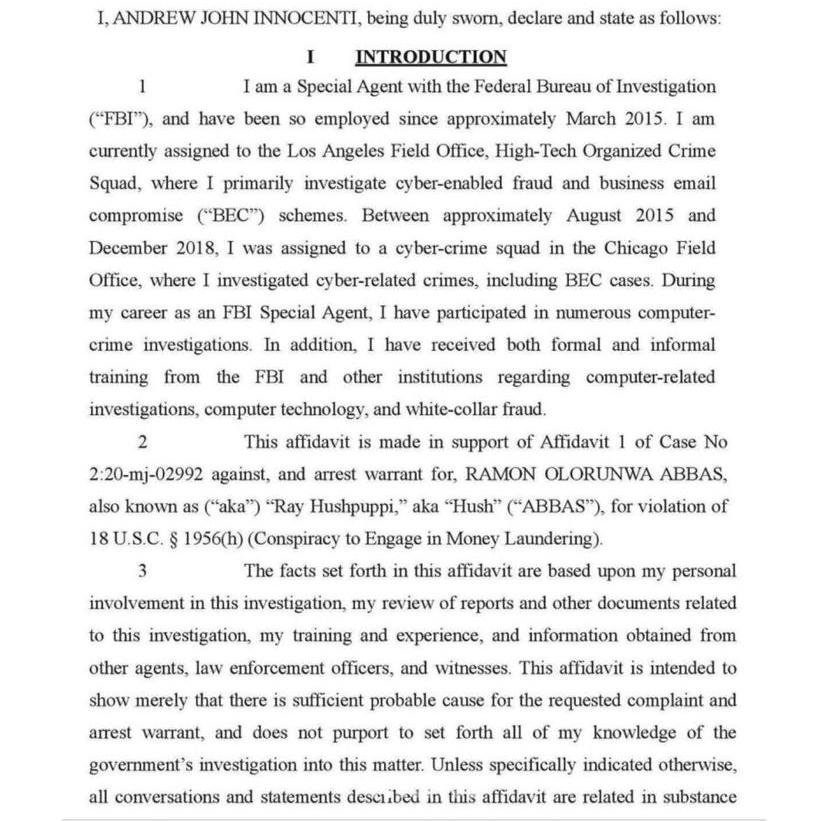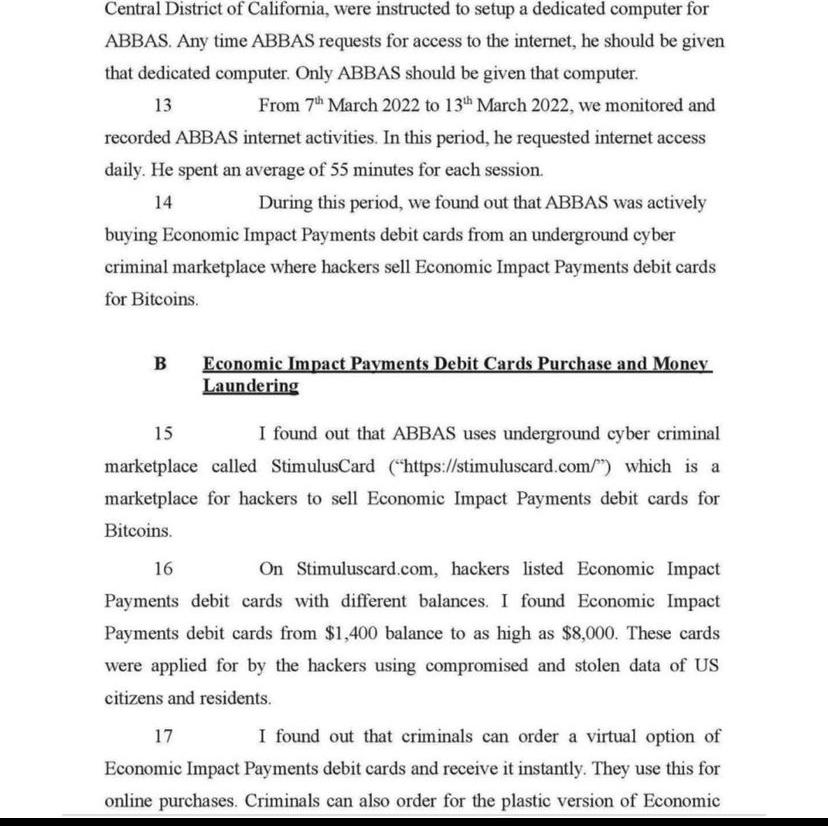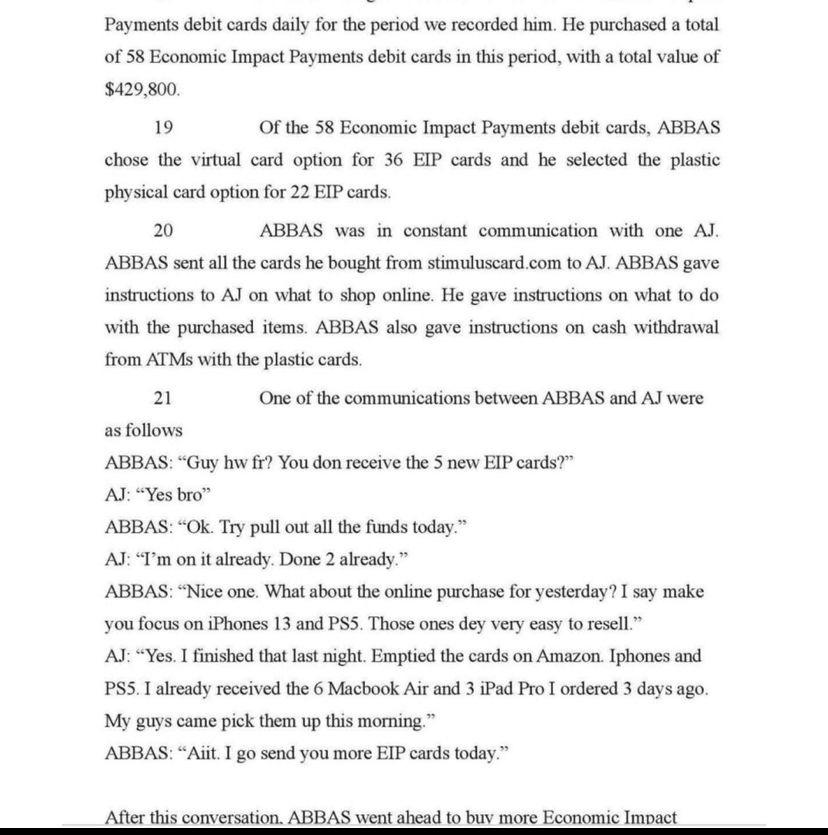 You may like
BREAKING: Oyo Police Declares Auxillary Wanted
The Oyo State Police Command has declared the sacked Chairman of Park Management System (PMS), Mukaila Lamidi aka Auxiliary, wanted, the authorities revealed during a briefing on Friday.
The move follows another raid of his hotel where more dangerous weapons were recovered yesterday.
According to Channels Tv report, policemen had stormed Auxiliary's Ibadan residence recovering weapons and ammunition.
During the operation, the suspect reportedly escaped, while some of his lieutenants were however arrested by the police.
Mexico Police find 45 bags containing human body parts
At least 45 bags containing human remains were found in a ravine in the western Mexican state of Jalisco during a search for seven young people reported missing last week, local authorities said on Thursday.
"Forty-five bags with human remains have been extracted that belong to both male and female people," the state prosecutor's office said in a statement.
The gruesome discovery was made on Tuesday at the bottom of a 40-meter (120-foot) ravine in the municipality of Zapopan, a suburb of Guadalajara, a large industrial hub.
The authorities had launched a search for two women and five men, all aged around 30 years, who had been reported missing since May 20.
The missing persons' reports for each one had been made separately on different days, but investigators found that they all worked at the same call center.
The call center was in the same area as where the human remains were discovered.
Forensic experts have yet to determine the number of victims and their identities.
Initial inquiries suggested the call center could have been involved in illegal activities, and local media reported that the authorities had found marijuana, a cloth and a cleaning rag with apparent blood stains as well as documents on possible commercial activities.
But relatives of the missing persons have accused the authorities of seeking to criminalise the victims.
In recent years, in different areas of Jalisco, human remains have been found in bags or in unmarked makeshift graves.
In 2021, in the municipality of Tonala, in Jalisco, some 70 bags with the human remains of 11 people were found.
In 2019 also, the bodies of 29 people were found in 119 bags in an unpopulated area of Zapopan.
Another case that sparked numerous protests in Jalisco was the disappearance, in March 2018, of three film students, whose remains were dissolved in acid.
Similarly, in 2018, media reported that three Italians disappeared, allegedly handed over by police to the Jalisco New Generation cartel, to whom they had allegedly sold faulty machinery.
The Italians have not been found despite massive searches by state and federal law enforcement.
According to local media, in the first two months of this year alone, the remains of 33 people were found in five makeshift graves in the Guadalajara area.
The Jalisco New Generation cartel operates in the state and is one of the most powerful organised crime groups in Mexico, and is embroiled in disputes with other drug syndicates.
Mexico has recorded more than 340,000 murders and some 100,000 disappearances, the majority attributed to criminal organisations, since the launch of a controversial military anti-drug offensive in December 2006.
AFP
Armed robbers flee with $11 million in Ogun
A four-man armed robbery gang on Friday afternoon 'successfully' escaped with a whopping sum of $11 million at the Oke-Sokori of Abeokuta, in Abeokuta North local government area of Ogun State.
The four-man robbery gang, all clad in black T-shirts and jean trousers, wore black facemasks, and brandished riffles in an operation that lasted about 3 minutes.
The suspects, however, escaped the scene with their targeted money, stacked in two 'Ghana-Must-Go' bags, after demobilizing the car of their victim, a Hausa trader, who rode the area in a Toyota Venza salon car, marked, (ABUJA) ABC 565 GN.
An eyewitness, who was at the robbery scene, observed that the robbery suspects, who operated in a tinted Toyota Camry 'Muscle', had at around 4: 35p.m on Friday afternoon, intercepted their victim right in front of the FATGBEMS Petroleum Filling Station at Oke – Sokori, where they forcefully halted the victim's Toyota Venza car and forced the car's boot open.
After gaining entry into his car, the suspects thereafter offloaded the two bags containing the foreign currency into their car and also zoomed off with the victim's car key before security operatives arrived.
Narrating his ordeal to the two police patrol teams that later arrived at the scene about 30 minutes after the robbery incident, the victim, said he was returning to his base after an unsuccessful banking attempt where he had gone to deposit the foreign currency.
In his narration, the Abeokuta-based Hausa trader told the police patrol team that he had earlier approached the Oke-Ilewo branch of a new generation bank for the purpose of depositing the money, but was turned back on the premise that the banking hours had lapsed.
But while returning to his base, the robbers struck and the trader fell victim.
Confirming the incident, the command's Public Relations Officer (PPRO), Abimbola Oyeyemi, said operatives of the command were already on the trail of the criminals.
"It is quite unfortunate that the suspects had escaped the scene before our operatives arrived at the scene. But I want to assure you that we will definitely get them and bring them to justice.
"The command had immediately upon receipt of information about the incident, sent a signal across the state to ensure that the suspects are tracked down. All our technical units have been activated and for sure, we will get them".
"I want to use this medium to assure the good people of Ogun State that they should not panic, saying that there is no course for alarm. They should remain calm, and go about their normal and routine businesses because our men will surely track down the suspects".
Vanguard