HushPuppi caught in $400k fraud case while in US jail, FBI agent alleges
An agent, who claims to be working under the Federal Bureau of Investigation of the national government of United States has alleged that Instagram celebrity Hushpuppi has received fresh charges as US prosecutors submitted court documents showing that he committed fraud and laundered over $400k while in prison.
The documents which were presented before the United States District Court of California on Wed 16th March 2022 showed fresh evidence indicting HushPuppi of committing fraud and money laundering in U.S Federal correctional facility.
The court documents stated that Hushpuppi, while in U.S Federal correctional facility, participated in the purchase and laundering of Economic Impact Payment debit cards fraudulently obtained from stolen data of U.S citizens and residents.
Economic Impact Payments are financial support offered by the US government to U.S residents according to the CARES Act. One of the ways eligible US residents receive their Economic Impact Payments is by debit cards.
From the documents presented in court, it was found that hackers use data of U.S residents to file and obtain Economic Impact Payments debit cards. They sell off these EIP cards in underground marketplaces to other cybercriminals.
United States authorities said that although prisoners have limited access to telephone, video, internet and computer use because of their right to privacy in a court filing. Like the rest of the detainees, Hushpuppi was granted access to the computer network as well.
However, between January 28 and March 4, 2022, security authorities at a federal prison in the United States noticed that Hushpuppi was using the internet more often.
A dedicated system was setup for him and his activities were recorded for 7 days.
See screenshots of documents below: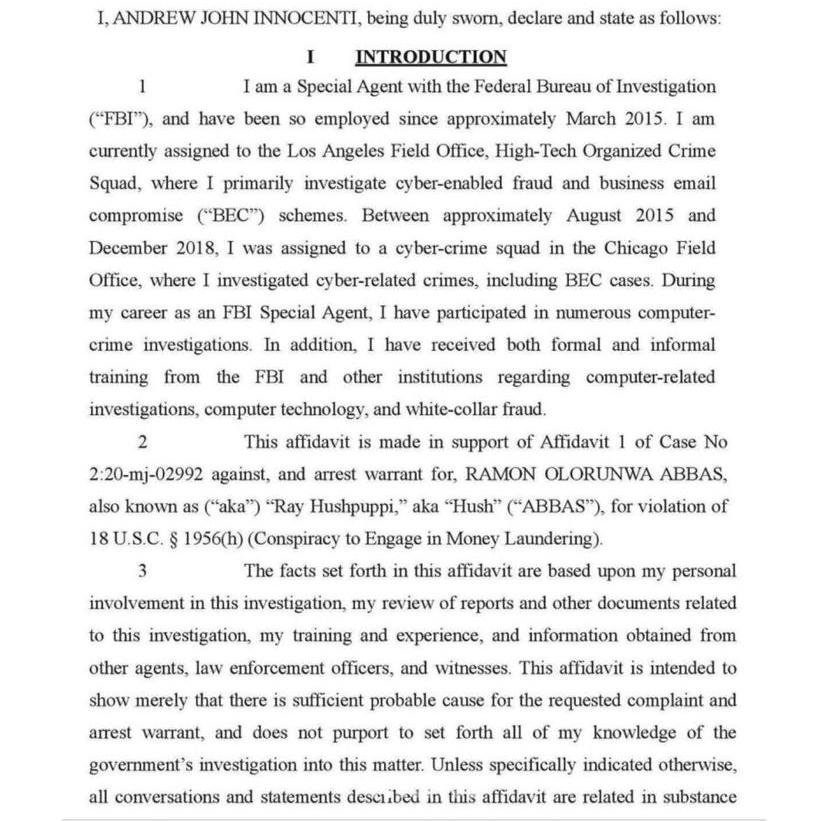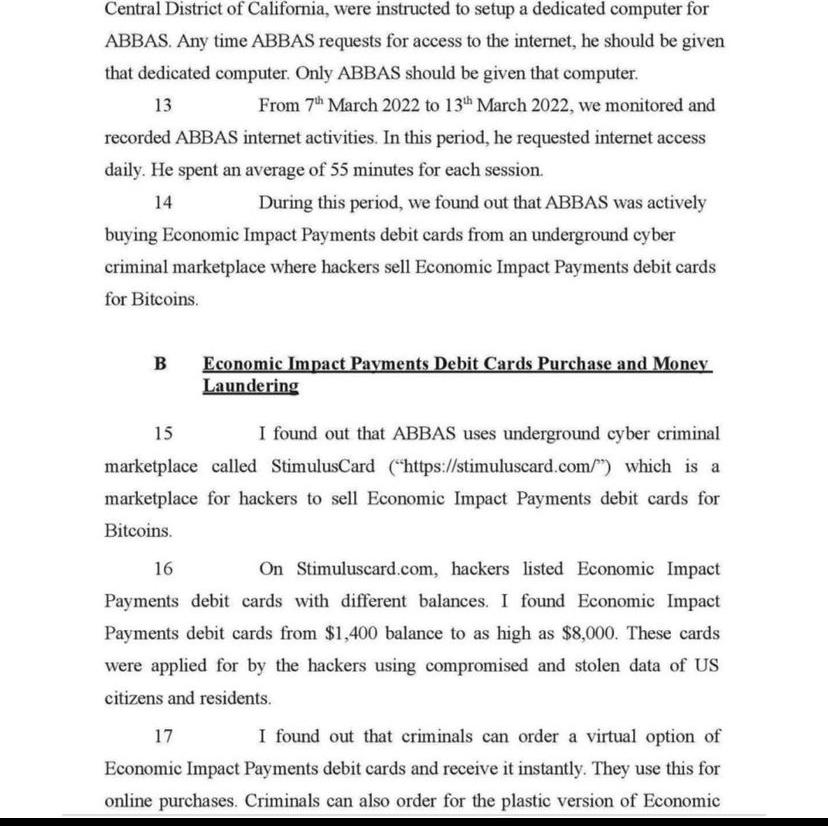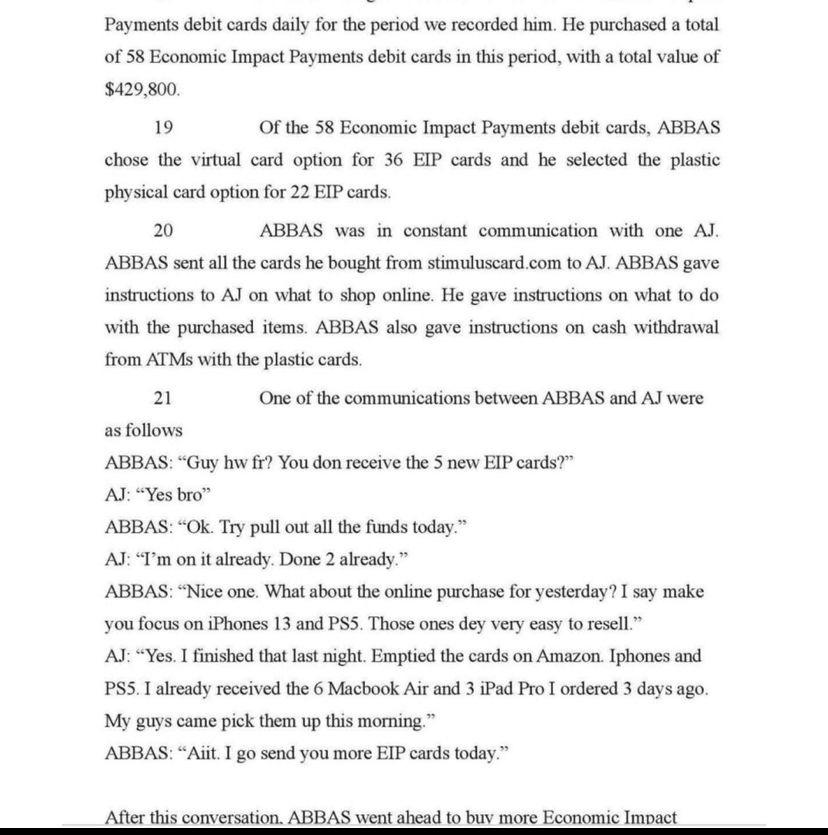 You may like
PHOTOS: Soldiers Raid IPOB Hideout In Search Of Abducted Colleague
The Nigerian Army has revealed that it raided the hideouts of Indigenous People Of Biafra/Eastern Security Network in Amangu Community, Abia State, in attempts to rescue an abducted soldier, Staff Sergeant Bassey Ikunugwan.
In a statement released on Wednesday, the Army said that Ikunugwan, who was on leave was abducted along the Road Okwu-Ebem Ohafia, on November 2.
Weapons, mobile phones, motorcycle, INEC equipment and other items were recovered during the multi-day raids.
Credit: Facebook | HQ Nigerian Army
Police find missing seven-year-old boy in Osun
Osun State Police Police Command, on Wednesday, announced that it found one Abiodun Olokede, a seven-year-old missing boy and is still in their custody.
This was made known to the public through a series of tweets on the Twitter handle of the state command.
The tweet partly read, "Good morning beautiful people. There's a child who got lost and was found in the Oke Ila Police division, Osun State.
"The said child is still with the police.
"In an effort to locate his parents/guardians, the child took police officers to a few places, surprisingly, he was denied everywhere.
"With the support of good people of this state, we can help circulate this information everywhere for possible contact with his parents please," it added.
PUNCH
RE: LAGOS STATE UNIVERSITY OF SCIENCE AND TECHNOLOGY INTERNATIONAL STAFF SCHOOL STATEMENT ON DEATH OF ONE OF ITS STUDENTS
The International Staff School of the Lagos State University of Science and Technology wishes to commiserate with the family of Abdurahman Dauda, one of our pupils who was involved in an unfortunate incident that led to his untimely death.
We want to state that the school and Nigerian Police commenced investigations immediately after the matter was reported. Subsequently, the case was taken to the court of competent jurisdiction, and appearances started on Monday, 31 October 2022.
The three affected members of staff who were allegedly accused of complicity in the unfortunate situation are currently remanded at the Nigerian Correctional facilities in Lagos.
As the case is already before a competent court, we seek the public's prayers and understanding with the school Management and parents of the deceased at this moment of grief and sober reflection.
This statement is necessary to state the current situation to the public for record purposes.
The situation is regrettable.
Signed
School Management
06 November 2022