Club shooting: Victim's wife accuses Burna Boy's people of bribing family
Briella Neme, wife of the man who was shot alongside his friends by policemen, who escorted Damini Ebuoluwa Ogulu, popularly called Burna Boy, in Club Cubana, Victoria Island, Lagos State, has accused him of trying to bribe her family with 'hush money'.
She added that the singer and rapper's aim was to kill them that fateful night.
She made the disclosure on her instagram page, yesterday, while reacting to an accusation by a purported eyewitness, who claimed she had gone to have snap a photo with Burna Boy in his VVIP's top corner, when her husband went to drag her violently.
Read Also: Club shooting: 'I'm not shocked', Burna Boy finally speaks
The eyewitness on his Twitter, handle @AfricansOracle, had said, "Briella was the one who went up to Burna Boy to take photos and that Burna Boy's security men only resisted the confrontational approach."
Meanwhile, reacting to the post, Neme, shared a video of the scene, describing the eye witness account as false.
She said that since the incident, Burna Boy's family had visited to settle the matter.
In the narration via her Instagram page, @nemebriella, she wrote, "We were visiting Nigeria from America and London for our childhood friend's wedding.
"On June 18, 2022, @burnaboygram and his friends opened fire at us in @cubanalagos.
"My partner and his friend were shot, with both needing urgent medical care. A bullet grazed my partner's head and our friend was shot in the thigh, leaving him hospitalised and needing emergency surgery in Nigeria.
"At this point, I couldn't find my partner or my best friend. I was screaming for help after being lifted and thrown so hard on the floor by one of Burna Boy's friends and I hurt my left shoulder..
"All our private police officers were not allowed into the club, so, it was left to us to fight for our lives
"One of our friends @theflowolf was trying to get Burna Boy to calm the situation but he only laughed at him and proceeded to get in his car whilst being protected by his security.
"The shootings happened twice at different times. His friends were also shooting at people trying to evacuate the club through the main entrance.
"They were out to kill and didn't care who got hit. My partner's head was bleeding profusely and his friend lost so much blood that he needed a donor as soon as he got to the hospital.
"@burnaboygram left @cubanalagos without a scratch and flew out to Spain the next morning.
"Everyone keeps making this about money. Money is not our problem. If you did nothing wrong @burnaboygram, why were your people contacting us to offer us hush money? Why did your parents visit our parents yesterday?"
Accuses Club Cubana
"@obi_cubana only reached out to us four days after the event claiming he had no idea and would do everything to get us justice for attempted murder.
"11 days later, there has been no CCTV footage released by the club or even a statement to address the incident publicly. Business has carried on as usual for him
"To sum things up, I'm traumatised. I've broken down every day since then. The random flashbacks and nightmares, especially after seeing @burnaboygram's response.
"The lack of remorse or accountability is beyond me. At least, two people could've died that night."
Cubana responds
Meanwhile, Chairman of Cubana Group, Obinna Iyiegbu, popularly known as Obi Cubana, on his Instagram page, while reacting to the development, yesterday, wrote:
"As regards the issues making rounds the social media, we at Cubana Group have given all information at our disposal to the legal authorities.
"However, we wholeheartedly sympathise with any/all those who may have been impacted by this.
"I and our group would never compromise standards, as we have confidence in the authorities to handle all. Best regards."
Vanguard News
You may like
Meet Chinedu Paul, Also Known as Dj Storm
Udeogu Chinedu Paul is a profound DJ whose fame has been confirmed In the whole of the Eastern hemisphere of Nigerian.
Dj storm as he is fondly called was born on the 1st of April, 1998 and attended Saint Paul primary school and later attended Ikwodiaku Primary school, Awka before later proceeding to Bishop Chrowther Seminary, Awka.
Asides being in the game for at least 5 years, he has also carved a lifetime niche for himself that will be very hard for any other DJ to compete with. Little wonder why he charges nothing less than three hundred thousand naira (300k) per show. This charge may be huge but then he has many requests because he delivers massively at every show.
So far so good, any show DJ storm attends has been confirmed to turn to carnival as attendees would not want to leave with the way he would light up the show.
DJ storm speaking with newsmen confirmed it that in the nearest future, he would love to be in the same caucus with the likes of international DJs like DJ Khalid, DJ Kaskade, DJ Steve Aoki and so on.
He also went ahead to list the artistes he would love to work with in the nearest future, he mentioned the likes of American musicians like Drake, Jay z, Rihana and so on and most especially Nigerian artistes like 2face, phyno, Olamide, Kiss Daniel, Wizkid and Davido.
He concluded by saying he is not limiting himself to Nigeria entertainment industry alone, his prayer is to be an international Dj whose impact would be felt all over the world. He also plans to have an institution where young and upcoming DJs would have a platform to showcase their talents to the world and also benefit immensely from.
My daughter was bullied in school because of me – Davido
Afrobeats singer David Adeleke, popularly known as Davido, has spoken out about how being famous has had a negative impact on those close to him, particularly his children, nieces, and nephews.
He made this known while featuring as a guest in a recent episode on ABtalks podcast.
According to the singer, fame comes with its good and bad side, adding that he has been a recipient of both outcomes.
The OBO crooner said that his family also gets to be affected by his fame, recounting an experience where his nephew and nieces had to switch schools because of the treatment they got on account of them being related to him.
The singer added that his own daughter was once bullied in school for being his daughter.
"I would lie to you if I say I don't like fame. I mean it has its good and bad parts. I get anything I want with this face and with this smile but it gets stressful too cos it affects the private aspect of my life and my family.
"Like my dad will just send me something on the blog, like 'what's this?', and I am like, 'it's a lie, don't worry about that.'
"And even things I do affect my family. Anything I do as Davido will affect my family just like my sister had to move her kids out of some school because everyone knew this is Davido's nephew and niece and it was weird because of how people treated them, so now they are in different schools, and when they know they are related to me, it is always crazy.
"My daughter was even getting bullied in school cos she was my daughter….so fame has good sides but also bad sides."
Vanguard
Bolanle Ninalowo features in 'Extraction part 2'
Nollywood actor Bolanle Ninalowo has sent fans into a frenzy as he features in "Extraction Part 2" with an on-set video.
The video, which was shared on his Instagram page has sparked speculation about Ninalowo's role in the highly anticipated sequel.
In the short clip, Bolanle Ninalowo can be seen on the film set, surrounded by crew members and other cast members.
While the details of his character and the plot of "Extraction Part 2" remain undisclosed, the actor's presence has created excitement among fans who are eager to see him in action.
Ninalowo, known for his charismatic on-screen performances, has been steadily making a name for himself in the Nigerian film industry.
With numerous successful projects under his belt, his involvement in a high-profile international production like "Extraction Part 2" is seen as a significant milestone in his career.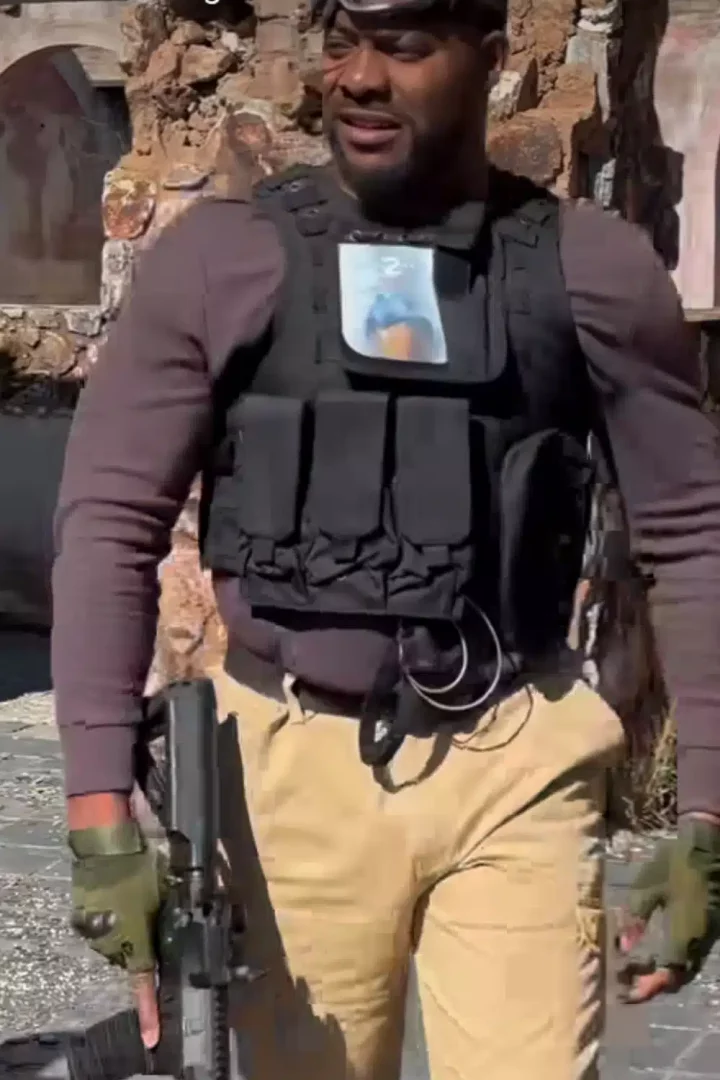 The "Extraction" franchise, which debuted on Netflix in 2020, gained immense popularity worldwide, thanks to its thrilling action sequences and compelling storyline.
The news of a sequel has been eagerly awaited by fans, and Ninalowo's participation has added another layer of anticipation.
Fuel Subsidy Removal: Edo civil servants to work for three days a week
As fans eagerly await further updates on "Extraction Part 2" and Ninalowo's role in the film, his on-set video has generated buzz and speculation on social media.
See below;