I never told Tinubu to give Peter Obi a chance, seek treatment for his health – Ghana President
Ghananian President, Nana Akufo-Addo has denied writing a letter to the candidate of the All Progressives Congress, APC, Ahmed Bola Tinubu, appealing to him to give the flagbearer of the Labour Party, LP, Peter Obi a chance in the forthcoming 2023 presidential election.
He said he never told Tinubu to seek treatment for his health as contained in the purported letter making the rounds on social media.
Akufo-Addo who is well known as a good leader, advised people via his verified Twitter handle to discountenance the story, noting that the letter is completely false and mischievous.
According to him: "My attention has been drawn to a disturbing post making the rounds on social media, where it is alleged I have written to the 2023 presidential candidate of the APC, Asiwaju Bola Tinubu, to "give Peter Obi a chance and seek treatment for his health".
"This is completely false and mischievous, with no iota of truth whatsoever in it.
"I have written no such letter to the APC leader, and it will not occur to me to do so. Ghana and Nigeria boast of decades of cordial, strong and brotherly relations, and I am not going to be the one to interfere in the internal affairs and politics of Nigeria."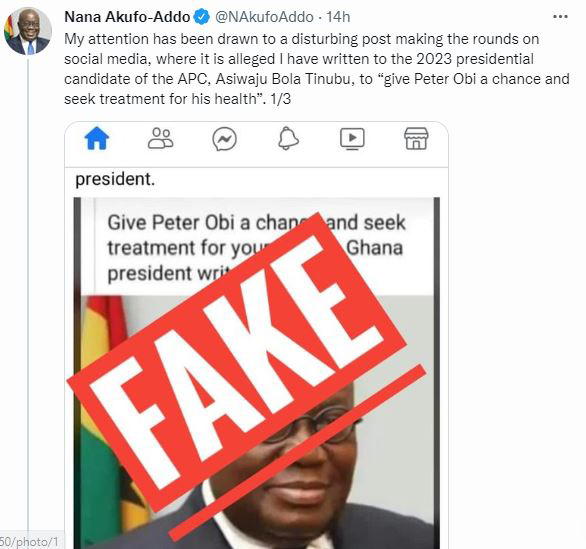 You may like
UK, US, Saudi Arabia, others in bilateral meetings with President Tinubu, pledge support, solidarity
Several countries on Monday formally presented their goodwill messages and letters of support and solidarity to President Bola Tinubu at the Presidential Villa, Abuja.
The letters were presented to the president by the special envoys and heads of missions of the countries after his inauguration as the 16th President of Nigeria.
Among the countries are United Kingdom, United States, Saudi Arabia, Japan, Brazil, South Korea, Israel, Cape Verde, Somalia and Nicaragua.
While congratulating President Tinubu, the new UK High Commissioner to Nigeria, Richard Montgomery, presented letters from British Prime Minister Rishi Sunak, King Charles and Archbishop of Canterbury Justin Welby.
The US delegation led by Secretary of Housing and Urban Development, Marcia L. Fudge, paid a courtesy call on President Tinubu and had a brief bilateral discussion with him.
Also, the South Korean delegation had bilateral discussions with Tinubu.
While delivering a letter of invitation from South Korean, President Yoon Suk Yeol for Tinubu to visit that country soon, the delegation also sought increase relations between the two countries.
The Saudi Arabian delegation delivered a goodwill message from the Saudi Royal House to the Nigerian president.
A special envoy of the Japanese Prime Minister Fumio Kishida equally paid a call on President Tinubu and extended a hand of support and fellowship.
In the same vein, Israeli Prime Minister Benjamin Netanyahu sent a delegation which met with Tinubu and expressed willingness to work with the country in the area of fin-tech.
Others who met with President Tinubu and pledged cooperation with Nigeria included delegations from Brazil, Somali, Cape Verde and Nicaragua.
Office of President,
Tunde Rahman
May 29, 2023.
I've forgiven Tinubu —Bode George
A former Deputy National Chairman of the Peoples Democratic Party, PDP, Chief Bode George, yesterday, said he has forgiven President-elect Bola Tinubu.
George, who analyzed the outgoing administration of President Muhammadu Buhari, declared that he failed to live up to expectations.
The PDP leader, in a chat with journalists at his Ikoyi office, added that the Buhari administration did not impact the lives of Nigerians positively, saying he failed to provide security which was his core responsibility.
His words: "My personal assessment is that he failed, not completely in every sector, but if you do an examination and say you must have a minimum of 33 per cent, then you can go to the next class, but they did not attain that 33 per cent. I can give them maybe about five per cent, even the five per cent requires a lot of retrospection. The most important thing you must guarantee to your people, as a government, is security of lives and property, who is safe now?
"So it is very very disheartening and heartbreaking that he failed in his number one job, which is to guarantee security of lives and property. You know when he was coming in, oga (Buhari) was telling us, I would fight corruption, I will secure the lives and properties of the people, I will do this, I will do that, all kinds of promises.
"So let's put those promises now into his departure, because that's what will be written on the pages of history. Whatever a leader does during his time, it is on the pages of history."
Asked whether he would work with Tinubu if called upon, George said: "There is nothing personal, this country trained me and I have to give back."
On his reluctance to endorse Tinubu, he said: "I have forgiven him, but you cannot forget."
Tinubu makes first appointments
In line with tradition, President-elect Bola Tinubu is expected to make his first appointments after being sworn in as President tomorrow by the Chief Justice of Nigeria (CJN), Justice Olukayode Ariwoola.
There are at least three appointments that ordinarily should be made by the new President to keep the wheel of government moving pending when other appointments that must have the seal of the National Assembly will follow.
The three appointments are the Secretary to the Government of the Federation (SGF), Chief of Staff and presidential spokesperson.
There has been a jostle for appointments, including ministerial, under the Tinubu administration since the president-elect emerged after the February 25 presidential election.
Names have been mentioned as those being considered by Tinubu including those of very close associates but Sunday Vanguard was made to understand by sources close to the president-elect at the weekend that nothing was certain on appointments under the incoming administration including those that announced must, as a matter of tradition and necessity, be made tomorrow or Tuesday.
The president-elect, it was learnt from multiple sources close to him, yesterday, has kept allies and close associates, among others, guessing over those that will form his cabinet.
Sunday Vanguard was reliably informed that Tinubu has refused to disclose the list of potential appointees at any level be it personal aides, Presidential Villa officials and ministers.
This, it was understood, is a source of intense anxiety among those lobbying to be appointed to the next government.
Meanwhile, there were insinuations that the Speaker of the House of Representatives, Mr Femi Gbajabiamila; Minister of Works and Housing, Mr Babatunde Fashola; Governor Nasir el-Rufai of Kaduna State and Mr James Faleke, a federal lawmaker from Lagos, are likely to play some roles in the Tinubu cabinet.
It has been reported that el-Rufai alongside two other outgoing governors – Aminu Masari of Katsina State and Atiku Bagudu of Kebbi State – are in the race for the SGF office.
Former Governor Kayode Fayemi of Ekiti State is also, according to reports, in the jostle for ministerial appointment. He is said to be highly favoured for the External Affairs portfolio.
Traditionally, top members of the ruling party who lost governorship election in their states are usually compensated with ministerial appointments and this may also play out in the unfolding Tinubu government.
Multiple sources, however, said Gbajabimila was facing huge opposition to the possibility of emerging as Chief of Staff to the President.
There has been no word on who will emerge as a presidential spokesperson but there are high-profile professionals around the president-elect who fit the bill.
Some of them served in the Tinubu Presidential Campaign and they include Mr Bayo Onanuga and Mr Dele Alake.
Tinubu keeping list secret – Source
A source, who spoke on the condition of anonymity, disclosed that all the names being peddled for appointments in the Tinubu administration remained in the realm of speculation.
The source said: "President Tinubu is likely to make his first appointments on Monday or Tuesday because he wants to hit the ground running.
"But all the conjectures about who is in and who is out in the cabinet and other appointments are in the realm of speculations.
"Everyone has continued to speculate but from what I know, the list is with the president-elect. "He is keeping it close to his chest. All those who go to him, he promises them but he won't say anything.
"You know that Tinubu is also a politician but no one knows those on the list. Even the speculation about Femi Gbajabiamila being considered as Chief of Staff is dicey and not something anyone can confirm and, as you know, Gbajabiamila is going with him all over the place. I'm not sure if Gbajabiamila will get the Chief of Staff slot.
"We have also heard the names of Mr Babatunde Fashola who is speculated as being considered as the Attorney-General of the Federation as well as Mr James Faleke and Mallam Nasir El-Rufai who may be among those to be appointed".
Vanguard