Scoop Universal unveiling was a blast as Kennyblaq, Charly boy others graced the occasion
As part of his plans to keep expanding his frontiers, a public relations expert and the founder of Scoop Media Concepts, Kolawole Omoboriowo has unveiled a new entertainment outfit, which he called Scoop Universal.
The event which was hosted by On-Air Personality (OAP), Olisa Adibua had been the talk of the town for weeks and the unveiling of the brand and office lived up the expectations of the people.
The new PR Company with presence in Nigeria and the United Kingdom, on Monday, was unveiled in Lagos as music and comedy stars including Kenny Blaq, MC Lively, Bro Bush among others in attendance to honour the music PR guru.
Omoboriowo at the unveiling of his new office and brand said he has always dreamt of creating a platform for music stars within and outside the country in order to serve as the link that gives African rising stars the medium to shine and sell their music.
Speaking further, Omoboriowo disclosed that in the year 2018, the Nigerian entertainment and media industry rose to a revenue status of $4.46 billion and by the end of 2023, the market is expected to rise to $10.5 billion.
This, according to him serves as the driving force of passion that leads different acts into entertainment as a performer or executive, insisting that "the real aspect of show business is deemed inviting for anyone who is savvy enough or ready to learn."
According to him, Scoop Universal is a company focused on talent promotion, artistes and repertoire, and entertainment project management, adding that "unveiling a multi-faceted brand that caters for all promotional needs of an entertainer is the next leap to take and I am happy to be one of the leading lights in the game showing the way for others to follow."
With a track record of handling the affairs of talents like Charly Boy, Yonda of DMW, Sophiegrophy from Australia, British Mudi, Ayanfe, Buju, King Bernard and many more, Scoop Universal seems to have unlocked a new aspect of business and music that would create more opportunities for rising stars and position them for greatness.
You may like
Bizzyaski features Slimcase in New debute titled Indaboski
Multitalented and industrial Nigerian Artiste, Bisola Ojikutu known as Bizzyaski, has once again shown his prowess by releasing another depute to update his music fans on how far he has been working hard to put a smile on their faces. The track which he titles "Indaboski" dropped in June, 2020 has been on the playlist of many as he features Slim case to spice the street jam up.
According to the artiste, after he dropped his first single which is Pandemic, he noticed that a lot of people responded to the song simply because it is danceable.
He explained further that on his Whatsapp, his childhood friend challenged him to sing about the trend in town which is Indaboski. That very night, he jumped on the beat and did justice to it.
The new song which is titled after Prophet Odumeje's nickname "Indaboski" really shows how talented he is on the new street anthem of the year. Indeed his song has become the street anthem of the year gaining several consistent airplays and Dj plays.
Proud of his work, Bizzyaski explained further that after recording the song that very night, he felt the song would fly without anyone, but to make it more acceptable by the street, he had to call slimcase and he liked the song.

Asides being a musician, Bizzyaski is the most sought after tattoo artist in Nigeria having crested tattoos for many top celebrities like Iyanya, Charly Boy, Terry G, Side 1, Danny Young, AY.Com, Adol and others. He even crested the breast tattoo of popular sultry Yoruba actress Iyabo Ojo, including that of Big Brother Africa winner, Karen Igho.
When being asked how long he had been in the industry and how far he would love to go, Bizzyaski explicated that he has been in the industry for a while, and to him, he is just getting started. "Have a very long way to go. And by his grace, it will be achieved" .
Talking about who he would love to work with in the industry, his response was "I can work with anyone whom I think suits the type of music I'm putting out".
The much anticipated Indaboski Video which was released few days back was needed to enhance the trend of the audio which was released few months back. The video was shot in Shot in Newyork by HG2. Interestingly, Bizzyaski concluded by saying God and family are his sources of inspiration.
Mark Angel Finally Replies Kemi Olunloyo On How Emmanuella Got The Money To Build Her Mother's House!
There is an adage which says "The gentleness of a leopard doesn't denote its stupidity".
Just because some people are silent on some issues doesn't mean they don't have something to say, neither does it mean that they are gullible.
Alas, Mark Angel has finally spoken up about the controversial question and cheap shot of Kemi Olunloyo to the young and talented comedian.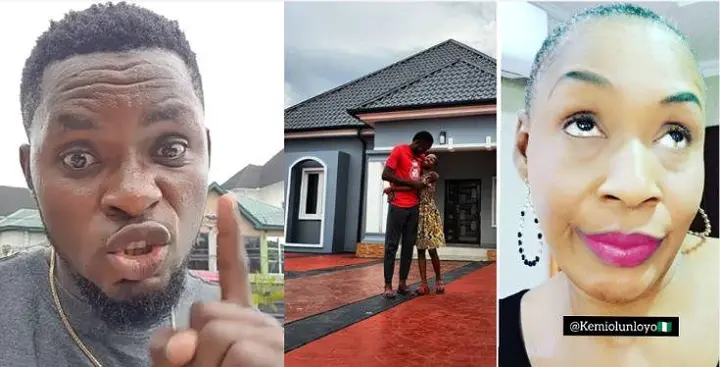 I'm sure we all remember that some days ago, the young Emmanuella built a house for her mother. During that period, Kemi Olunyo reacted and tweeted that Emmanuella should tell the public how she got such money at her young age to build such a house for her mother.
Mark Angel made it known to the public via an exclusive interview with Punch on Facebook live. Mark Angel stated that Emmanuella could afford to build the house.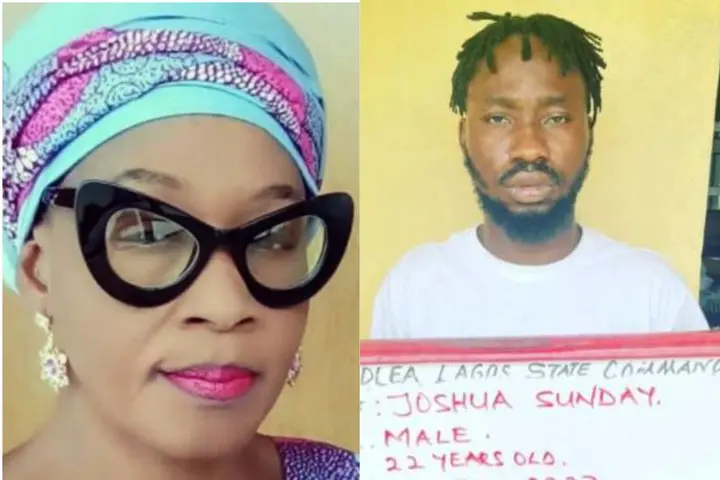 According to Mark Angel, he said, "Emanuella earns money, so she has money to build whatever she wants to build. She can afford it. Her management can afford it."
Furthermore, during the interview, Emmanuella also attributed her recent success to "God's grace".
Emmanuella said "Everything is God's grace. I never 'experrit'. When God wants to use you, He will use you at the right time".
"You Don't Have To Agree With Me But Don't Insult Me"- Angry Erica Issues Stern Warning To Her Fans
Trouble has been brimming for fans of disqualified big brother housemate, Erica, as in recent tweets, she has taken to calling out some of her fans that are notorious for insulting her when she makes a mistake or says something she shouldn't say.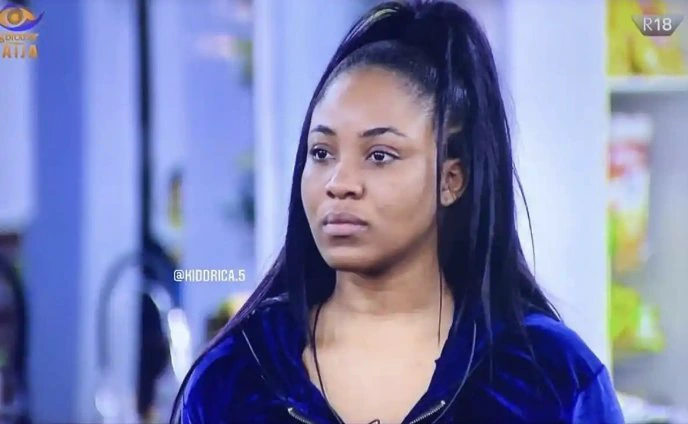 This has resulted in the smiling diva blocking anybody who insults her on her Timeline, and while most of her fans are not cool with it, and has made her aware of their disagreement with her new methods, she has come out to let them know that they can disagree with her, but nobody should insult her.
Check out her tweet here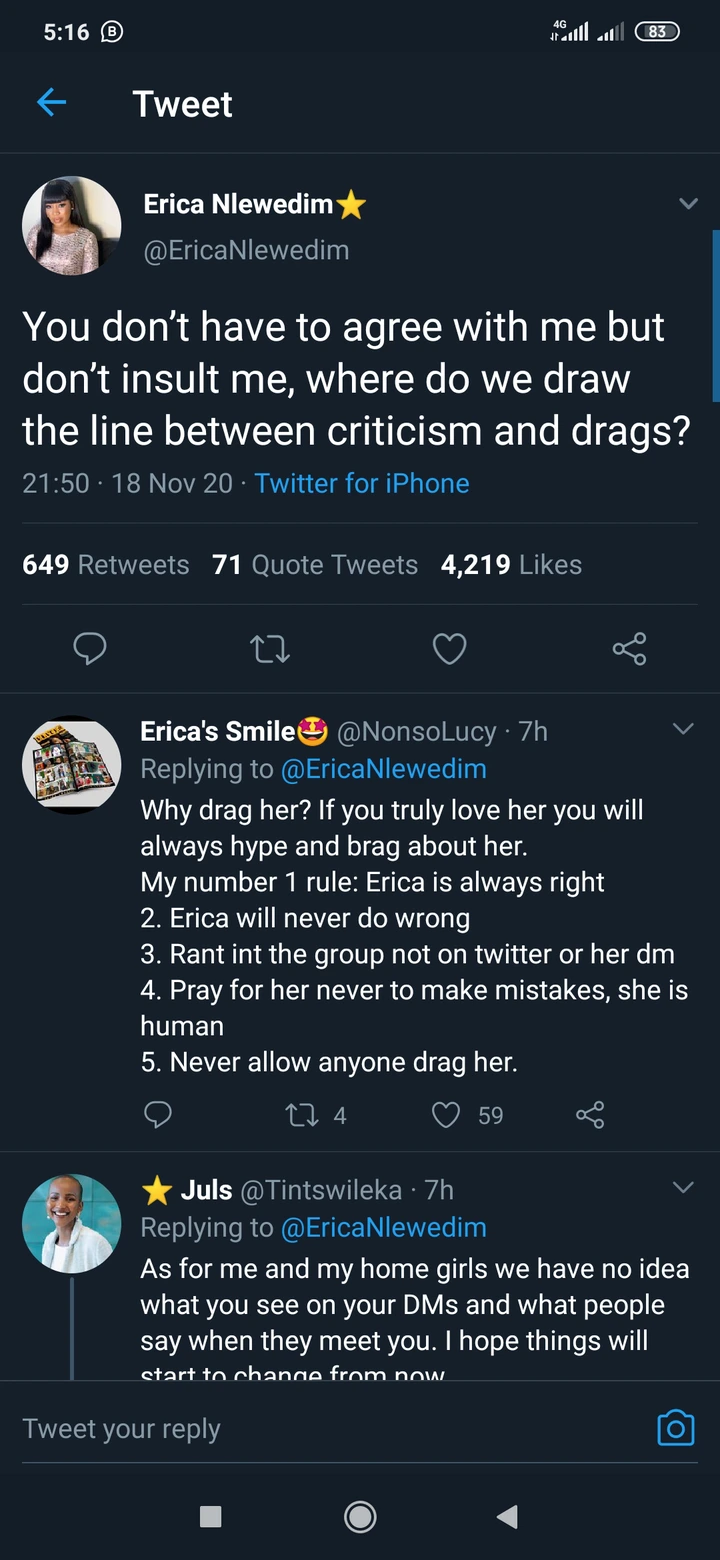 While her major anger is with the insults, I believe that there is another issue behind the scenes, and she just decided to take it out on her fans. Recall that most people agreed that prior to her disqualification, she had not been angry with Laycon, but had taken out her frustration with Kiddwaya on him. Her tweets late night proved it.
See other tweets by Erica last night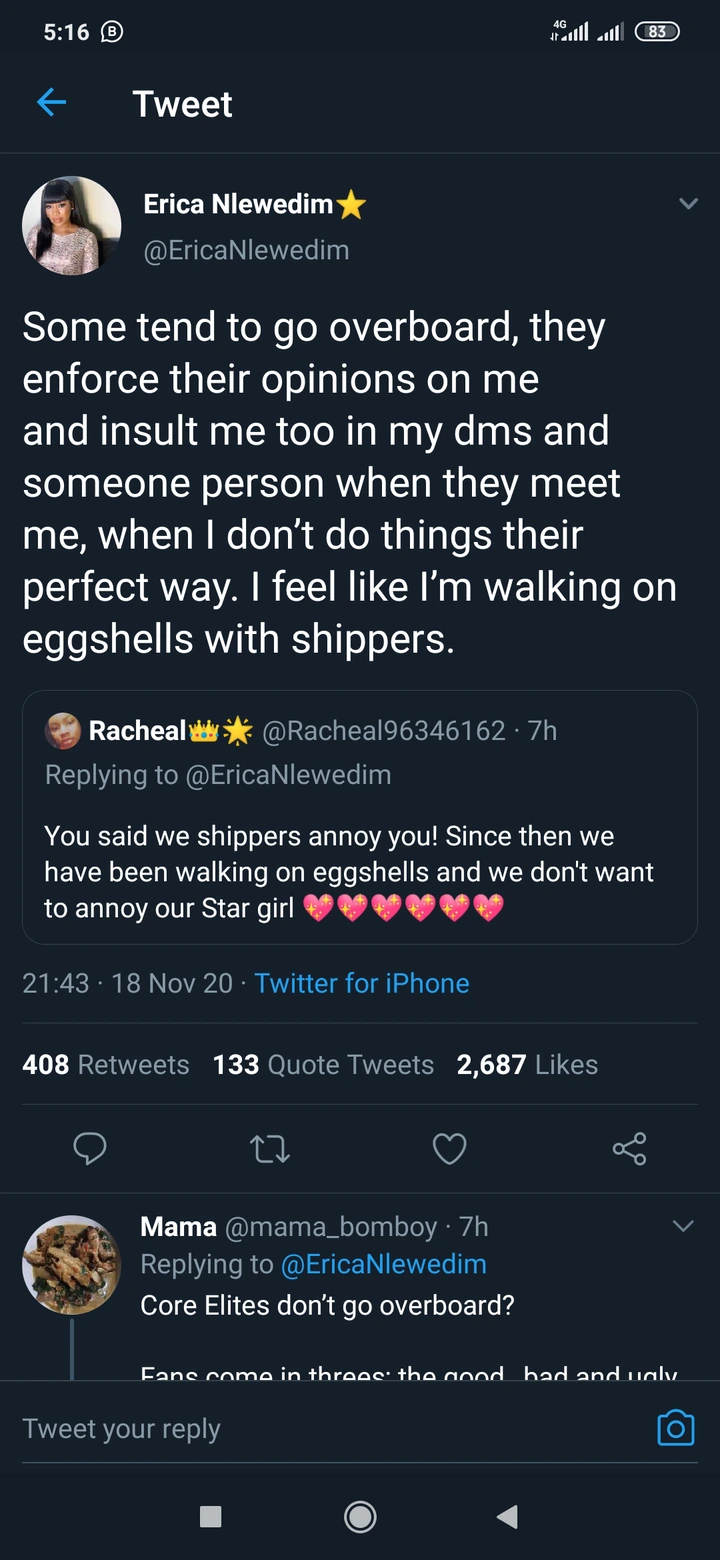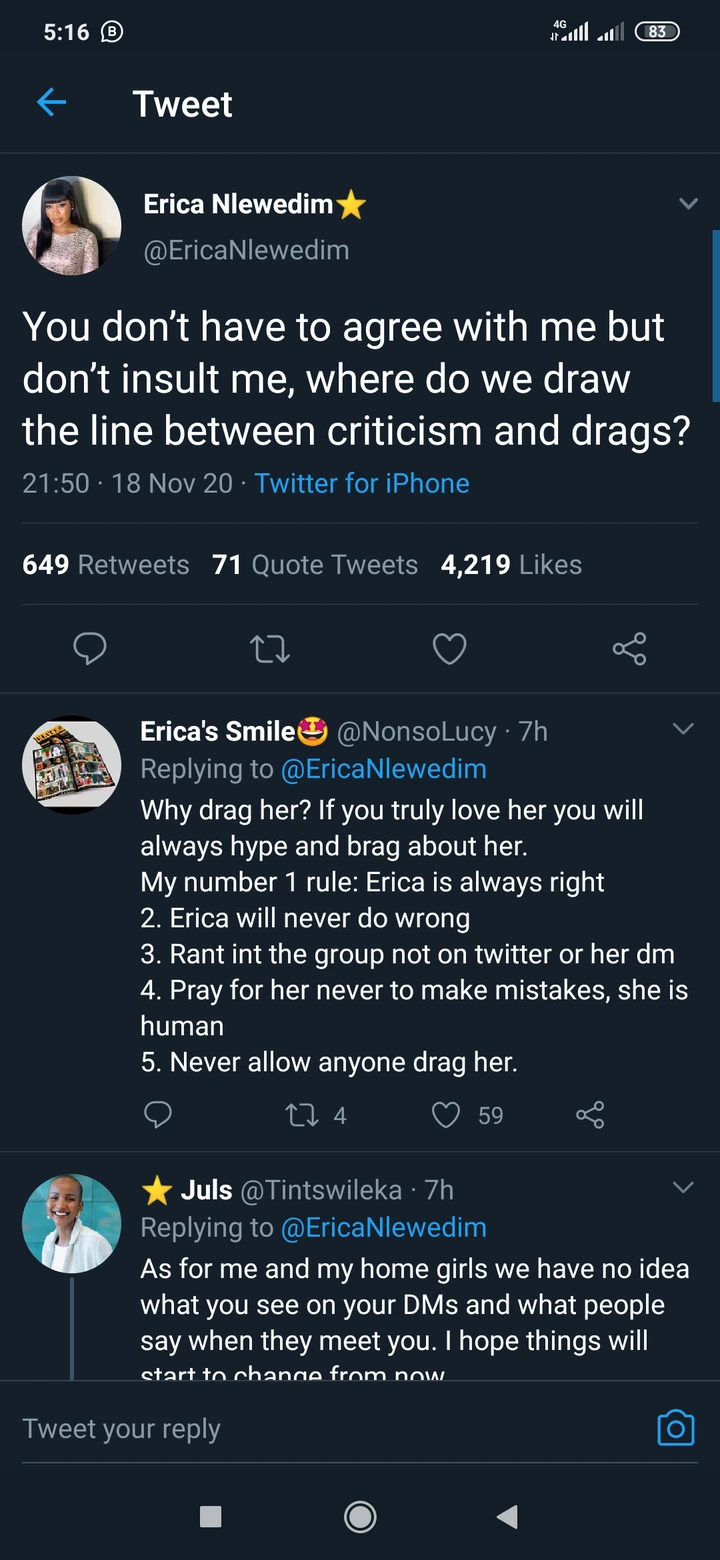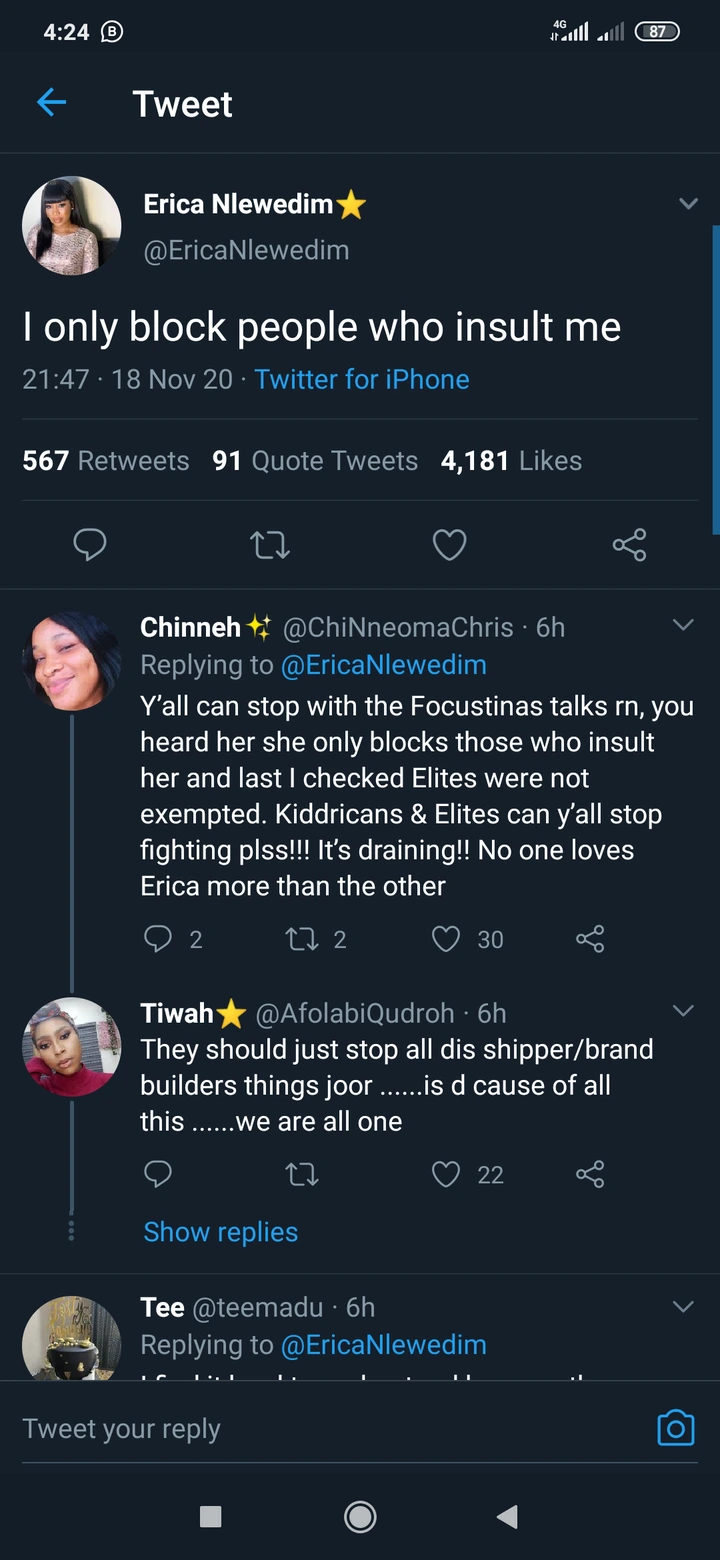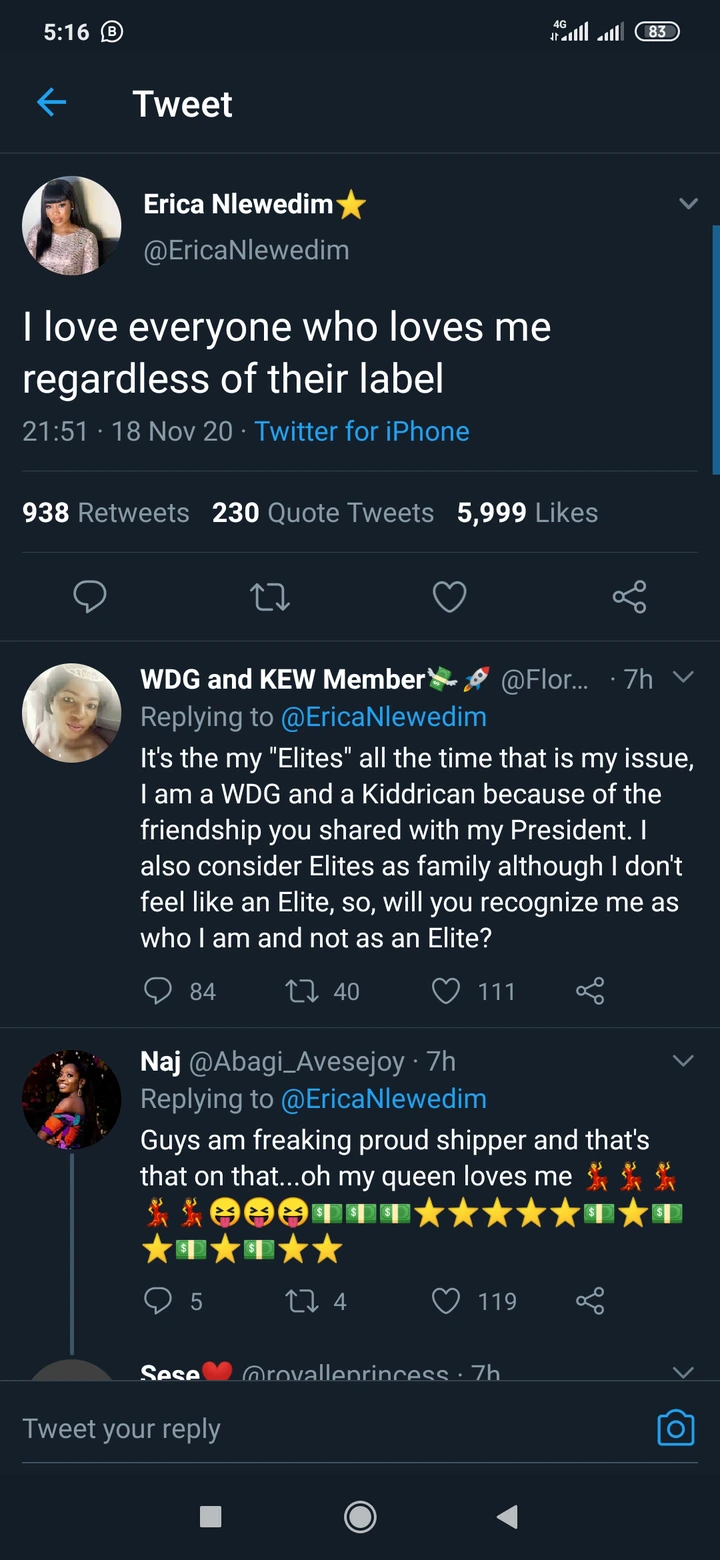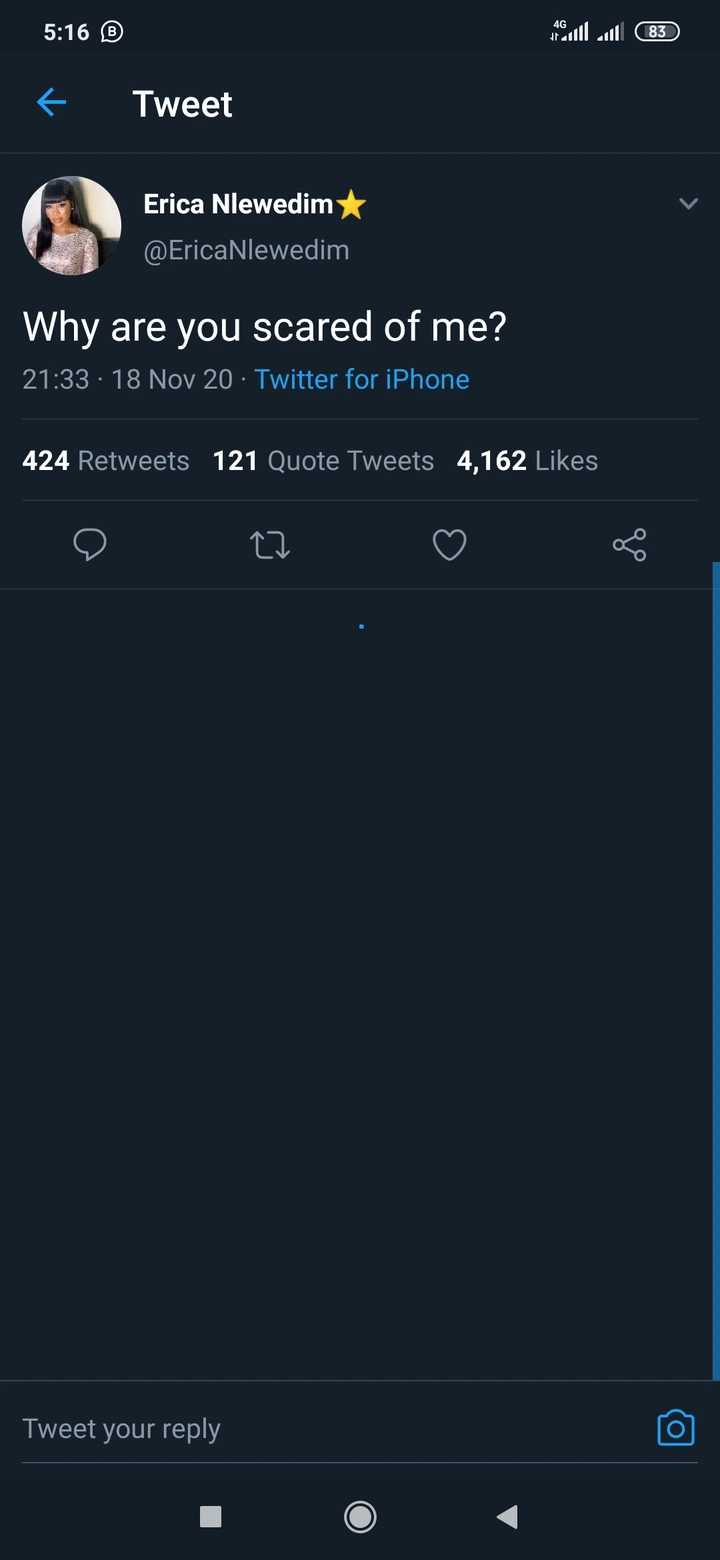 Personally, I think the downside of being a celebrity is taking a toll on her, and she's handling it the only way she has always known how to handle it.. by taking it out on the nearest person. This is a character flaw she has to work on, because if not, she's likely to lose majority of her fans in a no distant time.
What do you think about her rant?. Is she really angry with her fans, or is there another reason for these rants last night?. Kindly drop your comments and don't forget to like and share this post.